So yes, I'm a little later than usual with the blogging, as dear SIL and DH pointed out to me earlier this afternoon! But anyways, here I am!
And as I left off last week, we were headed out to celebrate Karl's big "3-4"......so Sunday night, we went out for Karl's birthday…he had spent the afternoon shooting his new WWII gun he'd gotten with a student and his father…..while I hung out at their house teaching the wife/mom how to digiscrap! I think I might have converted her too! :D Then we went to dinner at a Japanese place, and here's a layout of our dinner there: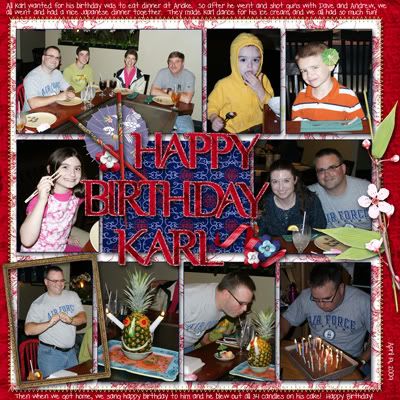 When we got home from dinner, we had a quick piece of birthday cake for Karl before going to bed (which I put in the layout, even though it wasn't at the restaurant.....my layout, i can do whatever I want, darnit!) Happy Birthday Karl!
The rest of this week was kind of a blur really…..we did gymnastics lessons and flute lessons as usual. Thursday night, my parents came out to help out for the weekend as I was having surgery on Friday morning.
Yay fun, surgery! Karl and I got up bright and early Friday morning to be at the clinic by 6:45…..when I got there, Dr. Wagner (who could seriously double for Tom Cruise in a movie, I swear) was waiting for me, so they flew me through all the pre-op stuff like you wouldn't believe. the ONE TIME I'm running late and a DOCTOR is early? What the heck? :D they wheeled me to the OR at 7:40, and I opened my eyes at 8:40, minus one gallbladder! I dozed off again and about an hour later, they gave me some water to drink and brought Karl back to see me, and a little after 10, someone was helping me get dressed and by 10:30 I was in the car on the way home!! We've been joking about "getting fries with" my "drive-thru surgery" all weekend!!! :D It was definitely a quick turnaround, I'll say that much!
Friday was Matthew's class field trip to the high school in Jerseyville and since Karl and I were both occupied with my surgery, my mom went along to chaperone. I think they had a great time. The high school kids had fun too, entertaining the kindergarteners all day long. They made Puppy Chow in Home Ec, they made puppets, they planted a tomato plant, they painted pictures and tie-dyed t-shirts too. They even got to play some of the instruments in Band and sing on the stage in the auditorium. Matthew is CONVINCED that he needs his own drum set (Lord help us!), but I'm pretty convinced that not only can my nerves NOT handle that, but we have nowhere in this little house to put such a thing!
I know going to the local high school seems like a lame field trip, but the kids absolutely LOVE it!!! I remember that much from when I went with Alaina a couple years ago. Of course I sent a camera along, but was very leery of what I'd have to scrap with, as my mom's not exactly well-known for being a good photographer…she's the type that cuts off people's heads and stuff like that! But there were plenty of good pictures, but sadly, I can't post the layout yet (even though it's done) because I scrapped it with a kit that doesn't get released until the end of this week…..so check back later! :D (insert my evil laugh here! wah-ha-ha-ha-ha!)
Anyhoo, we got home from the clinic (my surgery wasn't even in an actual hospital….it was like an office building…which I thought was kinda funny) around noon. I went straight upstairs to bed. We'd stopped to get some anti-nausea meds for me…..which didn't help at all (since I couldn't keep them down!), so I decided my best course of action was to just try and sleep it off as much as possible! So I basically laid around most of Friday afternoon and evening. I don't remember much of it! We watched the Cards/Cubs game, and one of Karl's former students ended up being the winning pitcher, which was cool! Go Cards! :D
Saturday, my mom took Alaina and Matthew to their swimming lessons, but since I couldn't get in the pool with Zach and my mother's terrified of water, he had to skip his water babies class. Ah well. I moved around a little more, going out on the porch to watch the kids play and such. It was a pretty lazy day for me really, but the nausea was gone, so I called it progress! Watched the Cardinals and Cubs play on TV again…..Cards won again, woohoo! Saturday night, we grilled out some dinner and watched Slumdog Millionaire with my parents…..Dad fell asleep and I'm not sure mom 'got it'…..If it's not a western or Cardinals' baseball, my dad's not interested!
Sunday, we had been invited to the First Communion of Alaina's friend, Elsie. Elsie and her family came to Alaina's baptism, so we decided we'd go to her First Communion. It was a nice service, and all the kids looked adorable! Then we went to their house for brunch, then home to change and head out for our afternoon activity: The science center! Unfortunately, we got stuck in "ballgame traffic"….which anybody that lives in St. Louis knows that's the only REAL traffic issues we ever have….if there's a ballgame downtown, all the bridges coming in from Illinois are just JAM PACKED! Took forever to finally get across the river, but once we did, we got to the Science Center with no problems.
We had a fun afternoon there….played around with some of the experiments there, looked at the exhibits, played in the discovery room….and watched the new IMAX movie about the Grand Canyon (really cool! I've decided that I need to go white water rafting down the Colorado....anyone care to join me?) Then we headed for home. Heard that the Cards lost to the scrubbies while we were inside the Science Center, so we were all kinda glad we missed out on that game! Headed home and watched some TV before bedtime, and that was the end of the weekend!
So here's what I've scrapped this week….
With Vicki's new kit, Punk Princess, I scrapped this layout of Alaina winning Student of the Month at school…she was SO PROUD of herself!
This is with another new kit from Vicki, a collab with Mel B Designs and Stacey's Scraps, called Showers in Spring:
And for all the other stuff…….The China pavilion at Epcot: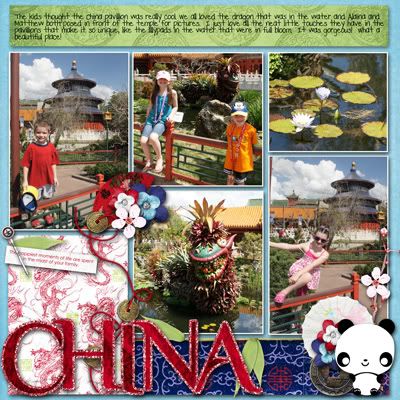 The kids on our formal night on the cruise: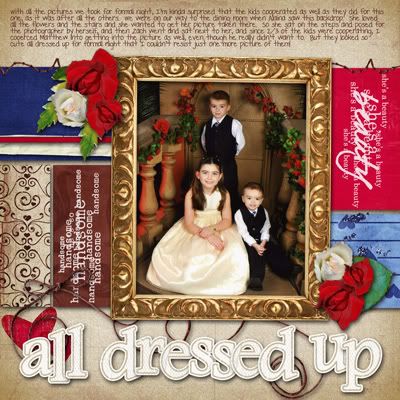 And brilliant me, my blessing for the week was perfect given recent events for myself……but again, in my brilliance…..I can't post the layout yet 'cuz the kit doesn't get released until Friday. DOH! :D So I might post then, and I might just wait 'till next Sunday, who knows! But I'll post it eventually…..I'll have to check out my SIL Nicole's blog to see what week number we're on, as I haven't been keeping track at all, but she has! SOMEBODY has to keep me in line, right? :D
So that's it for me for now……I'm slowly getting back to my old self….I'm sore and stiff from the surgery, and my stomach looks like a battlefield, but I'll heal, and I'm glad the thing is gone….I'll be back to my old self soon enough!