Day 7 was at Animal Kingdom……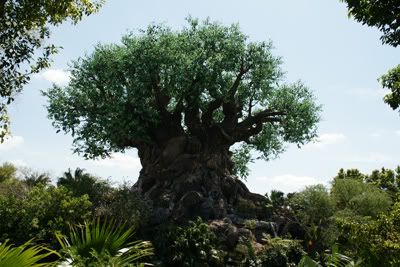 aside from Everest, I'd be content to skip this park completely, but I LOVE that ride!
So that was first thing…Matthew's first ride on Everest….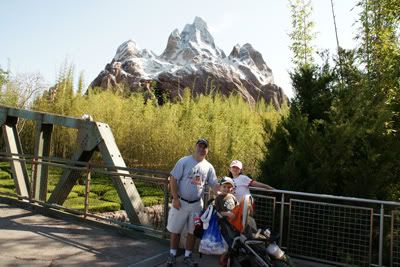 Karl managed to get them in the front car!!
Then thanks to the 'child swap' option we'd been exercising all week, I immediately went with the kids too….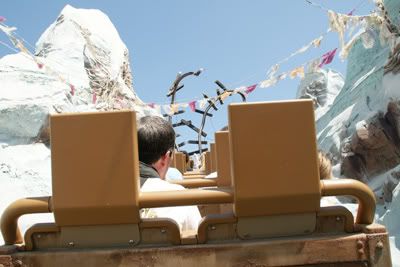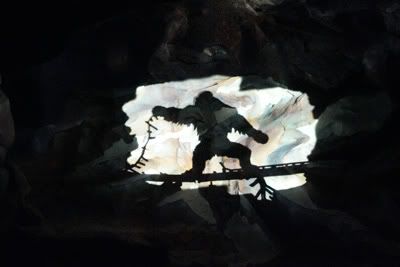 I didn't get in the first car…..can ya see me? Red shirt, near the back with my hands in the air, because I'm cool like that!
The kids ended up riding Everest 4 times and Karl and I rode it each twice…..NICE! After 4 times on it, they were done!
After that, we headed to Dinoland…the kids love it here:
Riding the "dumbo-dino" ride…..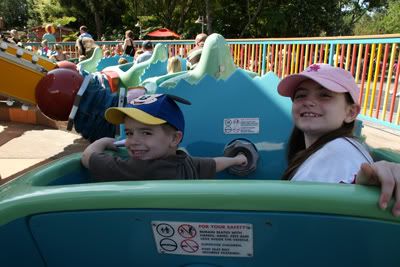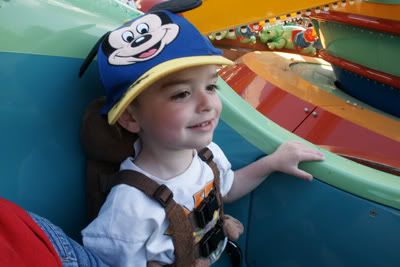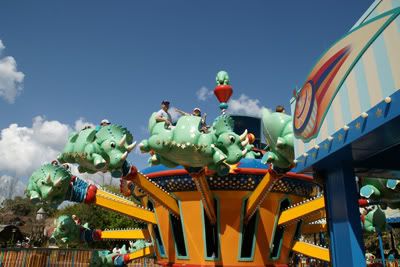 And the Dinosaur ride, which is really kinda scary….and VERY bumpy!!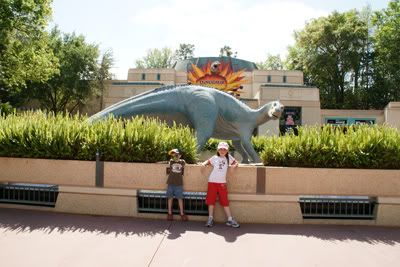 And a tradition for the kids….getting their faces painted…they look forward to it because we always do it at Animal Kingdom, so they were ready the instant we got there to get this done: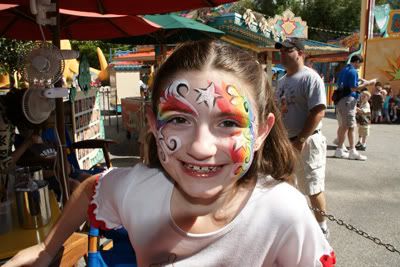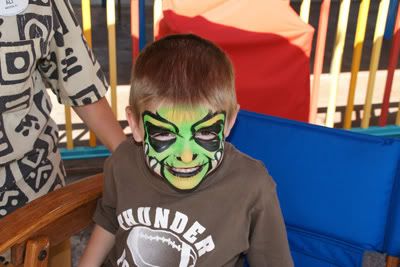 Then we went to the 'boneyard' play area, climbed up in the nets and went down the slides to burn off some energy: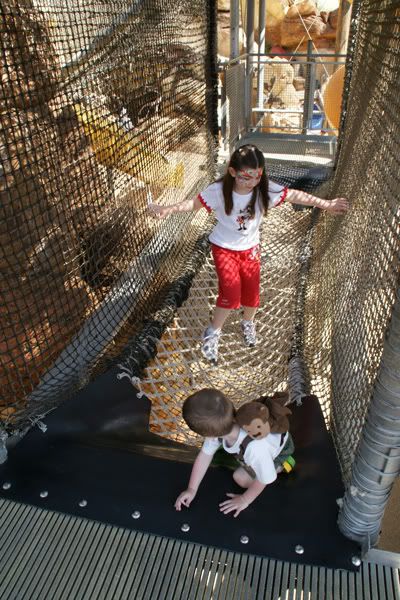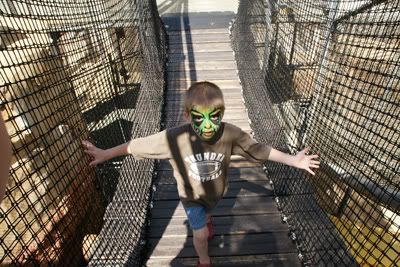 Then we happened to see a monkey out and about….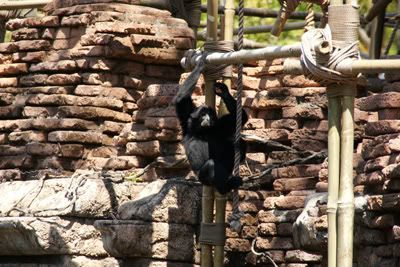 We went and saw the 'It's tough to be a bug' show…..and when we came out of that, I had a nasty headache and we decided to call it a day a little early…..ah well…..Mommy always gets a bad headache at least once on vacation…at least this time it was only once!
So long, Animal Kingdom!!
Day 8:
This was kind of a "last hurrah" day, as we couldn't stay in the parks long since we had a flight to catch, so we got to the park fairly early to re-ride all our favorites and make sure we saw and did everything we wanted to before we had to go home!
We mostly rode our favorite rides again: Pirates of the Caribbean, the Haunted Mansion, Big Thunder Mountain Railroad, Small World (Zach just NEVER gets tired of that ride!), and Peter Pan.
The only thing we hadn't done yet was see Ariel in her "cave" as the kids call it. And there was already a line to see her, so Daddy held our place in line while the kids played with the water outside her grotto: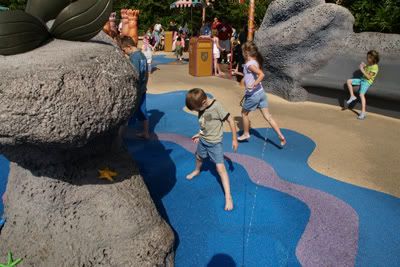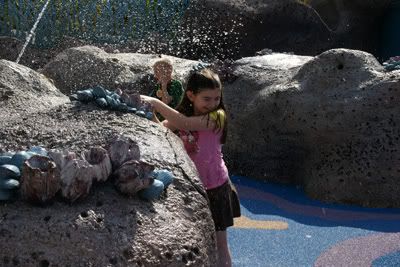 Then it was finally our turn to meet her: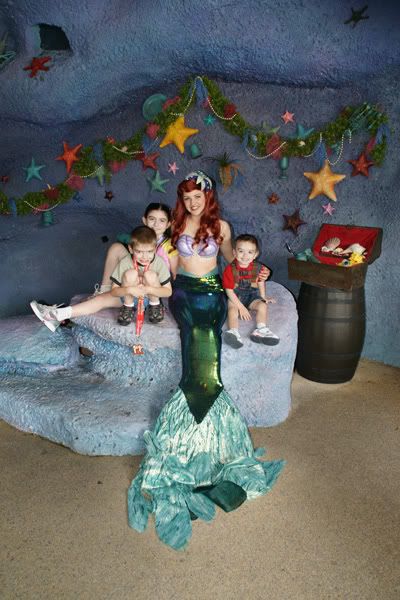 Zach got one last princess kiss!!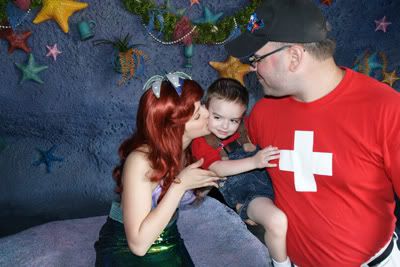 Then a quick pose in front of the castle (Zach had fallen asleep, so this picture is only 2/3 complete….but I know better than to wake a sleeping toddler!)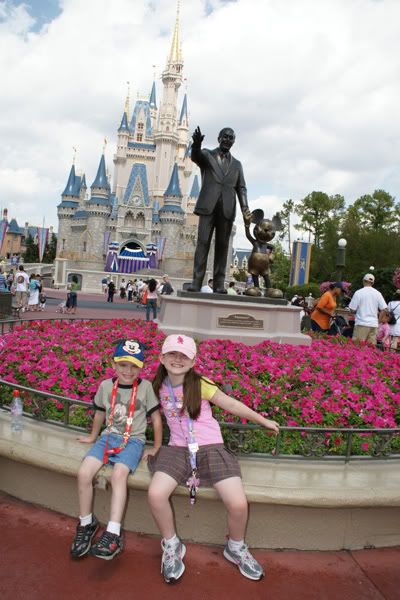 And we rode in the front car of the monorail to end the vacation….off to the airport and back home!!!
So as you can see, we had a great time on our vaction….i took enough pictures to give me material to scrap for QUITE awhile!!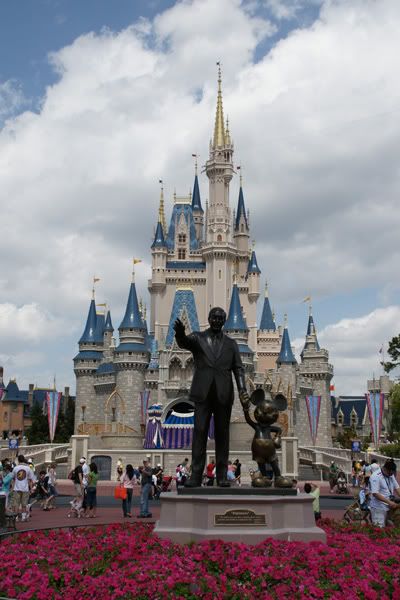 The big question is….how soon 'till we go back? :D