Ah, the end of this trip report at last.....it feels like I've been doing this forever!
Sooooo.....the last day in the parks was New Years Day. And again, from past experience, I knew that if we got there anytime before....say....NOON (LOL!) nobody else would be in the parks! However, it was also pouring down rain, which wasn't going to be much fun for walking around Epcot!
But we headed toward Epcot anyways, determined to have some fun in the rain!
First thing we did was get a Fastpass for Soarin and then go get in line for Test Track. But since it was raining, they'd shut it down....so we were off to find something else to do. We headed toward Spaceship Earth.....and right as we got there it started to pour again, so being inside was nice!
It was funny to listen to my parents narrate to themselves through this ride:
At least they DID look at the camera: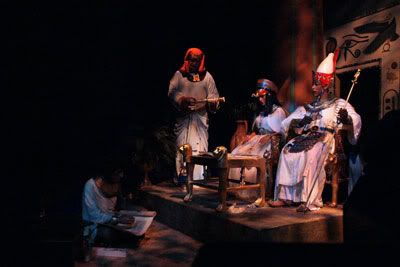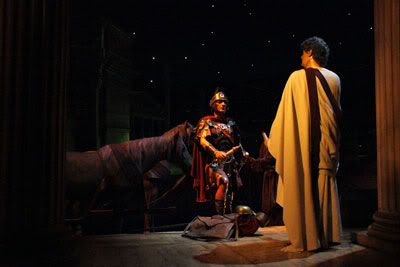 my favorite scene....this poor tired monk: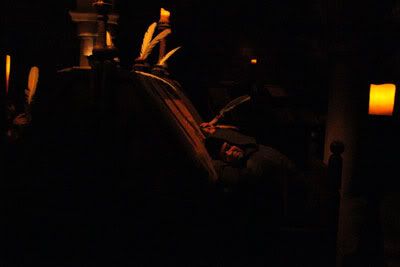 Michelangelo.......my back hurts just looking at him....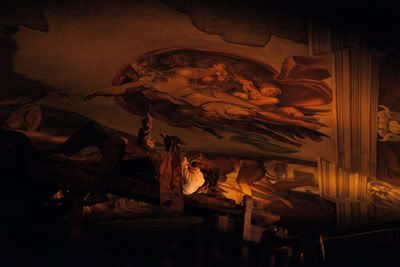 Did I mention it was POURING? :D We were looking for someplace to eat lunch....but apparently most of the restaurants in the World Showcase don't open 'till noon, and it wasn't quite time yet. So we walked around in the rain while Karl and I were on our phones with Disney Dining seeing if there were any openings at any decent restaurants.....because the sandwiches I'd packed for lunch nobody really wanted. we were all cold and wet and wanted something HOT to eat!
So we mosied around the countries toward Mexico (since that pavilion is all indoors) hoping to get a meal there.....past Norway: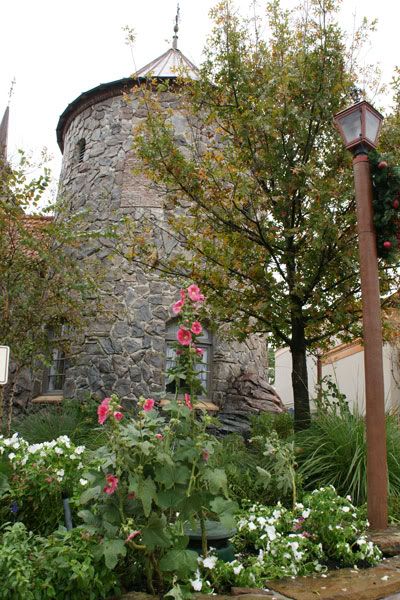 I really didn't take many pictures at Epcot, which is a shame, because I was really looking forward to our day at Epcot because of all the beautiful flowers they have there.....but I wasn't going to risk getting my camera wet!
So anyways...back to the lunch dilemma....the gal I was on the phone with said that if the park was as dead as I was saying it was (DEAD I'm telling you), there'd probably be some no-shows and to just walk up and take our chances. So that's what we decided to do......at Le Cellier!
Le Cellier is by far the best restaurant on Disney Property (well, that I've been to anyways), and my ultimate favorite. I tried every day for about 2 months to try and get a reservation for us to eat there on this trip and it was booked when I first called and there were never any cancellations. Nuts!
But we hoped for a little pixie dust and headed toward Canada anyways. And when we got there......we got a dose of a little Disney magic. Her name was Selina! I'll never forget her.....Selina from Vancouver! :D Anyhoo, I made it to the podium first and asked for a table for 7...she basically laughed and said no way....they weren't accepting walkups (which is what she'd just told the 3 people in front of me asking the exact same thing). HOWEVER.......this is why I keep Karl around:
He went to the podium after I walked away and pleaded with Selina......thankfully, my dad was looking pretty pathetic in his wheelchair covered in a poncho, half-asleep.....and I think she felt sorry enough for us, she got us a table after all! So again, YAY for Selina at Le Cellier!
One of these days, I'm going to take lots of pictures of the Victoria Gardens there...but since it'd just started raining again, I only had time for this quick pic before we ran inside to wait for our table: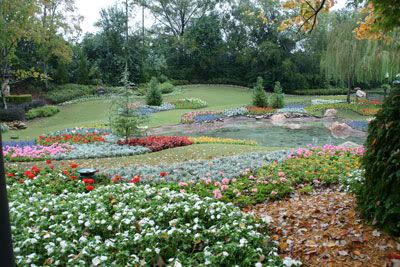 beautiful though....the picture doesn't even do it justice. If you're ever at Epcot, by all means check it out!
So we waited MAYBE 5 minutes for our table.....and ended up having the best lunch of the entire trip:
Best steak EVER......and the cheddar soup.....OMG.....YUM. that's all there is to say: YUM!
So after the yummy lunch, we headed off to find something else indoors to do/see, and ended up using our fastpasses for Soarin':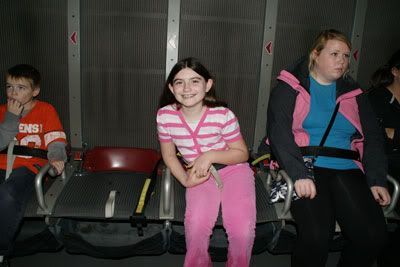 the headed over to the 'Living with the Land' boat ride. I figured my parents would like this one.....it's very relaxing..... :D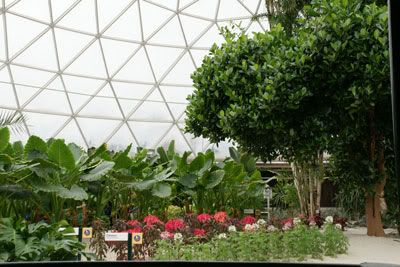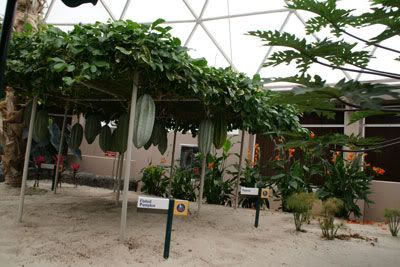 Notice the 'hidden' Mickey?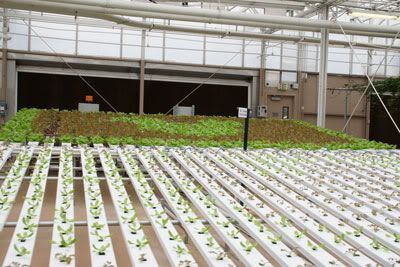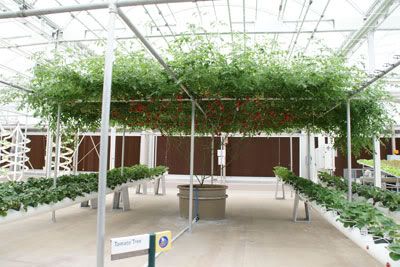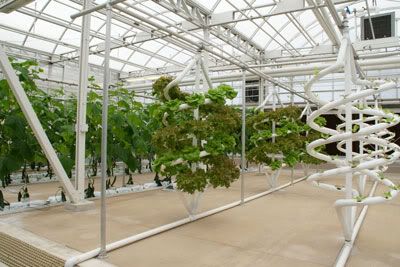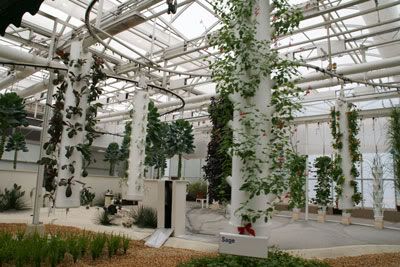 Then, even though it'd stopped raining, my parents had kind of 'had it', so Karl suggested I take Alaina and Matthew to ride Test Track while everybody else waited in the car. So we were able to ride it twice with all the fastpasses we had: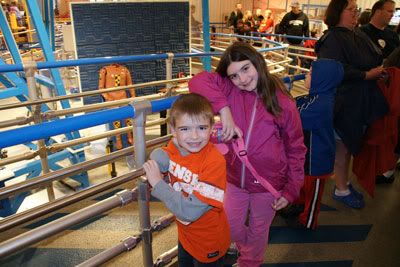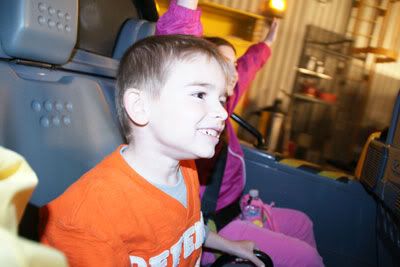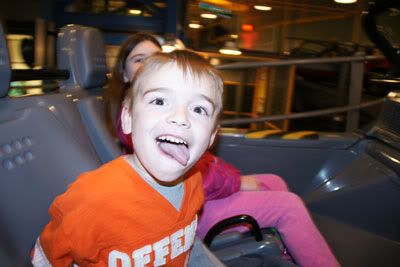 The kids love this ride, I'm glad it quit raining long enough for us to ride it!!!
They insisted on this picture: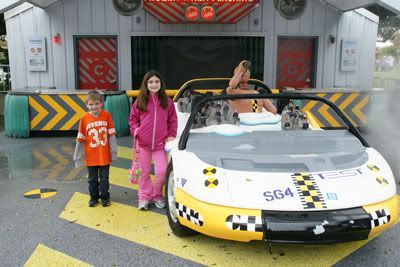 So that was the end of our rainy, cold day at Epcot....and our last day at Disney: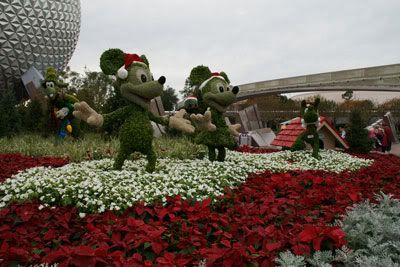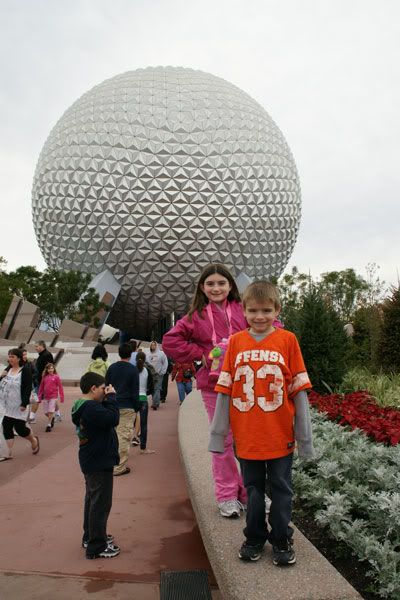 It was a very uneventful drive home from Florida. We left at 3:30AM on the 2nd and got to Fairfield sometime around 5PM I think? I dunno. A lot of that day is a blur because we were all do tired! We spent the night at mom/dad's since Karl had driven that entire way on just a couple hours' sleep (what a trooper!), and we finally made it home to Dow on Sunday afternoon. End of the big Disney Vacation with Nanny and PawPaw!
So final thoughts on the vacay: I'm so glad we were able to do this. My parents had a good time, and the kids had a lot of fun at Disney, like they always do. And this time they were able to 'show the ropes' to their grandparents and share some of their favorite vacation memories with them. That was the point. So a good vacation all-around. We came home broke (as always!) and tired (as always!) and had to go back to work the next day! :D
Back to the present.....this past week wasn't too terribly exciting. The kids all seem to have the beginnings of a cold....yay fun. They're all snotty, etc. always fun! We've spent most evenings this week getting ready for the Pinewood Derby for Matthew's Cubscout pack. It was Friday night. So we spent Monday and Wednesday and Thursday and even some time on Friday getting that car ready. It was just his pack that raced, and Matthew got 4th place. He didn't care....he was just mad there weren't any trophies yet! But Karl and I will be re-engineering the car to hopefully place better at the regional race in a couple weeks! But the boys all had a blast with it....yelling, cheering....they were so excited and had so much fun!
And I've been so lazy this weekend I haven't even downloaded the pictures off my camera yet of it! that's quite unlike me really!
But I have managed to get a decent amount of scrappin' done, so, here's what I've scrapped this week!
First up, plug for Sya....Her new kit is
"A Different Kind of Love"
....a valentines' day-ish kit.....but since this is the picture I had to scrap, I had to ditch the pinks and hearts and lovey stuff! :P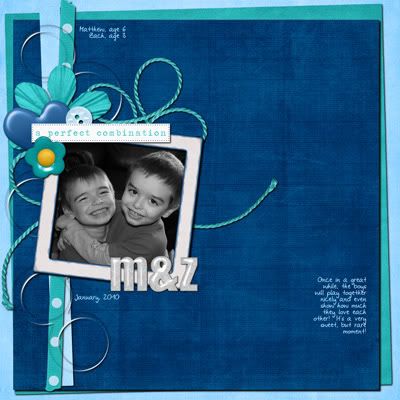 A couple more layouts from our March Disney trip (I'm going to be working pretty hard on getting this album done....it bugs me when it takes over a year to get an album done....and we're going to be hitting that point pretty soon!)
This is another of those 'photo ops' I always attempt to get the PERFECT picture with. But it never happens....because there's always some parent in front of me that won't move so i can get a straight-on shot....or somebody else's kid won't wait their turn and pushes my kids out of the way....or stupid stuff like that....so this is what I ended up with this time: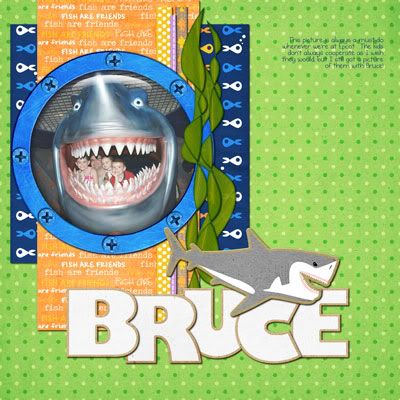 And this was just too funny to me....There're these little statues of Nemo and a bunch of the other characters from the film, and it's another great picture spot....but the instant Zach saw Nemo, he climbed up into the flowers (I"m thinking you're not supposed to do that!) and started giving him hugs and kisses....I finally did get a picture of Karl and the kids....but we had to wait awhile for Zach to get done giving Nemo lots of loveys!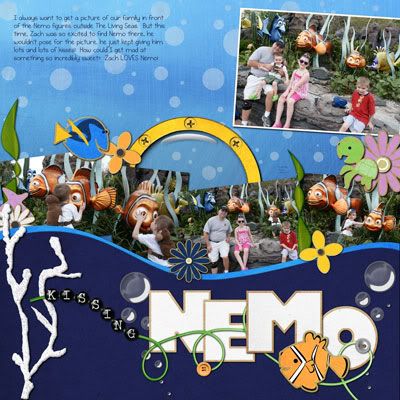 The other 2 layouts from last weekend's trip to the Science Center: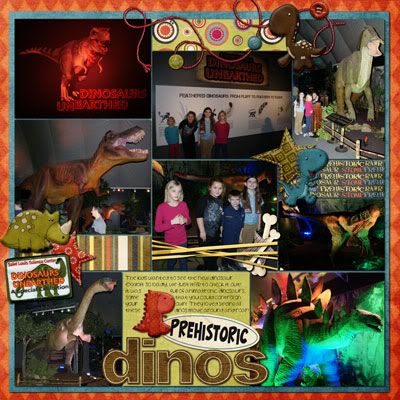 And the rest of the layouts are all from our trip to DC back in November (again, also trying really hard to finish up this album too!)
The old Senate Chambers at the Capitol building: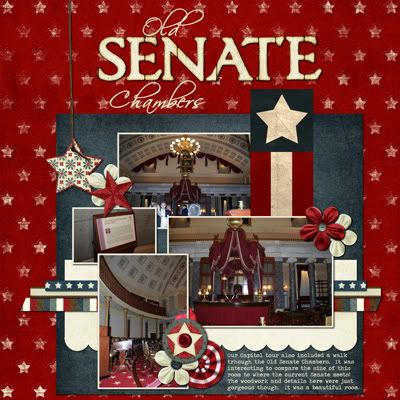 Our trip to Annapolis to visit the US Naval Academy (and some former students of Karl's who are cadets there):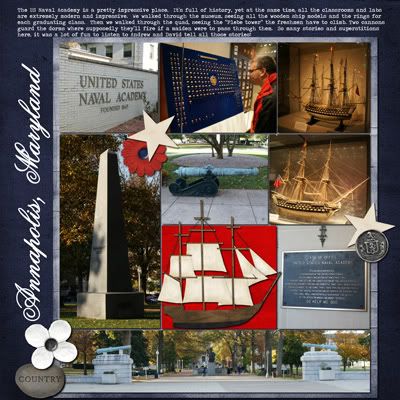 For the record....I hate crypts...HATE them.....but I couldn't exactly say, 'uhm, i'll wait outside guys!'......so here it is....the crypt of John Paul Jones:
Memorial Hall....is beautiful....sad that the purpose of it is to remember all the graduates who have died serving their country, but what a memorial it is: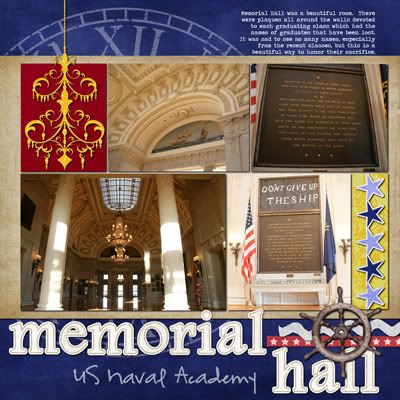 This was a cool thing for Karl to see...being a Physics teacher and all....the place where they first calculated the speed of light....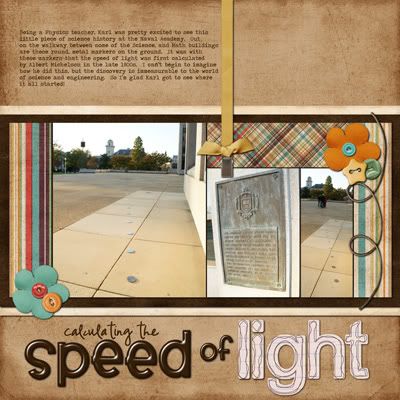 We've had a pretty lazy weekend....didn't even leave the house yesterday! Today was church (Karl was speaking), and then Matthew had a birthday party in town, so I spent the 2 hours he was at that at the local library working on the above layouts and reading a book. It was nice to have some 'me' time alone away from everybody else! And we were supposed to go to the gym this afternoon, but eh......decided to watch some movies and catch up on TiVo instead!
So tomorrow it's back to work and the daily grind......until later!!!