And we're back from our trip! And as you can see by the ticker above, it won't be long until we're back in Orlando AGAIN. But this next trip isn't even going to be to Disney World. Amazingly enough, we're kinda Disney-ed out at the moment. Yeah, I didn't think it was possible either! But 3 Disney trips in one year is enough for us. But July is our timeshare week in Orlando, so we're going to go down there anyways and do other stuff.....like the new Harry Potter park at Universal!!
So anyways...I hope everybody had a great holiday season! We had a great one, obviously! Christmas for us was on Christmas Eve morning (we don't traditionally open any gifts on Christmas Eve) since we were leaving to drive to Florida on Christmas Day.
Christmas morning at our house (page 1 of the layout):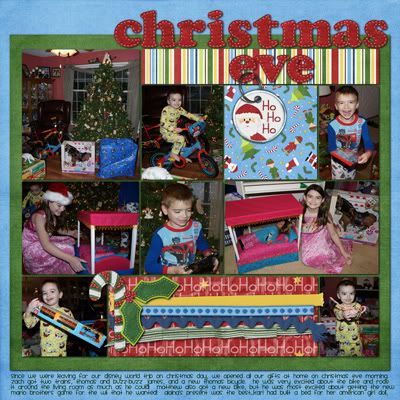 And Christmas afternoon at Nanny/PawPaw's house with my family (page 2):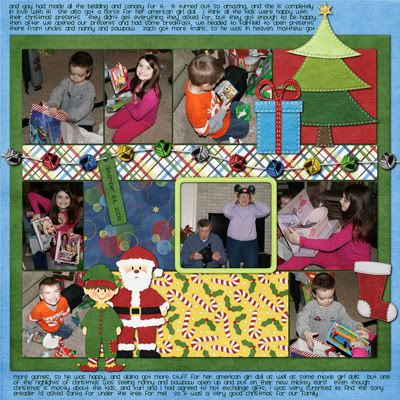 Then Christmas morning, we packed up the car and off we set for Florida! I think we left Fairfield around 9:30, and for my parents, that's AMAZING. Trust me. :D I was kinda shocked at the number of people out on the roads on Christmas Day....I thought we'd be alone! Definitely not! :D
The drive down was fairly uneventful…we ate the sandwiches we'd packed (Subway footlongs purchased the night before) since we assumed nothing would be open along the interstates other than convenience stores! Only stopping for gas and a couple potty breaks (this was our first trip with Zach out of diapers!) we made it to our hotel in Atlanta by 4 or 5 (can't remember which it was with the time change!). I didn't even scrap on the drive down, shocking, I know! I DID manage to read Pride and Prejudice on my e-reader though…..loving that thing! We found a restaurant open for dinner and went out for dinner and then went back to hotel and watched some movies on TV before heading to bed…..Christmas Vacation and Home Alone…..ah, family classics!
Day 2: The rest of the drive was just as uneventful…..and I still didn't scrap a thing!.... There was only one major squabble from the far back seats (where the boys were sitting), and it was over a train I believe…..that was resolved (kind of) and we pulled into our resort in Orlando around 5 or 6. Once we were checked in, we unloaded the car and left Mom and Dad with the kids to go run errands: grabbing some dinner, picking up our park tickets at the discount place and then getting groceries for the week for eating in the condo. By the time we got back from that, it was basically bedtime for the kids. I unpacked quickly and laid out clothes for the next day so we could get a fairly early start, and that was the first night!
The condo was pretty sweet though…..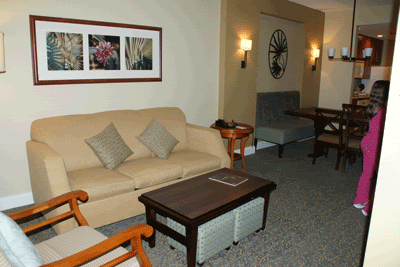 I loved the balcony…it was screened in, which would've been an awesome place to hang out (and we did use it a few times on the trip) had it been a tad warmer!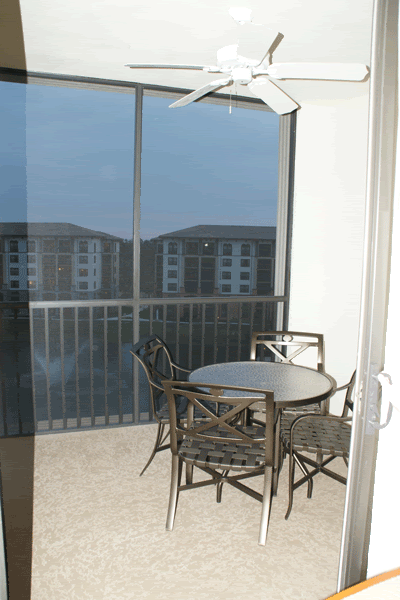 We had 2 bedrooms and 2 bathrooms.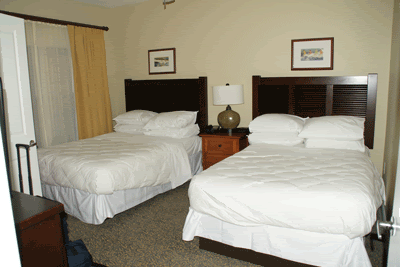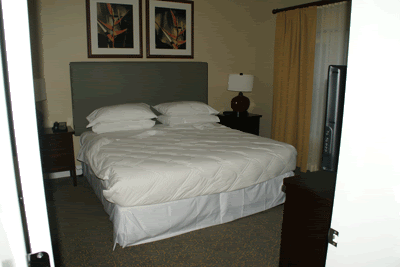 The master suite had the biggest whirlpool tub I'd ever seen….and I swear we could've all gotten into the shower it was that huge!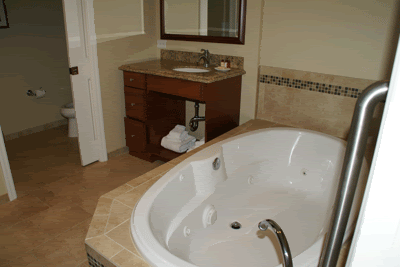 Karl and I both agreed that is our dream bathroom!
For half the price of a tiny hotel room at Disney, we got all this.....not much of a contest if ya ask me! Full kitchen, washer/dryer....and being able to put the kids in their own room while I relax in a whirlpool tub? ahhhh....now THAT'S vacation!
Day 3 of the trip: Hollywood Studios! First day in the parks……Karl and I had to attend the dumb timeshare presentation thingy (the reason we got the cheap rate for the week….we agreed to sit through a sales pitch), but we made it clear we weren't interested and were out of there in an hour. Yay! So we were on our way to the parks by 9ish.
Actually, this is my least favorite park, and the only reason we were even going was to see the Osborne lights. I knew my parents would love seeing those. But there aren't that many rides and the kids get bored there…..so, knowing we were getting a late start because of the sales pitch, I scheduled this as the first park. We had a good day there though….. We all rode Toy Story Mania (mom and dad LOVED it!), Karl and I rode the Tower of Terror (probably my favorite ride at Disney), but Matthew and Alaina both chickened out on it.
We ran into some of Zach's favorite people.....Little Einsteins Quincy and June...he was VERY excited to see them in person! :D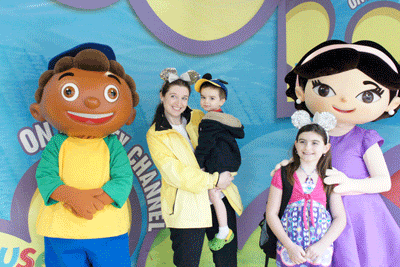 It was kind of a rainy and miserable day, but we toughed it out like pros: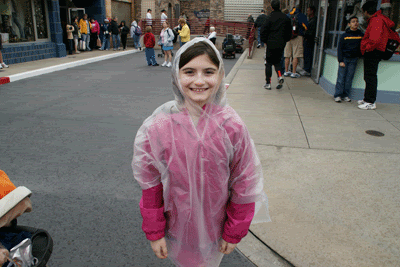 We watched the Beauty and the Beast show, and the perk of having someone in a wheelchair with you is getting front row seats!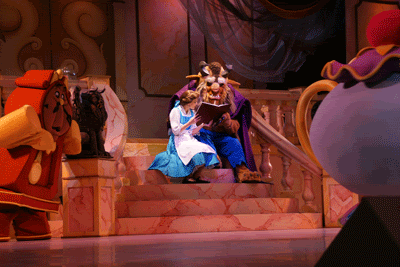 We went to the Indiana Jones show too, but the handicapped seating for that was in the last row, so my pictures for that were crummy (rats!). Once 6PM came around, we went to go watch the lights. They were awesome, as always. My parents were amazed….they were almost as fun to watch as the kids! It's so gorgeous, it's impossible to describe, and pictures don't really do it justice (although I took PLENTY)....and I'm posting a lot of them just because I can't choose my favorite! :D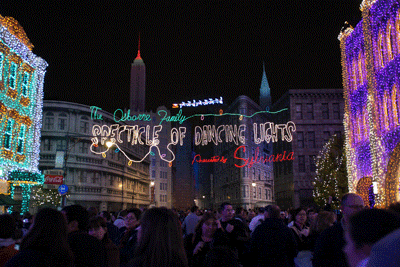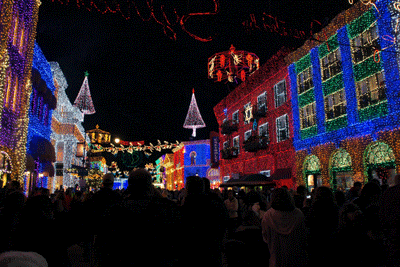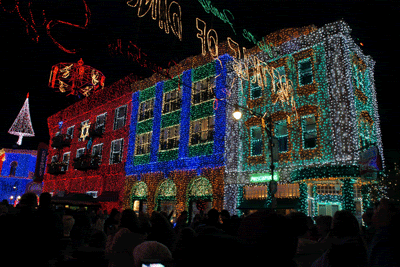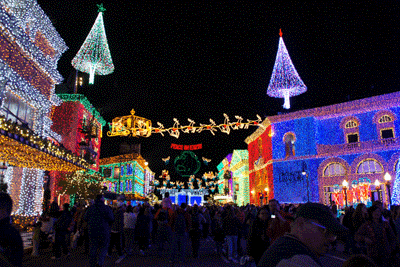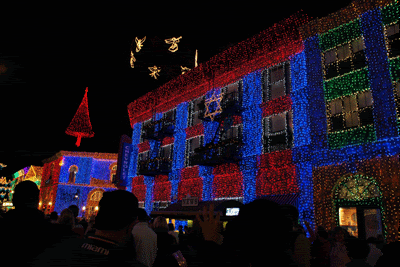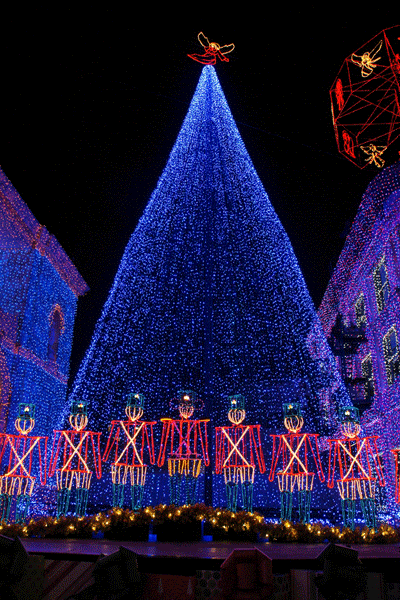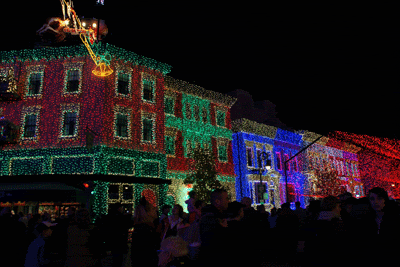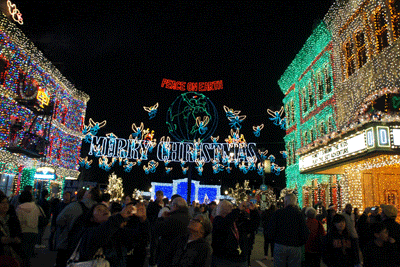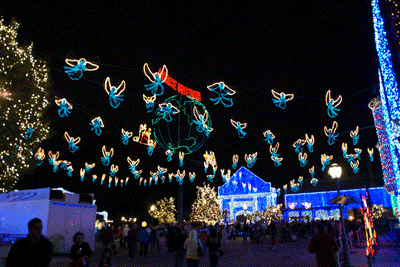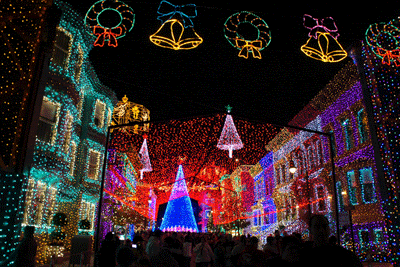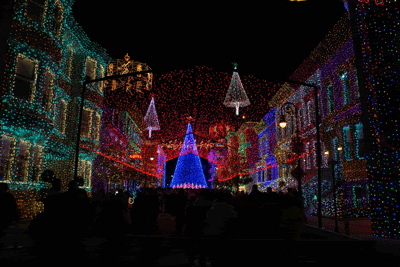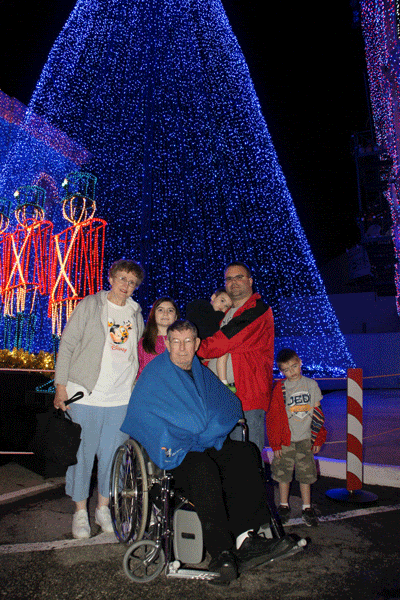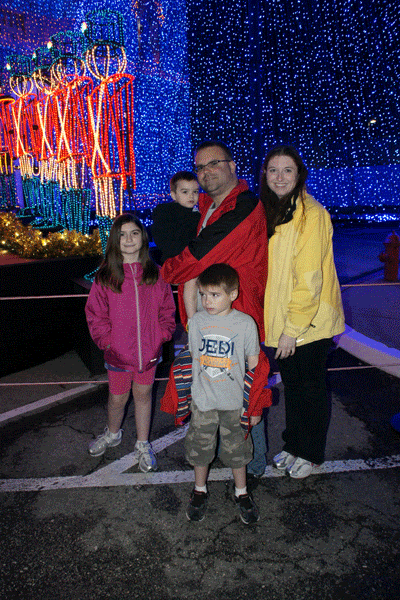 We stood out there for quite awhile admiring everything…....and it was snowing too, with that Disney magic! If you have the opportunity, I highly recommend seeing this light display....it really is amazing!
We had dinner at the 50's Prime Time Café, because I knew that my parents would 1) like the food, and 2) get a kick out of the atmosphere. And I was totally right...they sat in the 'living room' and pointed out decorations either they had or someone they knew had 'way back when':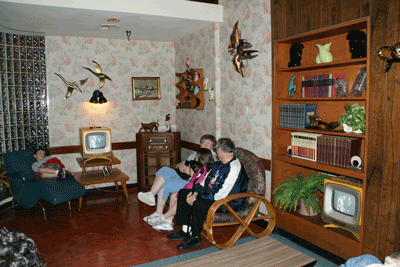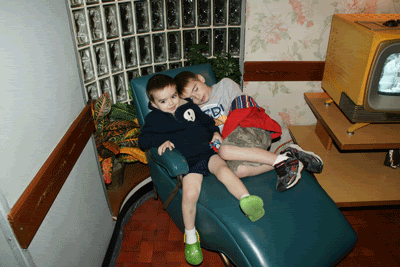 Matthew could just NOT understand that this was what TVs used to be like...."where's the color?"...."why is it so small?".......ah, kids!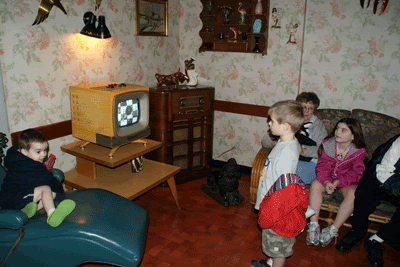 where we had an AWESOME server (Cousin Cliff….I'll always remember him, he was so great!) who teased me and who I teased right back. Cousin Cliff made my dad set the table: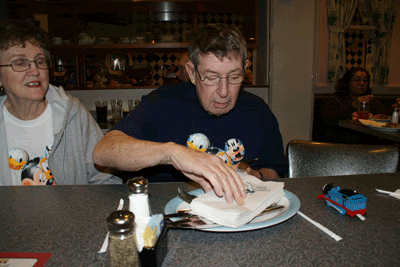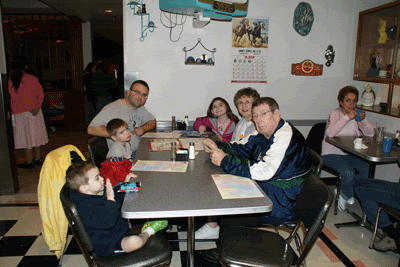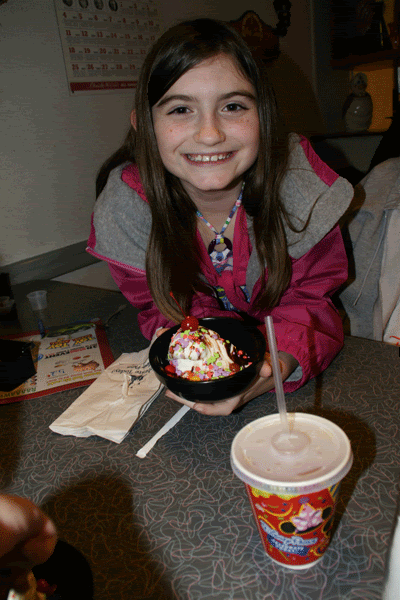 Fun dinner, and yummy too, but I swear I got a double portion of green beans or something…..I ate them, but there was no way I could finish those…..so Cousin Cliff gave me grief over it. Bah! I ordered dessert anyways! So the first day at the parks was a blast…
Rest of the trip is forthcoming....as I have time/energy to post it! :P