Hello! Remember me? This is my blog. I haven't posted in awhile! :D
So anyways......catching you up on our life here....uh.....the kids got home last friday from 2nd Reunion at Brush Creek. They had a blast. My parents were completely WORN OUT from having them all week though! They had their classes and made crafts and had music and went swimming and had campfires....all that typical fun camping stuff I remember oh so well. I sent the "little camera" (that takes really crummy pictures) with Alaina and told her to bring me back some pictures to scrap.....Alaina decided to participate in the talent show and got up there in front of everybody and sang a song acapella. Brave girl! They also posed for a picture for our church historian....they had people that were direct decendants of the first founders of the Brush Creek congregation 150 years ago....and that's our family! so the kids were a part of that, which was pretty cool. So all in all a great experience for them. Brush Creek is the best....I miss being there like I used to!
So here's a nice layout of their week: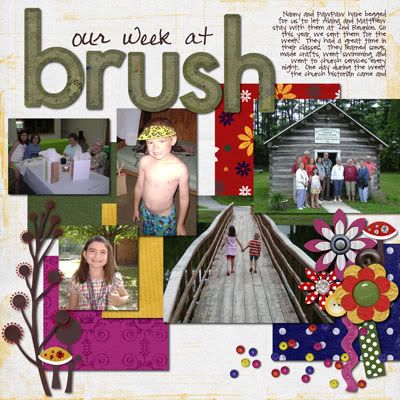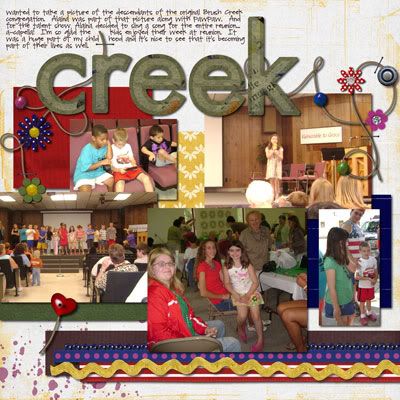 some of those better shots I took myself the Sunday we were there. :D But they had a great time and that's the most important thing.
Since they've been home, it's been back to the usual for our summer vacation....meaning all of them stay up ridiculously late and I'm the one that still has to get up early and go to work. BAH! why can't my company shut down for the summer? I seriously wonder how much we'd REALLY miss out on if we did..... *sigh*
The highlight of the week, OBVIOUSLY, was the Jonas Brothers concert on Tuesday night that Alaina, myself, and 10,000 screaming teens and tweens went to downtown. Totally took me back to my first New Kids concert. It was too cute.....and since they allowed cameras, I got some great pics....but I'm too lazy to resize them for the blog, so you'll just have to wait 'till i get them scrapped.....or look at them on my Facebook page if you're my friend!!!
So anyways....scrapping hasn't been THAT active, for almost 2 weeks' worth of it.....I'm playing a little catch-up with our current lives as well as trying to scrap some of our disney trips we've taken this year.
Here's a layout I did of Alaina and Alice at Disneyland....I redid it from one I did for a challenge on the disboards...I might've already posted that version. But this one is better! :D oh, plug: Sya's "chosen 1 set 2' template.....what did I ever do before templates? seriously!! :D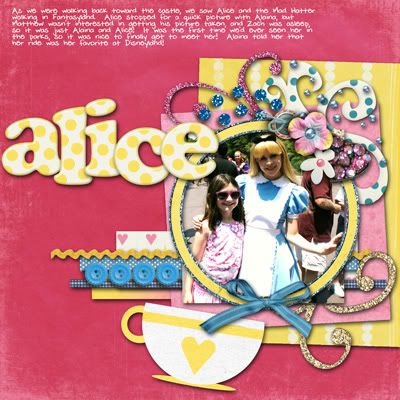 And another one from Disneyland....oh, technically these are from California Adventure I guess:
this was for a template challenge at SM.....did I mention how much I adore templates? :P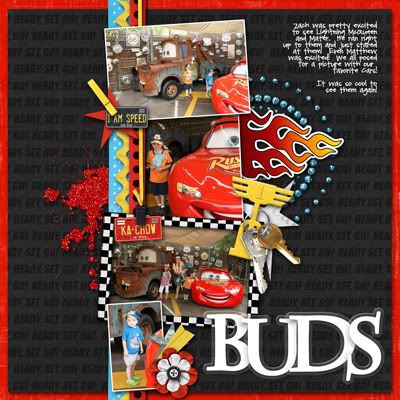 And for another template challenge (they post one every week....I'm just catching up for this month!), the 4 of us riding Soarin.....i'm so proud of this picture....of course I didn't take it....I'm just thrilled that it actually exists...as they usually load this ride pretty fast so you just don't normally have time...but since we were on the front row (the ONLY way to ride that ride, btw) we were the first ones seated, so we had a few extra seconds....and a most-obliging cast member that obviously knows how to work a big bulky camera like mine....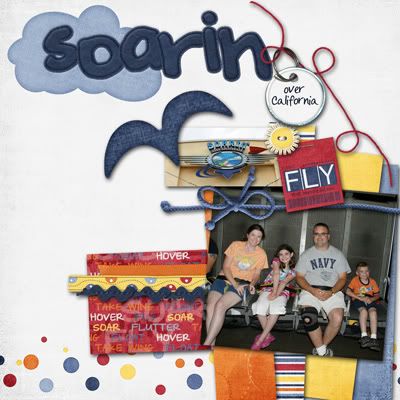 And here's one I really like.....again, another template challenge, but over on the disboards. This is where I learned how to do custom shadows....VERY big deal to me! This is obviously us meeting Mickey....I just love the picture the photopass photog got of Zach giving Mickey kisses.....THAT is what shlepping to Disney every year is about people! :D you can't put a pricetag on such moments: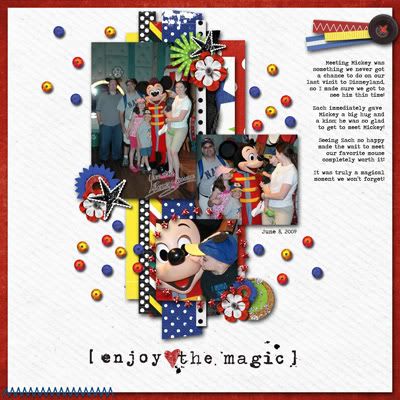 And that's it for the Disneyland pics......going to our OTHER Disney trip to the 'World' back in march......here's our dinner at Chef Mickey's.....way fun character meal....I like character meals because it saves you time from standing an hour in line to see Mickey....you sit there and eat your dinner and he comes to you! voila!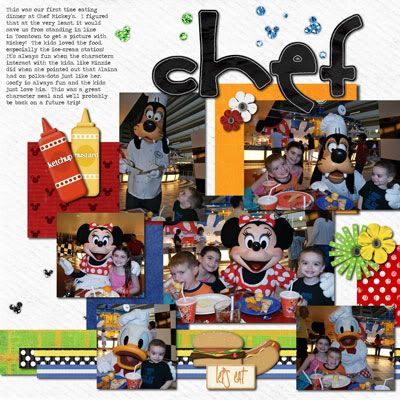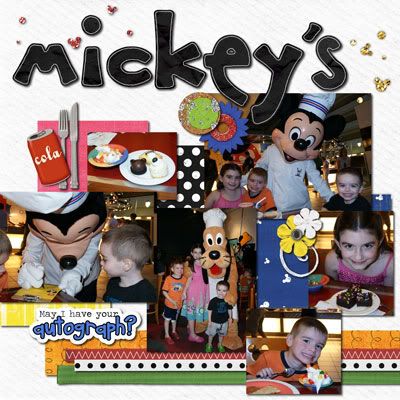 last one...with Haynay's newly expanded kit, 'My Happy Life'....of our kids with my aunt Doris and uncle Frank: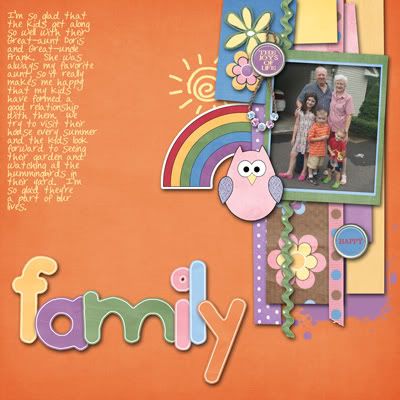 so that's all the layouts for now.....I haven't done my blessing yet that I was planning to post. Been busy doing other stuff......like buying a new car!
uhm, yeah. We bought ANOTHER new car. No, you're not crazy....we DID just get a new car a little over a month ago. We were talking about what we were going to do when our van died......hypothetically of course. And wouldn't ya know it......funny noises start.....this freaky GROANING noise that we figure is either the power steering or the transmission...and after the transmission died in our other car karl freaked out at the prospect of being stranded again.
And then on a whim......Karl goes to that 'cash for clunkers' website for that government program and finds out that our van qualifies as a clunker! I still can't believe it. It's only an '03 for pete's sake! I wouldn't classify it as a CLUNKER, but I guess technically it is! go figure! sooooooo.......that was the tipping point for us to start doing some research into a new family truckster. And we signed the paperwork for it tonight and pick it up in the morning. A Ford Flex...which I still think looks like a shoebox with wheels....but it's growing on me. So I'll have to do another 'new car' layout I guess soon, huh? :D So that's that....another car payment for the hermans, yay!
I guess that catches you up on us for now.....I'm off to go watch some TV and hang with the fam for the rest of the evening.