just wanted to get these blessings posted.....I think I still have a couple more to get me completely caught up.
Here's the first one, which is probably pretty self-explanatory: our new car. After the last one died and left me stranded, I'm pretty grateful for the new ride! ....(using Sya's 'somewhat centered 4' template set)....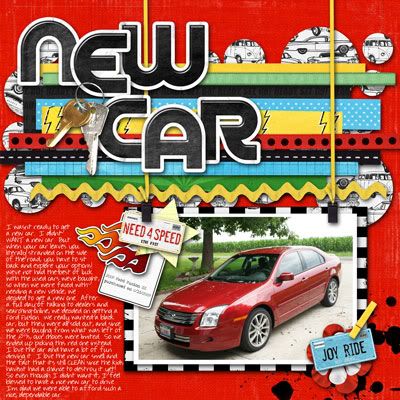 journaling reads: "I wasn't ready to get a new car. I didn't WANT a new car. But when your car leaves you literally stranded on the side of the road, you have to sit back and explore your options! We've not had the best of luck with the used cars we've bought, so when we were faced with needing a new vehicle, we decided to get a new one. After a full day of talking to dealers and searching online, we decided on getting a Ford Fusion. We really wanted a black car, but they were all sold out, and since we were buying from what was left of the '09s, our choices were limited. So we ended up picking this red one instead. I love the car and have a lot of fun driving it. I love the new car smell and the fact that it's still CLEAN since the kids haven't had a chance to destroy it yet! So even though I didn't want it, I feel blessed to have a nice new car to drive. I'm glad we were able to afford such a nice, dependable car."
Next blessing: Disney Magic! :D ....(using Sya's 'somewhat centered 4' template set)....
journaling reads: "Disney World is our favorite place to go on vacation. We've been all over the world, but nothing beats the magic and excitement that we experience at Disney World.The kids love the thrill of riding the rides, we all enjoy meeting characters and seeing shows, so it's a perfect place for our family to go on our vacations. Neither Karl nor I ever got to go to DisneyWorld as a kid, so we were determined to be able to take our kids as soon as we could possibly go. Now we make it an annual trip, and we look forward to it so much! There's something truly magical about it that no other place can really duplicate. I feel so blessed that we have Disney Magic in our lives."
And here's one that's LONG overdue....(using Sya's 'somewhat centered 4' template set)....his birthday was June 4th, and of course he's a huge blessing.......Matthew: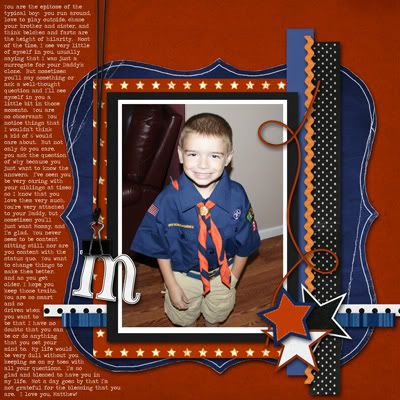 journaling reads: "You are the epitome of the typical boy: you run around, love to play outside, chase your brother and sister, and think belches and farts are the height of hilarity. Most of the time, I see very little of myself in you, usually saying that I was just a surrogate for your Daddy's clone. But sometimes you'll say something or ask a well-thought question and I'll see myself in you a little bit in those moments. You are so observant: You notice things that I wouldn't think a kid of 6 would care about. But not only do you care, you ask the question of why because you just want to know the answers. I've seen you be very caring with your siblings at times so I know that you love them very much.You're very attached to your Daddy, but sometimes you'll just want Mommy, and I'm glad. You never seem to be content sitting still, nor are you content with the status quo. You want to change things to make them better, and as you get older, I hope you keep those traits.You are so smart and so driven when you want to be that I have no doubts that you can be or do anything that you set your mind to. My life would be very dull without you keeping me on my toes with all your questions. I'm so glad and blessed to have you in my life. Not a day goes by that I'm not grateful for the blessing that you are. I love you, Matthew!"
And I'll do a regular blog post with more layouts tomorrow when I'm not so darned tired! Plus, I still need to upload the (horrible camera-work) video of me and the rest of the choir singing the national anthem Thursday night. I must say I was pretty proud of myself, but more on that later!