uhm....I'm not even sure what to write....it doesn't really seem like anything much has happened around here....work, ballgames, work, repeat. :D Not much scrapping, because I just haven't been in the mood lately.....I know, I can't believe it either! :D
Saturday was Alaina's first introduction into the wonderful world of church camp! Out here in the St. Louis area, the campground for our church is called Woodland Hills. We've lived out here 11 years and I'm ashamed to say we'd never been there! When we'd go to church camps, we'd always go back to the campgrounds near my parents' home in southeast Illinois. But....we decided that it was time we start putting down some roots out here and getting to know other people in the area....and we figured the best way to do that was make our eldest child the guinea pig! :D she can handle it! :P LOL!
So Saturday was her camp. It was "Primary Camp".....and since it was an introduction to camping, it was only 1 night. No biggie really, but I totally forgot how much STUFF you have to pack for camp!! We dropped her off and as we left, she was jumping into the pool with her cabinmates and counselor.....so she was more than fine. That's our social butterfly!
I took a couple pictures of course before I left:
Here's where we left her....in the pool:
The girls' cabin: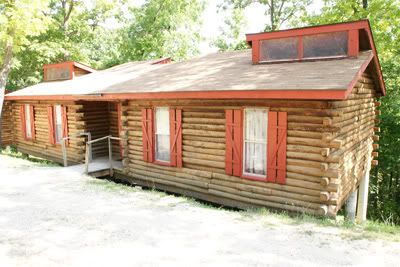 Alaina and her counselor, Amy:
and posing with the camp sign:
She had a great time at camp! So I have no qualms about her enjoying the longer camp next year (4 nights!). She sang songs, made crafts, had lessons, and had a blast making some new friends! And as long as she wants to go, we'll probably send her to the camps here in STL and in southeast IL where I grew up.......because I know from experience that you can't go to too many church camps in the summer!
Sunday was the first cubscout meeting of the summer......so here's my little Tiger Cub Matthew.....and the Scoutmaster, Karl: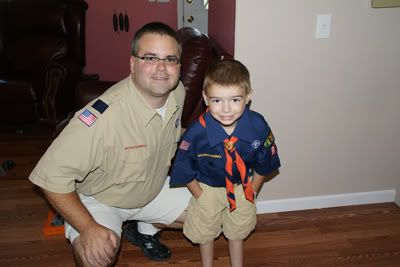 I just LOVE the gigantic shirt on Matthew....it cracks me up (they have to wear it for 3 years, so you have to buy it baggy obviously!). Matthew is SO excited to be a Tiger Cub, because now that he's a Scout, Daddy told him he can carry his "Switch" Army knife in his uniform. That'd be the Swiss army knife that Karl brought back for him and Zach from his trip to Switzerland a couple years ago and has never let him touch 'till this point. So Matthew thinks he's a really big kid now!
AND, this is the last week of ballgames, so YAY for that! I love my kids being in activities and all, but gosh it's hectic while it's happening! Alaina and Matthew both have games on Thursday, and I'm going to miss at least the beginning of Matthew's 6PM game because.....
DRUMROLL.....
I'm singing the National Anthem at the Cardinals' game! :D I am SOOOO ridiculously excited about it it's not even funny. And it's not JUST me of course......I'm part of a choir at work. Okay, I'm not really IN this choir, but I'm in it this week! :D One of my coworkers sings alto in it and I overheard her telling someone else that they were short sopranos to sing the anthem at the game on Thursday, so if she knew anybody that could hit an F, let her know.....and I literally stood up in my cube and started jumping up and down screaming, "ME ME ME!!! I'LL DO IT!" Because I'm a big pathetic dork like that! :P
At work, they have a choir called the Boeing Balladeers (yes, I know that's totally cheesy) and they sing for special events (usually aircraft rollouts and big company parties, etc....mostly it's just a club of people that like to sing) and since Thursday is "Boeing Night" at the game (I didn't know that....why didn't we all get tickets I wonder?), they were asked to sing the National Anthem. And well...since it's a company of mostly MEN.....they are obviously light on the female parts....hence the need for a soprano......and that's where I come in!
We had our last (and first in my case!) rehearsal tonight. I'm one of 4 sopranos, and I'm scared to death they're going to put me in the front row of the group (there's like 18 total I think). I can handle the notes....I can handle the lyrics, but PLEASE DON'T MAKE ME STAND IN FRONT OF THE MICROPHONE!!!! please! :D
Actually, singing at Busch Stadium has been a dream for me for a really long time......I've been saying it's on my 'bucket list' (anybody seen that movie? GREAT movie, btw!) and I just can't wait for Thursday to get here. I'm hoping to get someone to take pictures and to video it so I can post stuff.
uhm, I have only scrapped 2 layouts this week....gosh that's sad! The first one is a redo of one I did before and didn't like..... this is with a template from Sya's "triple threat 4" pack: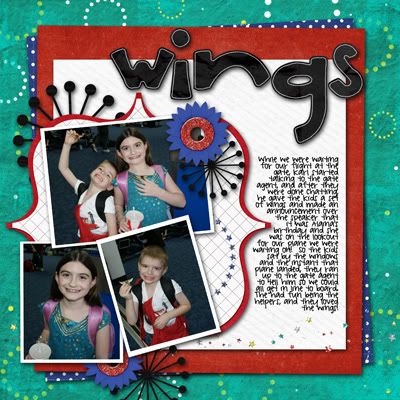 And this second one is a blessing.....to kinda/sorta catch me up? :D using Sya's new template pack "Somewhat Centered 2":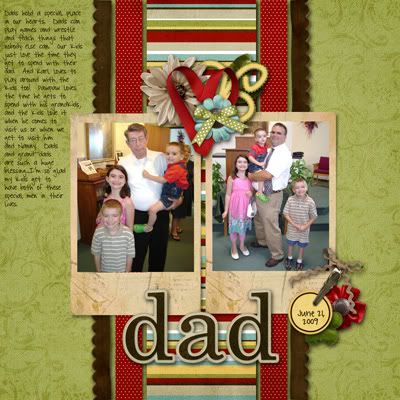 ugh.....i'm way too lazy to retype that journaling....but you can get the gist of it, can't you? :D Those pictures were from Father's Day.....my parents were out here for the weekend and Karl was speaking at church.
I think that's it for me for now.......wish me luck on Thursday....anybody that gets Fox Sports Midwest, set your DVR! :D Go Cards!