And I'm back after my first week back to "life" after vacation. It was a long week back at work, but then again, they're all long during the summer when everybody else is at home, sleeping in, eating popsicles and having fun....and i'm stuck in "the box" at work. BOO!
I guess the "excitement" for the week was all the stuff that went wrong! :D On Monday, I was driving home from work and as I was driving through Elsah (about 5 miles from our house), the car just suddenly slipped out of gear. No noises, no lights, no warning whatsoever, I was just suddenly rolling along in a car that wouldn't GO anywhere. Frustrating! So after knocking on a few doors (no cell signals out here!) I called Karl to come get me. We did a little internet research and talked to a mechanic friend and everybody pretty much confirmed that our transmission was shot. :( Of course that's EXPENSIVE to try and fix....and we knew that.....so we were VERY upset about that, as we had JUST paid off the car a month ago! The prospect of taking on another car payment wasn't too appealing to us at the moment. I was pretty upset. Normally I LOVE the thought of getting a new car, but since we were wanting to wait until NEXT summer to get one, this little monkey wrench in the plans really had me bummed.
In the middle of this car-repair nightmare, of course life went on......Alaina had a ballgame Wednesday night...adn I still had to get to work....so I was forced to drive the van to work the rest of the week....which bummed me out again as I'm not a big fan of driving large vehicles in the first place! :D
So of course the diagnosis was that we needed a new transmission...which cost more than the car was worth. Then you're stuck with the dilemma: do you spend that much money to fix a car that's got almost 140,000 miles on it? we decided no. So Tuesday/Wednesday we spent looking at cars online..... and on Thursday we signed the papers and are now the proud owners of this: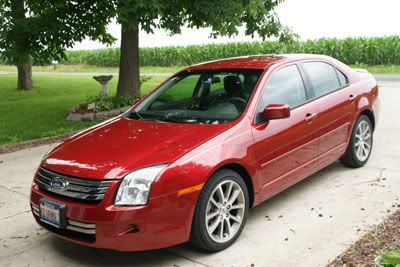 A Ford Fusion SE. Don't get me wrong, I LOVE the car, I'm just still so upset about being forced into getting it and having so little time to really get into the mood of getting a new car....that I'm still not all that excited about it. I picked the color.....and since we got an '09, our choices were limited to what was left in stock in the STL area. So that's our new 'work car'.......the kids LOVE it.....they say it looks more "fun" than our old one....and that we'd had it FOREVER (5 years probably DOES seem like forever to 8 and 6-year olds!)
Oh, and also on Thursday, we had the little "Thomas adventure".......I'd noticed that on Wednesday night, the drains in the upstairs bathroom were draining REALLY slowly.....so told Karl to take care of it on Thursday........I got a call at work that he'd called a plumber because he couldn't unclog whatever was in there. There's a lovely family story my mom always tells about how embarassed she was when a plumber came to our house and took the toilet out on the front lawn to dislodge some matchbox cars that my brothers had flushed down the toilet. And it was total dejavu as Karl informed me that the plumber had taken our toilet out onto the front lawn to dislodge what was clogging it. And the source of the problem was a Thomas freight car....a little wooden train that Zach had decided to try and flush down the toilet. *sigh*.......lovely! But now that's fixed and all drains functions normally again. yay!
That's enough excitement for the week, don't ya think? Friday we went and got some food (finally) after having been gone for 9 days, we had nothing in the house! Friday night we got a nice thunderstorm that knocked out power for a little bit.......Saturday my parents came out to visit, and today Karl spoke at church, so it's been a good ending to a not-so-fun week.
And thanks to all the misc. junk going on, I didn't have the time, energy, or motivation to scrap much!
I did this layout for Sya's grab bag.....using her mini-kit called 'deeper conversation' and a template from the 'triple threat set 4' pack........of us at Disneyland:
And I did this layout for haynay's grab bag, using her mini-kit, called 'my happy life' and an element pack called 'attached at the hip'......of deron's first trip to Disneyland: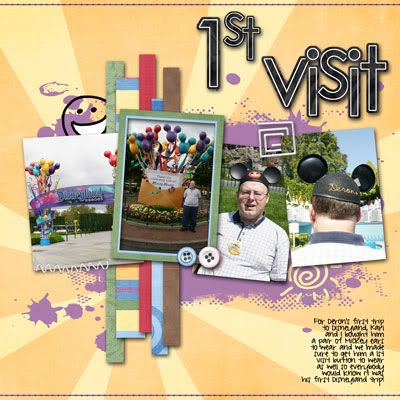 okay, I know I owe like 4 blessings, so here's one....the others will come later! This one is to represent the kids' activities. It's using a new kit of Haynay's called 'Diamond all-stars':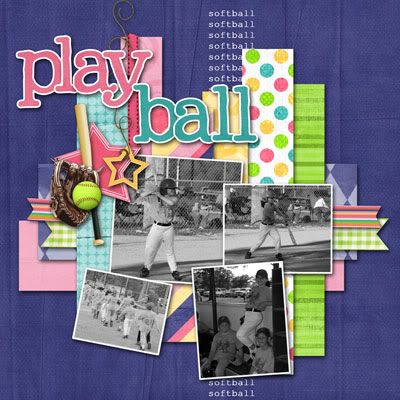 And I forgot to save the journaling on this version, so you can't SEE it, but I DID it! :D it reads: I love the fact that my kids are busy with activities. It's always been my goal to have enough things to do to keep them busy, but at the same time, not overschedule them so that they're too busy to be kids. During the school year, they have scouts, tumbling, and swimming lessons. In the summer, they have ball, which only lasts a month. Soccer also only lasts a month in the fall. That sounds like a lot, but it's really not that crazy! I want them to be involved in things so they can develop interests and know what they do and don't like. I want them to stay active so they're not watching TV all summer or playing video games. I love that we're able to keep them in activities throughout the year. I never had the opportunity as a child and being able to give that to my children is a blessing.
I'm also kinda sad to announce that I'll no longer be CT-ing for Vicki....*sniff*.....but since I've been on her team the longest and had fulfilled my CT committment, it seemed an okay time to step down. I'll miss working with her and all the girls, but things are just too busy for me right now to try and keep up with 3 CTs! I'll still stalk her blog of course to download freebies!! If any of you are interested, definitely apply for her CT!! Whoever gets my spot will have a blast! I'll always have a soft spot in my heart for Vicki, as she gave me my first CT gig.......it's always the hardest to get that first spot! So as I part ways with her CT I wish Vicki and all the girls the best of luck!!!
And that's it for me......tonight, just hanging out with the fam.....still debating on having a garage sale in a couple weeks, but after not making any money on the last one, I'm leaning toward not bothering.......and other than that, not much else going on around here to blog about. Back to the 'box' tomorrow and hopefully the new car won't leave me stranded at least until we pay it off.
So have a great week everybody....later!
diana