So……I'm thinking I'll do the rest of my layouts in a separate post here…..if you want to read all about where I've been…see the previous post! :D
Gosh I'm behind with the plugs……Vicki's (probably not even new anymore!) got a kit called 'Ahoy Shipmate', and obviously, having a cruise I'm trying to finish scrapping…..I had good material for that: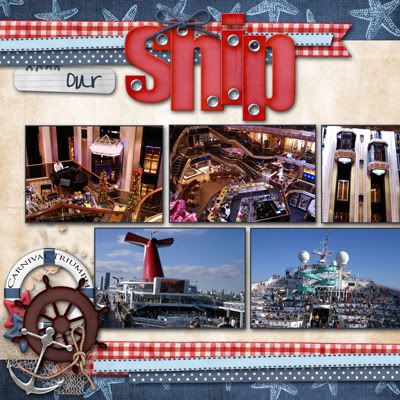 Sya's got a template pack out that she took from movie posters, called "Movie-spiration"…….and she also has a new kit called "Take me to the Movies"…..and I scrapped this with it: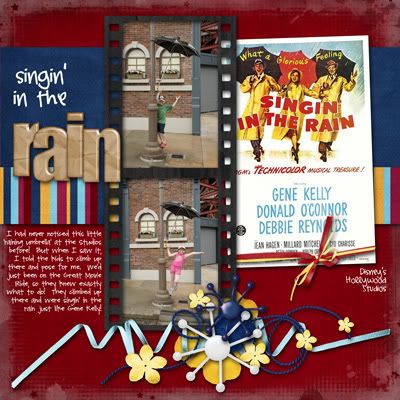 This is at Disney's Hollywood Studios down in Florida…..I'm sure I'll also use this kit to scrap the Great Movie ride pictures I took too……it'll be perfect for that….when I get around to it! :D
I used another template from that same pack to scrap this……Christmas morning on our cruise: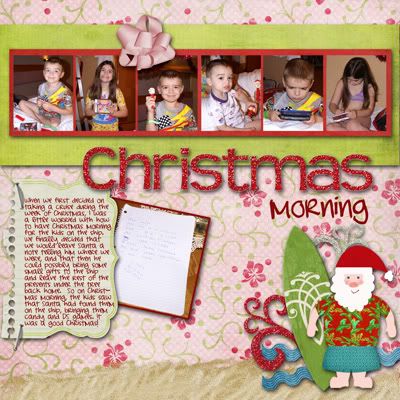 Haynay's latest kit is called "A Stone's Throw", and even though it's kinda outdoorsy/woodsy/boyish, I didn't have anything like that to scrap, so this is what I did with it instead….it's all about the versatility, right?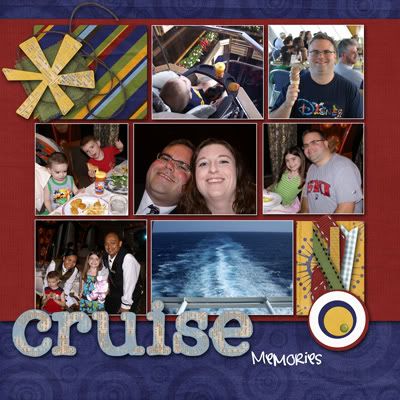 I used another of Sya's templates to do this 2-pager from our day at Orient Beach…..the template pack is called 'Double Trouble'…..can you tell I'm trying REALLY HARD to finish up this cruise album ASAP? :D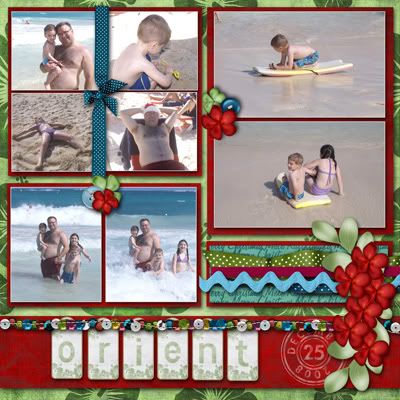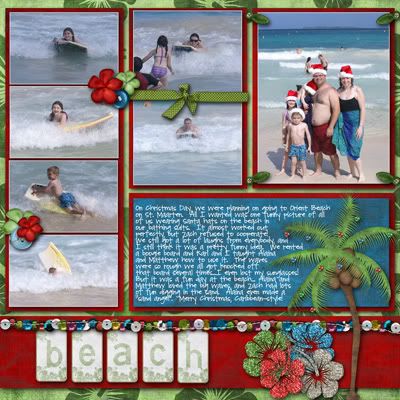 This 2-pager is of Emerald Beach (which is in St. Thomas if anyone cares), using 'Completely Clustered' by Sya's Blueprints….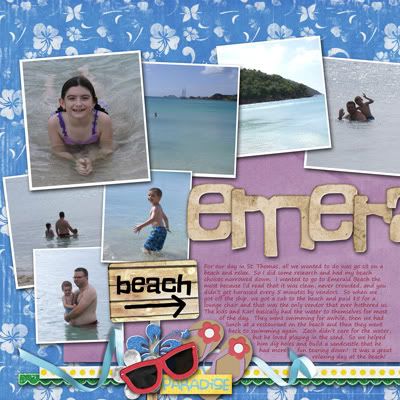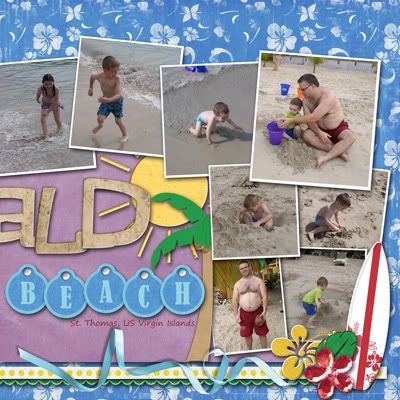 Oh, and here's another of Sya's templates (good thing I kept a running tally of credits with this scrap-marathon of mine….I'd totally have forgotten what's what by now!)…..this one is from "Mix n Match, set 2"…..of Zach and his worms. I don't get the fascination with worms, but the kids, Zach especially, are just obsessed with the things!!!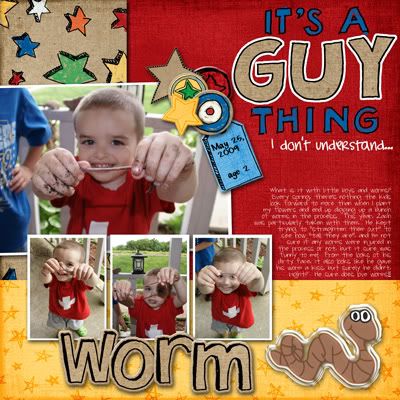 And another of Sya's templates ("Room for Photos 2")…..not sure what I'd do without templates sometimes! :D Of me and the old fort in San Juan….I should probably have looked up it's name before I scrapped it, but since I scrapped it in the car and didn't exactly have Google access…..eh, oh well. I won't remember the name of it anyways, kwim? :D
Last plug……"Completely Cornered" by Sya……of a few misc. shots I took of the kids (notice Karl intentionally ruining one? He does that A LOT…..grrrrr!)
Now, I'll just throw the rest of everything I've scrapped on here in no particular order….
The air show that Karl and his brother Keith took Matthew and Zach to while Alaina and I were at the American Girl Place in Chicago: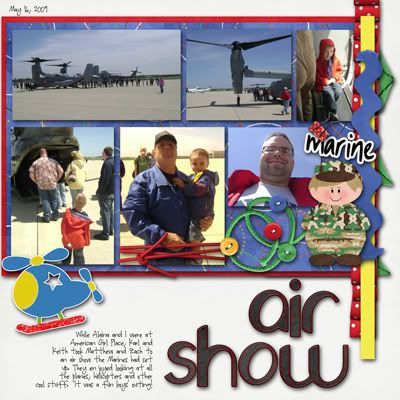 The kids' last week of school highlights…..what happens when you send a camera with Alaina basically: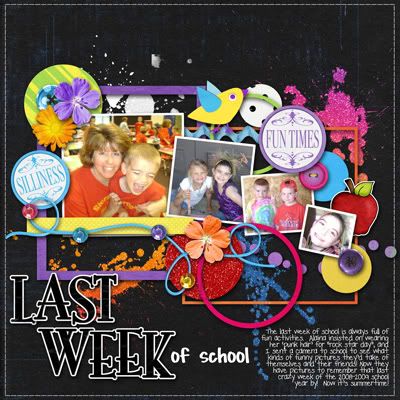 The remote-controlled airplane that we got Matthew (or should I say Karl?) for his birthday…….they flew it into a tree of course. :D
Alaina's official (official enough for ME anyways) baseball pictures: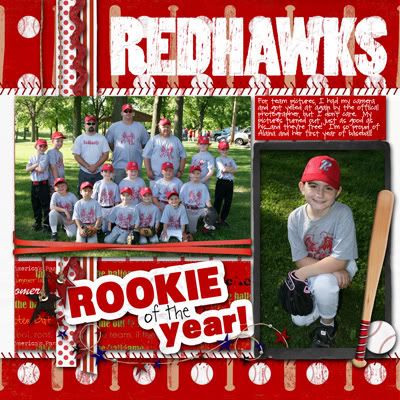 Matthew's official tball pictures: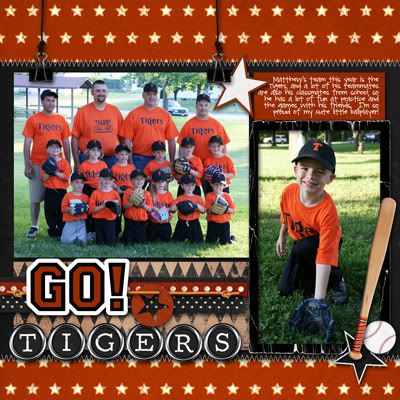 Swimmin' in the pool on the cruise: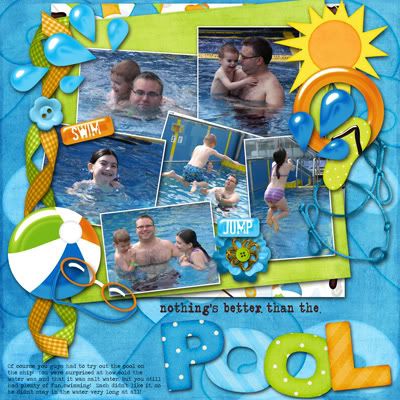 Another layout from the first formal night on the cruise….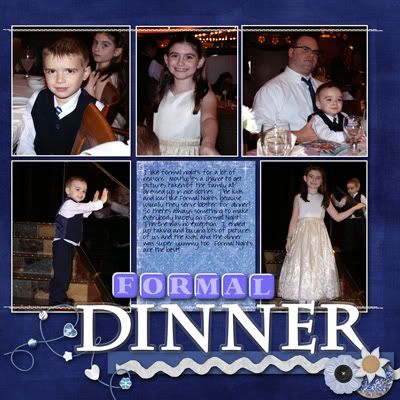 One of those pictures they take of you on the ship everytime you get off…..this was the only one I bought because it was the only one where everybody was actually looking at the camera! This was Christmas day in St. Maarten:
The harbor in St. Thomas…..I didn't realize it until I was scrapping it, but I took basically identical pictures of the harbor….one set in daylight, one at night. Didn't mean to do that, but it's kinda cool that I did! :D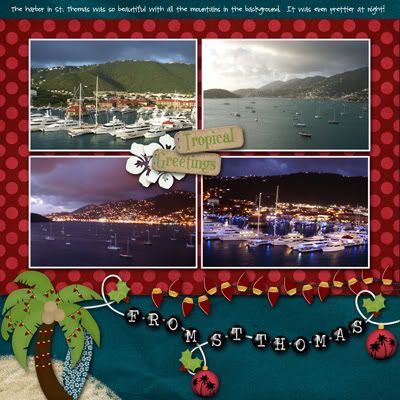 The kids in one of their "take a picture, Mom!" moments (I have them trained well!) with one of the many Christmas trees that were on our ship (it feels so weird to still be scrapping Christmas stuff in June, btw!)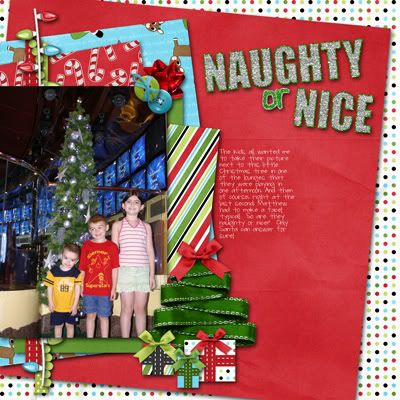 and a standard cruise shot....of the kids with a life preserver that has the ship's name on it....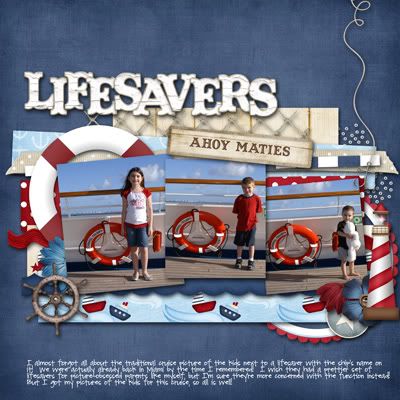 From our previous trip to Disney this March……the kids posing in a 'wild animals' train car near the dumbo ride. Has that thing always been there and I just never noticed it?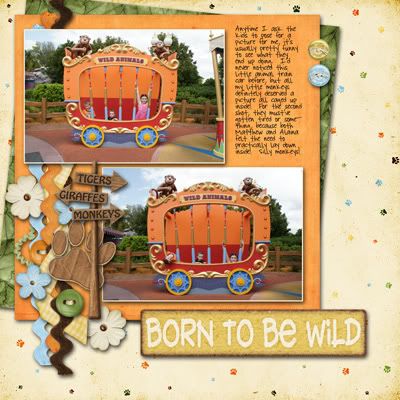 Zach at the play area in Toontown….he'd go down this slide over and over all day, I swear!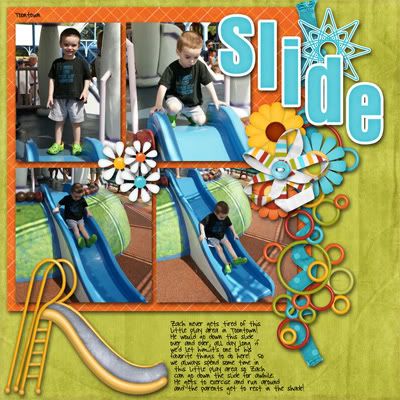 Here's where we got to wake up Tinkerbell: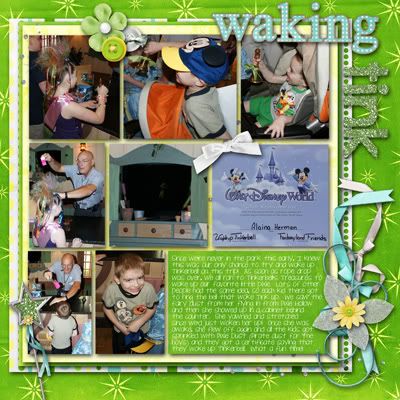 And actually being awake and at the park for the official opening, called 'rope drop'……there actually IS a rope, LOL! :D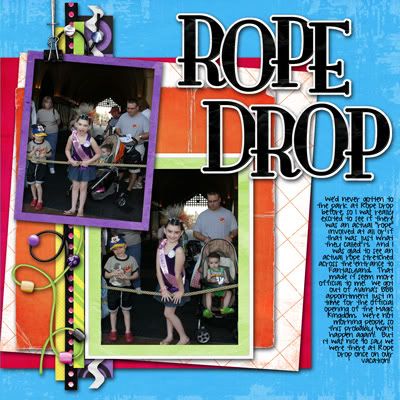 And the last layout to post….a 2-pager of just random, "I took these pictures so I'm going to do something with them" stuff from the cruise…..and that COMPLETES THE CRUISE ALBUM! WAHOOOOOOOOOOOOO!!!!! It was my goal to get that album scrapped before I got home from this Disney trip, and I did it! Yay me! Although I don't recommend quarantining yourself in a van for 55+ hours, it does allow you to get some serious digiscrappin' done! :D Unless you have to do the driving of course….but that's why we brought Uncle Deron along! :D So now I'm caught up with '09 stuff and done with the Christmas cruise……now all I have to scrap are the 2 Disney trips. UGH. I'm still WAY behind of course…..but I'm basking temporarily in getting another album done……granted, by my 'standards' it was a "small" album at 48 pages….I'll feel more of a sense of accomplishment when it's printed and actually IN an album of course….but who knows when THAT will be! :D but it's nice to cross that off my list….and not have to worry about scrapping Christmas in June! :D Now I'll just keep scrappin' these 2 Disney trips until our next vacation…..which won't be 'till next summer! *sniff**sniff* I know, how will I survive?? I'm not sure I'll make it that long without going SOMEWHERE….but right now nothing's planned! *sigh*
So here's that last layout……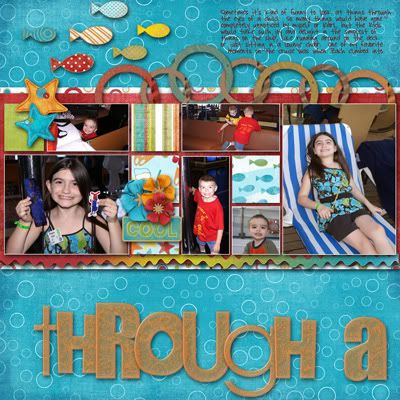 And that's it for me for now……would you believe I'm actually kinda "scrapped out" for the moment? I realize I'm like 3 weeks behind on blessings......eh, oh well! :D I'll get caught up one of these days.......time to regroup from vacation and get ready to jump back into work tomorrow morning….BAH! I always say I need a vacation from my vacations…..but this time I really could use another day to recoup from the drive!! :D later!!!