I'm really not in the mood to blog. But then again, I'm not sure there is a "mood" TO blog per se. So this will probably be short and sweet.
Alaina and Matthew are spending this week at Brush Creek for 2nd reunion. My mother has been BEGGING to take the kids to camp for the last couple of years.....and usually, being the brilliant person I am.....we've almost always been gone on a vacation somewhere the week the camp is. But this year it worked out for them all to go. Alaina and Matthew were SO excited to be there....they don't really care that they were going to be away from Mom and Dad for a week, kwim? We left them (hopefully?) plenty of money for the snack bar and we're pretty certain they're having a blast!
So the house is REALLY quiet without the two of them bickering constantly. Zach is completely lost without them here....he keeps opening the door and yelling for "lai lai" and "bubba". It's so sweet that he misses them.....but he's also enjoying the undivided Mommy attention too I think.
Which leads to the current adventure: potty training! Gosh this is SO not fun! I'd rather have the newborns that wake up every 90 minutes to feed vs. the toddlers that're potty training. This is by far my least favorite part of parenting. Zach is completely unmotivated, but since he's almost 3......I thought we should at least introduce him to the idea. So far, he's still not caring. :D
Work is work. 'nuff said. Karl's summer vactation is winding down, as he's back for teacher meetings the first week of August (which he's already grumbling about). And while Zach qualified for Pre-K, it looks like from the news that there won't BE a preK this year, which is a total bummer. Alaina and Matthew still have a couple weeks of summer after Karl starts back.....the difference between the district he teaches in and the one we live in...sometimes schedules don't quite match up! But the summer is kinda winding down for us!
So......since I'm due to give a couple plugs, I'll do that right now.....first up, Haynay's "Once Upon a Shabby Christmas" kit....for the Christmas in July sale they're having at Scrap Matters. I couldn't find a single Christmas photo to scrap, so I had to go more neutral with the kit and show the non-seasonal versatility of it! :D I also used her 'attached at hte hip' element pack too. So this picture is of Karl and the kids in front of Grizzly River Run at California Adventure. It was too cold the day we were there to actually RIDE it....maybe next time!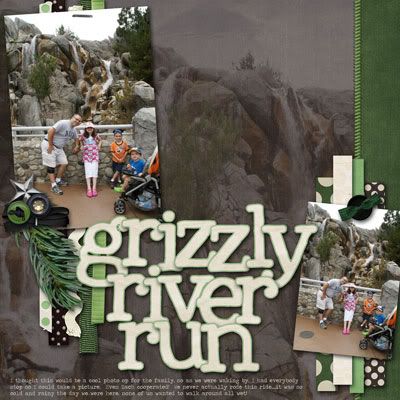 And Sya's newest template pack.....Dynamic Duo 4....uhm......yes, I used WAY more than 2 pictures on this layout because that's just how I roll! I'm kinda shocked I got this many decent pictures of the fireworks considering I didn't have a tripod! This was actually my blessing from a couple weeks ago that I couldn't post before.....And I'm too lazy to retype, but I think you can figure out why freedom is a blessing.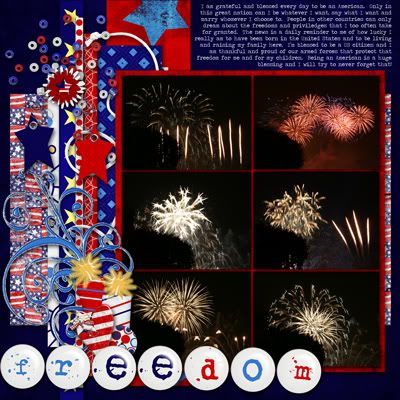 And huh.....go figure...the only other layout I've scrapped in the last 2 weeks (that's really sad!) is using the same kit I used on the fireworks one....LOL! (oh, and it's using 'stripped set 3' from sya)
Anyhoo......it's of our work choir singing the National Anthem at Busch Stadium a few weeks ago. It's gotta be one of the coolest things I've ever done (scroll down to the July 2nd post for the video to hear it!). I didn't retitle it to make it more obvious, but I'm considering this a blessing too.........just being given the opportunity to do something I consider such an honor is huge to me. I cry every time I hear the National Anthem, so to be able to actually SING it? In front of THOUSANDS of people in one of my favorite places in the city where my beloved St. Louis Cardinals play? It's just amazing and I choke up everytime I think of it (because I'm a huge sap like that!). I can't believe I was given the chance to do this....and I'm still so proud of myself for it (obviously!):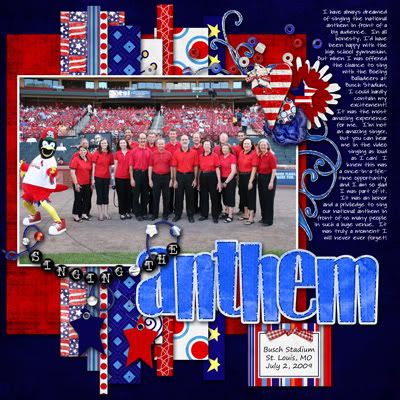 and yeah, yeah, yeah....I'm still like 2 blessings behind......whatever! :D I'll get there...eventually!
Karl took me to see the new Harry Potter movie Sunday night for our first date night in ages! Dinner and a movie....that IS a date...wow! It's been MONTHS since we've been able to get out and do that! And then yesterday I went to a matinee of The Proposal after work. So now I'm almost caught up on movies I wanted to see! Both were excellent! No plans for the rest of the week I don't think....Karl's got night classes.....so it's just me and Zach hanging out here at the house. Hopefully I can get a little more scrapping done so that next week I've got more stuff to post than this!!!
So that's it for now......have a great week!