ah.....it was probably inevitable......but the swine flu has struck the house of Herman. Oh yay! But at least up until that point we'd have a fairly enjoyable week and weekend!
Thanks to the miserable rainy weather all week long, Alaina's soccer game was cancelled on Monday night....and Saturday morning! So that greatly diminished our obligations this week!
Thursday was Zach's Halloween party for his PreK class (they don't have class on Fridays, so their party was a day earlier than everybody else's!).....He still refused to wear the spiderman costume we bought him, wanting to be Nemo instead....so whatever (pick your battles, right?)......he had a GREAT time, and whoever was in charge of that party really outdid themselves with the goodies.....I think he ended up with 3 goody bags plus candy from a pinata! goodness! He's still running around on a sugar high!
Since there was a mouscrappers.com
challenge
relating to Disney-themed Halloween costumes, I went ahead and scrapped his party since he was Nemo: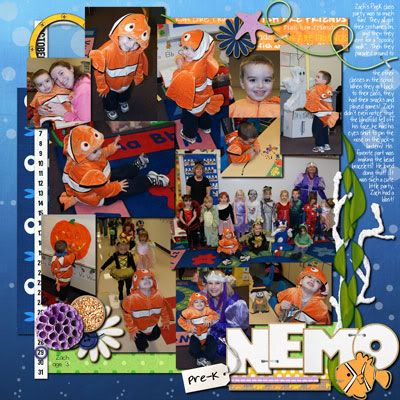 Then Friday was Alaina and Matthew's class parties at school. I was the room mother for Alaina's party, and I thought the party turned out really well. I decided to go much simpler on the sugar consumption at the 3rd grade party....knowing that trick or treating was that very night.....the other moms and I decided the kids would be getting PLENTY of candy! So their party was light on candy, but loaded with fun! I had one of the moms do a game where they felt in a bag of dead body parts and had to try and guess what they really were....they were so grossed out, it was great!
one of her friends was also a purple witch, so Alaina thought that was awesome:
And since Matthew's party was going on at the same time, I took a break from Alaina's and ran downstairs (them being on different levels at the school now gives moms like me an unexpected workout during parties!).....Matthew was nearly sick from eating all the junk he got at his party!! But he was loving it....one of his friends had the same costume on as him.....too funny!
I attempted to orchestrate a group picture, but his class is so huge (27 kids), that there wasn't anywhere for them to really GO to get a decent picture.....so eh, we tried! but he seemed to have a great time at his party!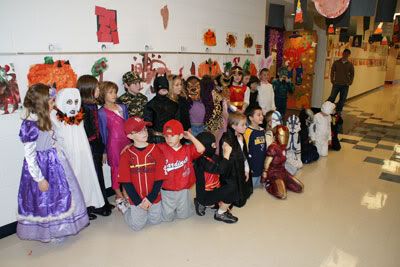 I had better luck with a group shot of the (much smaller) 3rd grade class: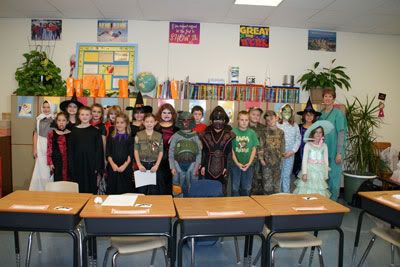 and No, I haven't scrapped THEIR parties yet.....kinda swamped at the moment.....because....
This month, starting today I guess...I'm a guest Creative Team member for
Stolen Moments Designs
and Amber is letting me scrap with her gorgeous kits this month. I'm enjoying myself already! She's releasing a grab bag for DigiScrapDay next weekend and I already got my layout done (since I'll be out of town next weekend....note the ticker above!). And I did another layout with a different kit of hers, but I can't post it yet either......so next weekend I'll post those, promise!
But check out the DSD festivities this coming weekend...everybody's going to be having a sale....should be a perfect time to stock up on stuff! yay fun!
So, the stuff I actually HAVE scrapped.....and can post!
This is of alaina's soccer portraits.... I used Haynay's
Pop Dot Alpha
....it's so fun! I also used
Fair and Square
by Sya for the template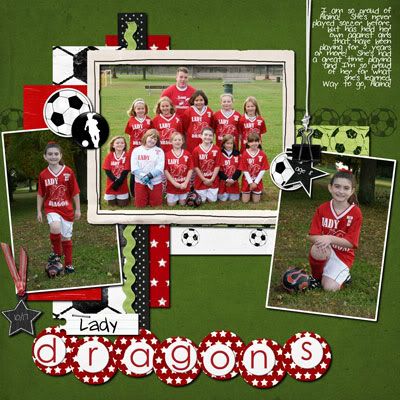 no plugs for these two.....the first one's from the kids' school Halloween carnival a couple weeks ago: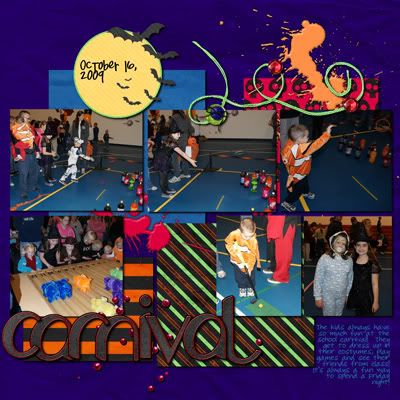 and this one is from my 15-year class reunion...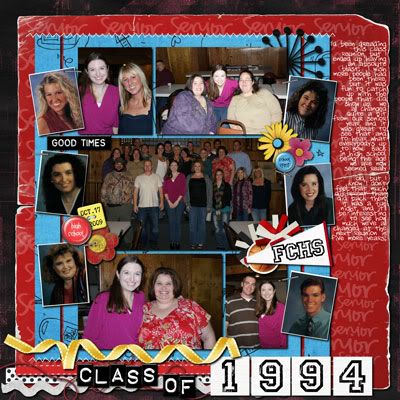 And this one is all with Haynay's stuff.....
the template
....the kit's called
Falling for Pumpkins
....and then there's the
Falling for Pumpkins Flair
too: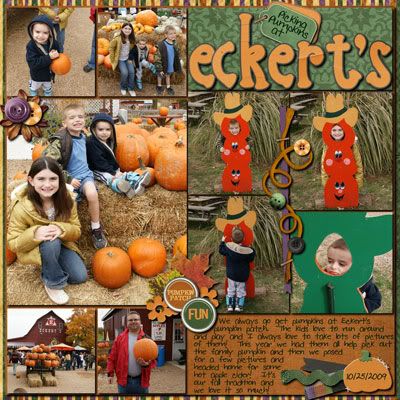 After school on Friday, we finally got around to carving our pumpkins....better late than never!! We let matthew/alaina draw the faces, which ended up being kinda interesting....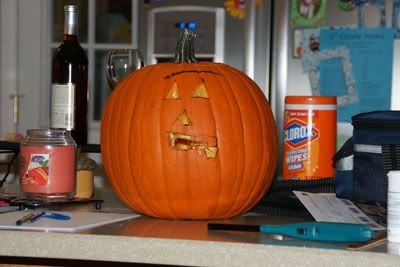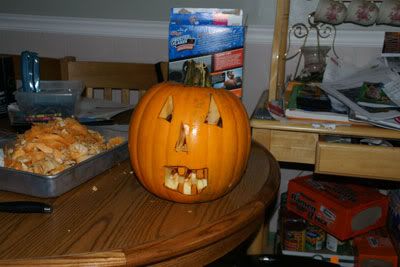 We went trick or treating Friday night in Grafton....thankfully it didn't rain on us!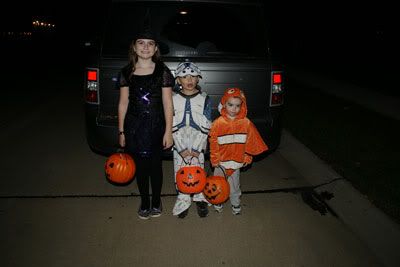 Then Alaina had a friend, Isabella, spend the night, so I was up late listening to them giggling.....oh the memories! I swear I heard my mother's voice saying, "SHHHH GIRLS!"....then realized it was ME! OMG! :D Here they are after getting themselves "glamorous"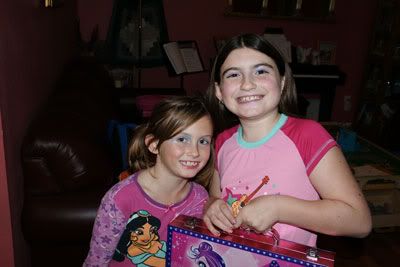 Saturday was our first day of swimming lessons...and since her game was cancelled, Alaina went to her class too. Zach did NOT enjoy his.....last time he was in the waterbabies class and I was in the pool with him and he would basically spend the entire time screaming in my ear....I was hoping that maybe he'd do better away from Momma.....but not so much! :D This picture kinda says it all...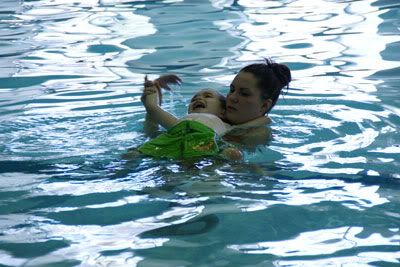 Alaina and Matthew both did awesome in their classes....they were worn OUT by the time it was done, especially Alaina. She's in the older class, so she swam the length of the pool at least 6 times during her class......yay exercise! :D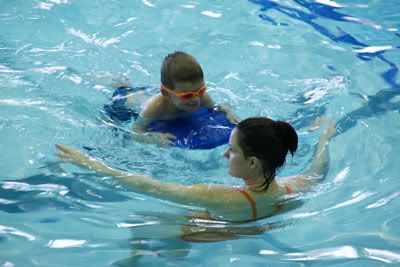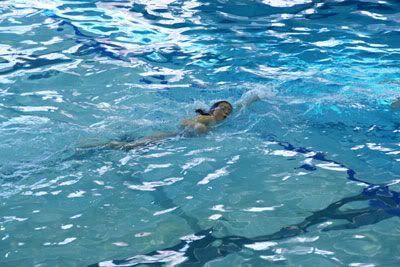 Once swimming lessons were done, we headed to Fairfield for the evening....we spent the afternoon blowing insulation into the attic of my parents' house. Oh is that fun. not. :P but it's done and hopefully that'll help keep them nice and warm this winter!
Then we did trick or treating again in Fairfield....so our kids have PLENTY of candy, just as I predicted!
Also, we surprised my dad with an early Christmas present.....as long as I can remember, this old rocking horse of my dad's had been in their garage....broken and useless. I knew it obviously meant something special to my dad since he kept it all these years. His father had made it for him and since his dad died when he was so young (age 7), he doesn't have many memories or many sentimental things left of him....except this rocking horse.
So Karl took it upon himself to restore it.....so we had mom secretly give it to us and we brought it home the last time we were in Fairfield...
karl inspected the condition of it and decided it needed a few new pieces of wood and a LOT of TLC!
So it went from this: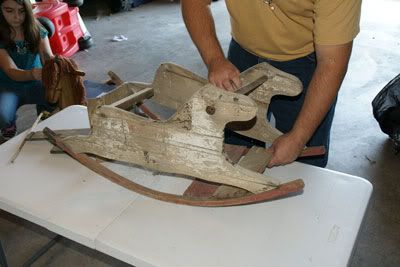 To this: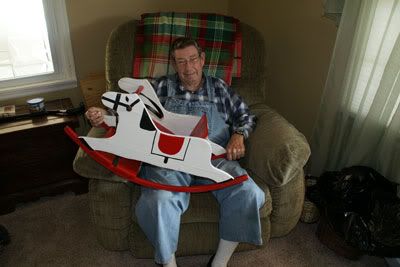 With some help from a much steadier hand with a paintbrush than either of us....so thanks to our friend Melissa for doing the detail painting for us! :D
I think dad was surprised and pleased......sentimental gifts are the best...I'm so glad Karl was able to do that for him.
So anyways....after we did trick or treating in Fairfield....Alaina says she's not feeling good.....and her temp is 102.8....so she gets sent to bed for the rest of the night....and we left for home early this morning and she's pretty much been in bed all day. I'm assuming it's the swine flu, as everybody I've talked to says it's basically a high fever with a NASTY cough...and that's exactly what she has....poor thing just feels awful! I feel so bad for her! So we've now got a case of the swine flu in the house.....we'll see how the week goes....since, as you can see....we've kinda got plans for this weekend that do NOT include being sick, darnit!
So that's it for me....hope everybody had a great Halloween and has a great first week of November.... later!