So I'm slacking a little with the blogging…that's definitely nothing new!! But at least I'm only running a couple DAYS late this time vs. a week or two late like has happened in the past! :D
We started off last week with a day off for the kids (and Karl), flu shots for the kids, and then a Brownie meeting on Monday….then a soccer game on Tuesday for Matthew, but I was a bad mommy and we skipped it because it was raining and about 40 degrees outside. I didn't want to sit outside in that when we were all JUST getting over being sick. So that was the judgement call I made. And I don't regret it!
The rest of the week was mostly just dealing with homework crisises, fighting amongst siblings, karl had his classes……yada yada yada….another week in Herman-ville.
Friday was the school Halloween carnival, so after work, Karl and I went to Target and got the kids their costumes. I have a huge amount of respect and admiration for these moms that go all out and make their kids' costumes every year…….i'm not one of them. :D I know I'd spend HOURS making it and spend way more than the $20 they charge at Target/Walmart…..so I just bought the costume and was done with it! Maybe next year I'll be more inspired. Or not. Halloween isn't exactly my favorite holiday…..I'm trying to get more excited about it though…..so we ended up with one Purple/glittery witch, a Storm Trooper, and a little Spiderman….who refuses to wear his mask. :D
So anyways…the kids LOVED their costumes and had them on and were ready to go to the carnival well before it was time to leave! We ate dinner there at the school (since this was all one giant fundraiser……..why not give them money for dinner too, right?) and then the kids spent the next hour and a half running around with their friends, coming to us when they ran out of tickets…..and then running around some more. They had a blast! I did the cake walk and the ring toss and didn't win a cake but won a bottle of cherry coke…woohoo! Didn't win any of the baskets they raffled either….so oh well……
Saturday, we were up early and to the soccer fields for Alaina's team pictures. In the FREEZING COLD. Poor girls! They were all so frozen. When we were taking the group picture, I told them to "say popsicle!"……and everybody laughed….because they WERE popsicles out there in shorts! Then we had her game……we sat bundled up in blankets and drank hot chocolate to try and keep warm….…then a break for an hour….then Matthew's game……more freezing under the blankets..…then we stopped for lunch and headed to Fairfield for the evening.
For my 15-year class reunion. Wow. I'm really THAT OLD? Yes, apparently I am! :D It was actually really fun to see everybody again! I'd seen a few people here and there around town when I'd visit my parents…..but most of them I hadn't seen since the last reunion 5 years ago. So it was neat to catch up with people….find out what they did after college, etc……where they're working, how many kids they have etc, etc, etc. It was a good time!
Then Sunday, we got up early, went out to breakfast with my parents….and then headed back home. We were supposed to go to Matthew's soccer team end-of-season party, but we never could find the place. VERY aggravating! So we gave up and went home! Cleaned the kitchen, did dishes, started laundry…..all those fun weekend chores that have to be done whether you go out of town or not!
Yesterday was dentist appts. For myself, Alaina, and Zach. No cavities for any of us to report, yay! And in another "that-makes-me-feel-old" moment, the dentist said that probably next year she'd be ready for braces. ALREADY? Jeez……so we basically spent our entire evening there that night……
Tonight was Matthew's last soccer game….technically a makeup game from the one Saturday the fields were too wet to play on…..so his season is officially over. Alaina still has 2 more games left and then she'll be done too. And since this family can't sit still……they both start swimming lessons on Saturday mornings now! Alaina actually scored a goal in her game! I'm SO PROUD of her.......and wouldn't ya know it.....I wasn't there to see it! Both of their games were at the exact same time, on opposite ends of the park...so I watched the first half of Alaina's game, and the 2nd half of Matthew's.....so I missed the big goal. DARNIT. I am SO BUMMED about that....you know how I love my pictures....not having pictures of that is tearing me apart. :(
So that basically catches you up on us!
And now for the few pages I've scrapped lately……not much really! I did this page to make sure the lovely story of my ride in the ambulance was documented properly!! I used Haynay's 'Just the Right Medicine' kit and her 'chip off the old block' alpha: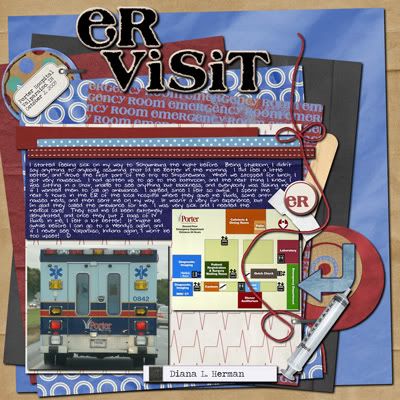 Matthew's t-ball team's pizza party they had a couple weeks ago....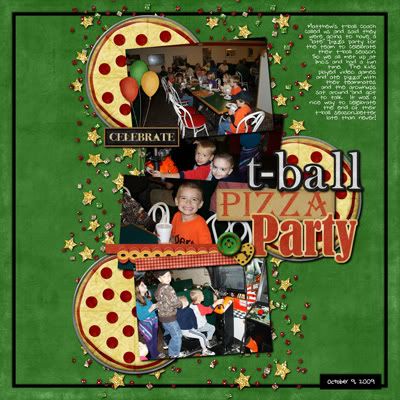 And a few weeks ago at work they landed an Apache in front of our building....took me forever to get ahold of the actual pictures from that day (cameras aren't allowed on company property...you literally have to have a permit to take pictures)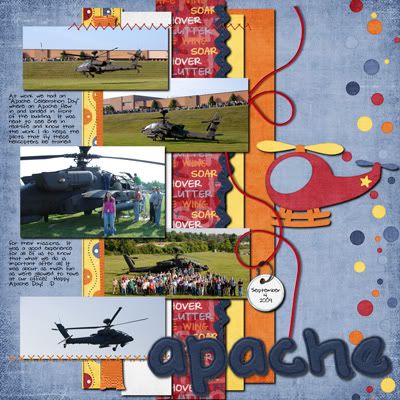 And the last one.....this is one of my personal faves at the moment…sometimes I'll scrap something and think, 'that looks pretty darned cool'……and this was one of them……me and Alaina on Space Mountain at Disney. The template is from Sya's new "Fair and Square" template pack…
So now it's off to bed for the kids....and hopefully catching up on some TiVo'd shows for me.......until later......