Gosh! Things just tend to get away from me, and lo and behold, it's been 2 weeks since I posted anything on here...YIKES!
Oh where to start? :D Last weekend, I took Friday off from work and left Thursday afternoon to drive up to Schaumburg to meet up with my SIL Nicole and hang out with her family (the female part anyways) for their "women only weekend" over in northern Indiana. It was an....interesting weekend to say the least!
Everything was hunky dory until late Thursday night....I spent most of the night up sick....I assumed from a bad reaction to my dinner that night (stupid pizza!). I assumed I'd be fine in the morning. And I DID feel better....until we stopped for lunch at a Wendy's in some town (or exit) called Chesterton, IN. The INSTANT I walked in that restaurant, it was all downhill from there....I got SO nauseous, dizzy, and just plain sick that I ended up blacking out. My poor SIL, her mom, and her mom's cousin didn't know what to do (understandably), so they asked me if I wanted to go to the hospital, and me not really understanding what was going on other than the fact that I knew my eyes were open but I couldn't SEE anything (can't be good, right?) and I felt like I'd been hit by a bus.....I agreed, so they called 911 and a nice little ambulance showed up and the EMTs took me away.
When the EMTs got to me, my blood pressure was 76/32.....not so good....which explains the blacking out at least. they loaded me up in the ambulance, started an IV, and I really don't remember much else that they did. I just remember that ride taking FOREVER....apparently it was 12 miles....sure felt like longer! My SIL was kind enough to take these for me (i thought she was kidding when she told me she'd done this...until i saw the pics on my camera later!):
(and no, I have NOT scrapped this yet....though I've been informed that I HAVE to!)
So anyhoo.....I got to the ER, they gave me LOTS of fluids and some anti-nausea meds, and after talking to the doc, I guess the diagnosis was just dehydration.....after I think 3 hours or so I was sent on my way with some prescriptions to fill at the local walgreens (hooray for the Garmin in finding it), and then we were back on the road (me NOT driving now) to the B&B in Shipshewana, IN. Of course, I made a lovely, grand entrance, thanks to Nicole's entire family knowing what was going on......but it was nice everybody was concerned about me. I honestly don't have much recolection of that night.....I think I basically crashed right after we got there.
The rest of the weekend was much less 'eventful' I think. I scrapped most of the day on Saturday (that was the point for me)....we took a lunch break and did some shopping....I was forced by all the "moms" in the family to eat something, so i ate some solid food to get them off my case (i was feeling MUCH better by this point...just NOT hungry).....did some more scrapping, then we all went out to dinner as a big group at a yummy restaurant.......then the next day, Sunday, we said our goodbyes and headed for home......that was a LONG day for me.....2 1/2 hours back to Schaumburg.....then another 5 back home....BAH! I was thoroughly sick of the car by the time I got home. Usually, I don't do the driving.....when we drive to Florida all the time.....Karl does all the driving....and now I give him some much deserved credit for that! :P
So, now that I'm recovered from the sickies.......the kids are slowly getting over it too....Alaina missed the next day of school after puking on every possible surface of her bed/room......I wasn't quite well enough to deal with it yet, so again, Karl got that fun job. He's such a trooper....I really owe him for that one! And aside from Karl coming home early from work one day feeling lousy, I THINK we're through this round of sickies. Gosh I hope! The kids are getting flu shots tomorrow....maybe that'll help!
The rest of the week.....soccer game for matthew on Tuesday, which he won, yay! Their games/practices for this weekend were rained out, so we've spent this weekend just kind of resting and recouperating from us all being sicky. I think we needed a low-key kind of weekend like this has been.
So that leaves my scrapping to post.......stuff I did last weekend. Oh, and please note the legalese disclaimer I've added under my CT blinkies. Apparently for those of us that scrap for designers and get their stuff for free, we're now required to disclose the freebies.....so whatever......consider it disclosed! :P
Sya has a new template pack called 'Just a lil' punchy'...there's a version with mostly squares, and a version with mostly circles.....so these layouts used those templates:
And the kit is a new release from Haynay, called 'Rough and Tough'...very boy-ish and grungy...which fits my boys perfectly!
And Oh.....totally forgot....Matthew lost his first tooth this week! What is kind of funny about this is that Alaina lost a molar the night before....the tooth fairy was out of cash except for $20 bills, so that's what she got. *sigh*....inflation! So the next day Matthew came home with his tooth in a little baggie....one of the teachers had pulled it out at school! So, since Alaina had scored $20, he had his hopes set pretty high for his first visit from the tooth fairy *sigh*......and in the end, he got a $10 bill......we told him that since Alaina had lost a molar, it was worth more. uhm...yeah.
so anyways...with sya's 'just a lil' punchy' template:
I kinda messed around with this template...(also 'just a lil' punchy), of matthew's soccer pictures: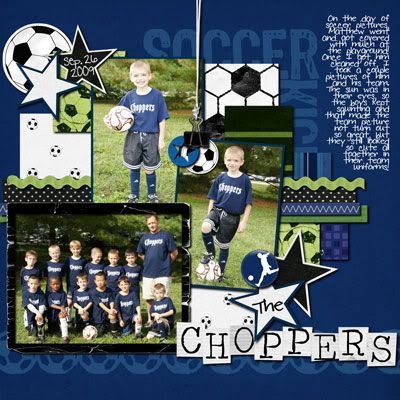 I did this 2-pager with a kit of Haynay's called 'Thoroughly Amused'....of our day at the Fall Fun Fest in Fairfield:
And this layout is using another of Haynay's kits, called 'School's out for Summer'....I also used the PreK addon that she made for it...since Zach's in preK now! These are the pictures I took at school before we left on our apple orchard field trip.....I thought they were all so cute eating their lunch in the cafeteria like big kids!!!
And here's the actual orchard field trip....we had a lot of fun, but poor Zach got stung by a bee! He didn't have much fun after that (and you can kind of see how he was less than cooperative for the group picture!).....but before that happened, we were having a great time! :D
and the last two layouts are from our Disney trip back in March....one's a re-do of a layout i'd done and didn't like at all.....I like it BETTER now, but I'm still not sure I LOVE it:
And the kids outside of the Contemporary Resort before our dinner there at Chef Mickey's......
So that catches ya up with the scrappin' and our lives for now....everybody else is laying down for a nice Sunday afternoon nap....and I'm thinking that sounds like a good idea......so I'll catch ya later!