Karl was kind enough to inform me that my blog has been seriously neglected. so I guess it's time to update this poor thing and catch anybody that's reading it up to speed with us and our little life.
Since the last post, we've gone to Fairfield for the annual Fall Fun Fest.....always fun. It almost always falls on the same weekend as my mother's birthday, so we get to enjoy the rides and carnie food and be there to help my mom celebrate a birthday all in the same weekend. score! not quite done with that layout yet, and am too lazy to resize pics....so i'll post the layouts later. :D the kids had a blast at the fun fest....alaina and matthew rode the scrambler for the very first time and LOVED it....little matthew was getting thrown into alaina as they went around and it was so funny to watch them laughing hysterically.........zach conquered his fear of heights and went down the big slide thingy.....and then there were the same lame-o kiddie rides they've had at this thing for (I kid you not) the last 30 years. so it was a fun way to spend a saturday night.
the next day (last sunday) was mom's birthday. my brother, dean, was the guest speaker at the fairfield congregation, and since my dad (ie my mom!) was in charge of the service, all available Caudles had a part in the service. After church we all crammed into my parents' house along with my Uncle Bill and Aunt Lill for lunch. then the Hermans left for home....
The very next day (the 21st) was the day we'd been waiting for for a LONG time....Zach's first day of Pre-K!!! FINALLY! He didn't get to start at the beginning of the school year because he wasn't 3 yet. But now that his birthday has passed, he was allowed to start with the '2nd round' of kids that started (there were 3 other kids in his class that started this week too). Alaina and Matthew had been talking to him all week (we got the official call on Wednesday, so we didn't have much time to prepare!) about riding the school bus, so he was excited and ready to go to school! We'd already bought him a backpack when we got Alaina/Matthew's school supply stuff (fearing one would be hard to find after the 'rush'), but we had to get him a new pair of gym shoes to start school in.
I was afraid he'd start crying when he had to leave me, as he's VERY attached to his momma.....but he did great!! And I've managed to already scrap this one.....I used a new alpha from Haynay, called 'pop dot primary', a template from sya, 'revived, set 1', and the kit is 'school's out for summer' (there's a preK addon that was obviously perfect for this day!)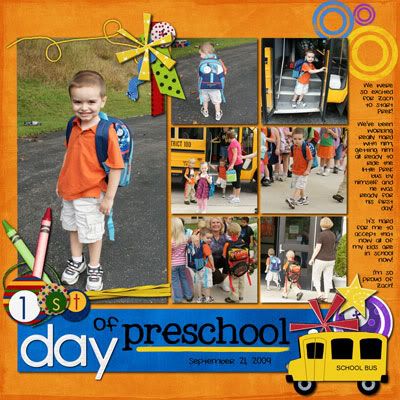 We're so proud of our little guy going to school! He LOVES it so far, but since he's in the afternoon class and is now missing his nap, we're still adjusting to the new schedule.....
Also, on the same day as Zach's first day of school....Matthew's class had a field trip to the apple orchard....they go every year and the kids absolutely LOVE it: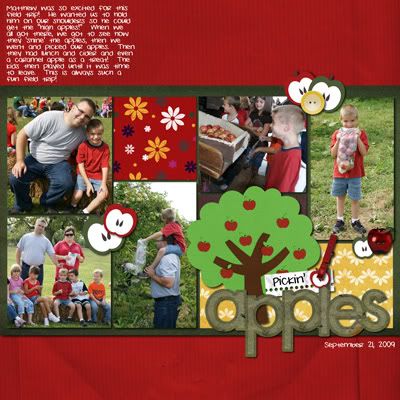 And aside from soccer, soccer, soccer....that's been the big excitement around here for this week. Zach was sick on Tuesday (missed his 2nd day of school!), Alaina came home sick on Thursday...and I got called to pick up Matthew on Friday from school because he was sick........so here's hoping that we're done with whatever THAT was!!! yuck!
I can't remember if I've posted this or not......so if I have, then Heather (Haynay) will just get another plug! :D This is Alaina's first soccer game a couple weeks ago...the kit is actually a volleyball kit, but I didn't have any volleyball pics to scrap! it's called 'side out'......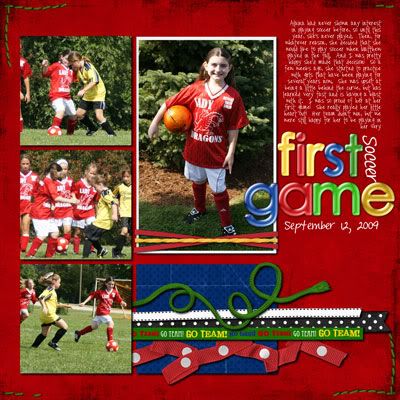 And the rest of the layouts I've done and not posted......a couple "re-do's".....layouts I'd done and didn't like......I redid them and now I like them better:
Test Track at Epcot from our March Disney trip:
Camping at Pere Marquette State Park back in July: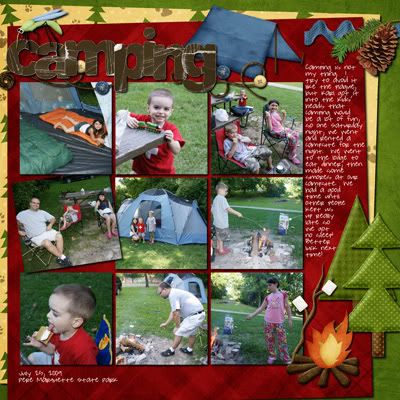 And this was a new kit i splurged on.....since we've got an upcoming trip to DC planned, I was 'thinking ahead' in getting this 'history-ish' kit.....but I was anxious to use it, so I found this pic from our Disney trip to scrap with it: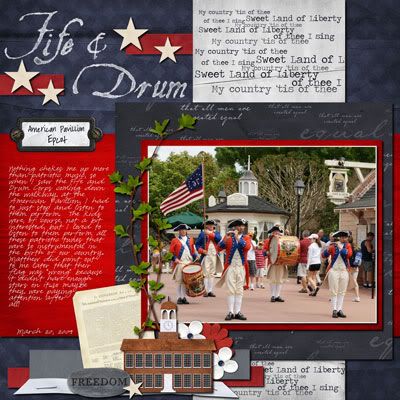 I'd never listened to the Fife and Drum corps at Epcot before, but they're very good. Makes you feel very patriotic to hear all those songs. If you're walking through the American pavillion, stop and listen to them! :D
And I'm very proud of this 2-pager......it's one of those things where the pictures are so special you don't want to mess it up! One of my fave designers came out with this 'star wars' kit and I just HAD to go buy it to scrap these pics of the kids at Disneyland at the Jedi Training Academy. Matthew wanted to be in this SO BAD in March when we were in Florida at Disney World.....but he never got picked (we tried 3 times I think).....so we didn't have our hopes too high that he'd get picked for this version at Disneyland either.....especially with kids holding up signs and stuff (some people take these shows WAY TOO SERIOUSLY!).....and even though she wasn't really TRYING to get picked (ie jumping up and down screaming), they picked Alaina because of her "pod-racer glasses" (sunglasses), and THEN Matthew started jumping up and down.......like he's going to let his SISTER out-do him? And luckily he got picked as well.......which saved a LOT of drama for us later on. So not only did they both get to participate, but it was in the same show! The odds against that are huge.....so we were super excited!! It was such a cool experience: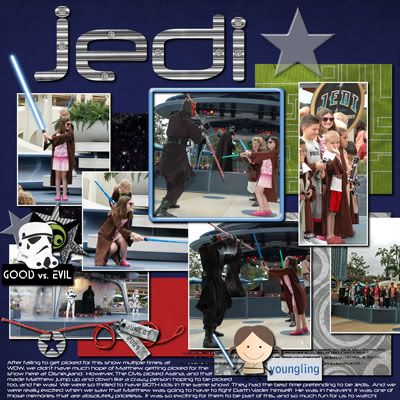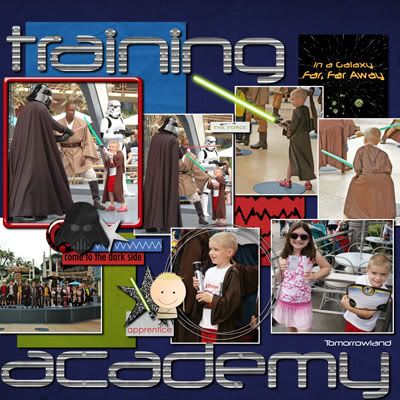 And I just LOVE how that layout turned out....I don't usually LOVE a layout I've done very often.....but this one makes me smile everytime I look at it. Matthew was just in AWE at getting to fight Darth Vader himself....those pictures are just priceless...and he STILL talks about it!! (love that Disney magic!)
Last LO I've got is another I've been putting off for awhile.....Dumbo at the Magic Kingdom: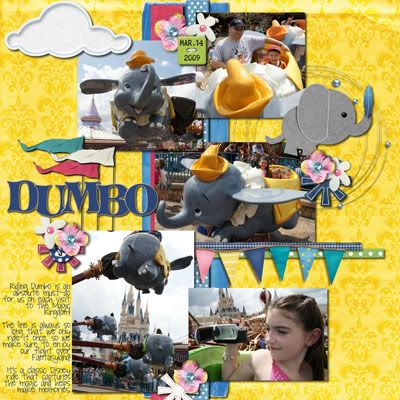 This coming week is a short week for me, as I'm taking Friday off to go away for the weekend to a B&B in northern Indiana with my SIL and her family (yes, I realize that seems odd since they're not MY family!) to scrap, shop, sleep, etc, etc, etc.....it should be fun and I'm looking forward to it (well, not the DRIVE, but the rest will be fun!).....so Karl will get full-time Dad Duty this coming weekend!
So that catches you up with us and all my scrapping lately (haven't scrapped much this weekend because I've gotten obsessed with watching the Tudors! I think I've watched 5 episodes so far this weekend.....it's so addicting! love it!) Have a great week!