Gosh I'm a slacker, huh? :D I just haven't had a chance to sit down, uninterrupted, and type out anything of any substance in quite awhile!!
So let's catch up....Zach's birthday party was a blast....here's the layout from that....I was kinda frustrated, as there wasn't any one perfect kit to scrap this with, so it took forever to put together as i stole stuff from multiple kits instead!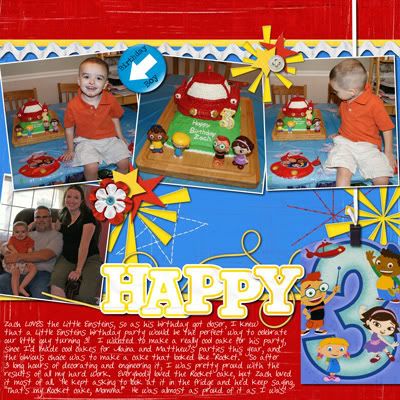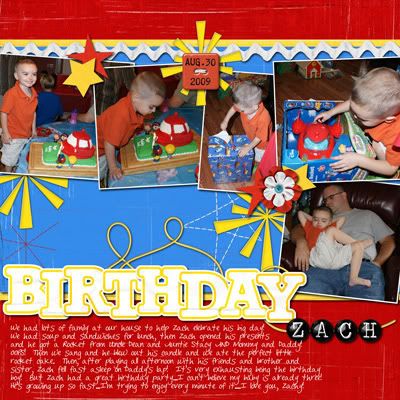 And my entry into last week's disboard challenge (there wasn't a winner...everybody got a participation prize, so I had to enter since I'm a huge sucker for freebies!)....I was always one of those people that was appalled that parents would put their kids on "leashes"......until I took a toddler to Disney World. Then I saw how brilliant the things are. Kids (and parents!) get tired of being held...they get tired of being in a stroller....so for those in-between times, "the monkey" was the perfect thing to keep Zach close by! He didn't like us holding "his monkey tail" though.....too funny (and we actually got a LOT of compliments on it)....end of parenting spiel (using Sya's new template pack: 1,2,3,4...go!):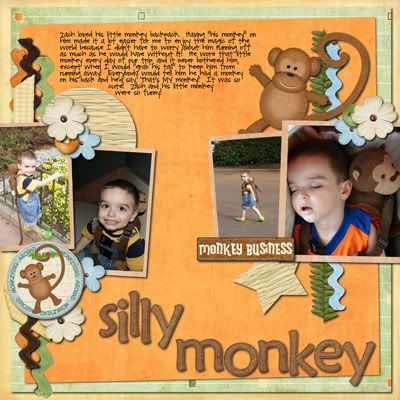 Haynay's latest kit is called "World Traveler"....and the instant I saw the little Eiffel tower sticker, I knew I had to scrap this (also using sya's new template pack):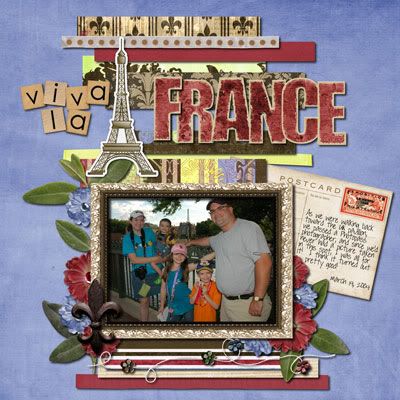 This is what Karl and I came home to the other night when my parents were visiting....Alaina and Matthew wanted to make us a "snack".....brownies with LOTS of sprinkles (and fruit snacks!), some leftovers from the fridge (also with sprinkles), and some "sprinkle wine".......it's the thought that counts, right? :D
And I guess this layout was a long time coming......Karl's been bugging me for it, so here it is: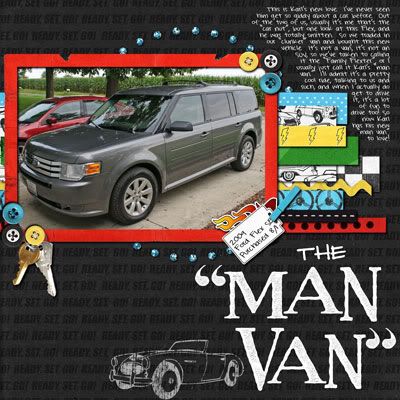 And I don't remember if I already posted this or not......this is from our trip to Branson a few weeks ago....riding the ducks!: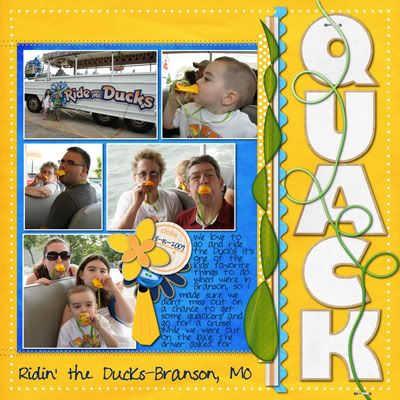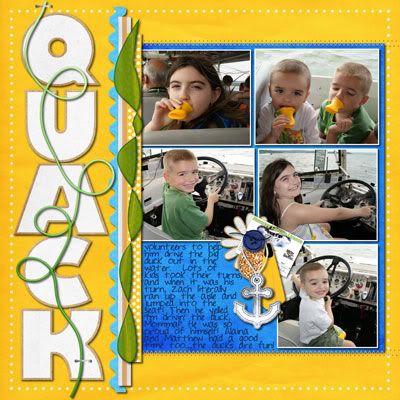 so that's the scrap-catchup.....as for the rest of our lives....things are going pretty good. Matthew and Alaina have settled into their school routines pretty well, and now we're getting ready for their first soccer games this Saturday!
Karl and I decided to help stimulate the economy (again! as if buying 2 new cars this summer wasn't enough?) by buying new kitchen appliances. So I'm anxiously awaiting having those all installed this weekend and having a nice, matched set (and the fact that they'll be CLEAN is a big plus too!)....of course, the size of the massive fridge meant we had to remove and replace our kitchen door that leads out into the garage....but, eh......karl seemed to enjoy the project! now we just need to get the drywall patched, painted, and you'll never know anything was done (hopefully!).....next home improvement project? probably the upstairs bathroom.....the fun never ends when you own a home, right?? :D
so I'll try to be back this weekend for another update on the kids' soccer games!! later!