only 1 layout to post, but it's for Haynay's release this past Friday......they're called 'back to school journaling boxes'.....aren't they cute? I also used the month/day word art from 'behind the dating glass', because honestly, i was just that lazy I didn't want to type it! :D Oh, and the kit is also Haynay's...."School's out for Summer"
This is when we stopped by to surprise my brother, Deron, when he was at work at the local radio station back in my hometown of Fairfield, IL. He let Alaina sit in the chair and pretend she was on the air, which she thought was cool.....Zach just wanted to push all the buttons.....so it was a fun little field trip!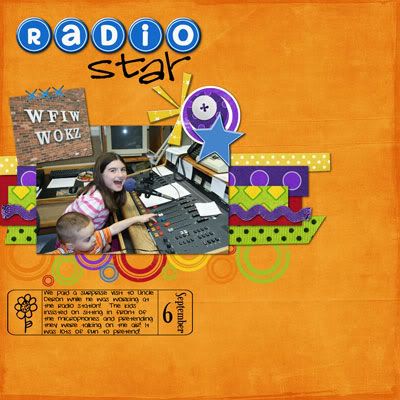 The kids' first soccer games were this Saturday.....they both lost, but I was SO PROUD of them for how well they played. Having Herman and Caudle DNA, they're never going to be star athletes, but they got out there and played very well. They had fun and that's the best part. It was Alaina's first soccer game ever, so I was especially proud of her for keeping up with girls that have been playing for 4 years!
And our new appliances have been delivered and are all now successfully installed....once the kitchen is back together again, i'll have to post some pics. we actually had to buy a new door because the fridge we got was so much bigger than our old one it would've prevented the door leading into the garage from opening! but karl's never one to shy away from another home-improvement project, so new door is installed....we're just lacking some drywall and paint to patch up the wall and all will be well in the kitchen once more!
my parents were out for the weekend to see the kids' first soccer games.....and so dad could see the new appliances....old habits die hard and after almost 40 years selling appliances, he just had to be here to give his input on our new stuff.....and make sure the delivery guys from lowe's didn't make any mistakes! we'll be going to Fairfield this weekend for mom's birthday and the Fall Fun Fest.....can't believe it's almost time for that already...where has this year gone, honestly?? wow!
so that's my update for right now.....catch ya later!