It sure seems that way lately!!
First up......Amber's CT is hosting a template challenge over on the blog.....so if you're interested in downloading a template and playing with it..... check it out
In other news.....what have we been up to lately? Nothing super-exciting....scouts for the kids....swimming lessons on Saturdays....that's about it! I'm very much looking forward to Thanksgiving. We're hosting the whole Caudle family, so my turkey's already thawing in the fridge and I"m planning out the meal for us all.....and then looking forward to Black Friday do-or-die shopping! :D
The kids will also be having a Thanksgiving program at school, so I'll be sneaking out of work to go see that.....it's always so cute! Then the parentals will show up shortly afterwards and the holiday festivities will begin!
Soooooo.......see my ticker? I'm TOTALLY ready for that Disney trip after Christmas! Karl's brother and his family are at WDW right now, and hearing about their trip is going to make me totally anxious to get down there for a little Disney magic.....(oh yeah, and 80+ degree days in December is fine by me too!)
Catching up on scrapping.......i have these in my 'to post' folder, so i'm assuming i've never posted them....so here they are (no plugs, just pages here!)
carving our halloween pumpkin (gosh, i'm behind!):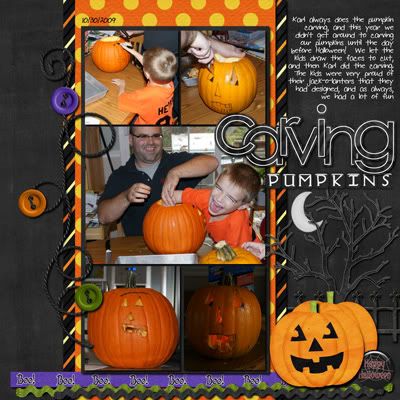 the kids' class parties for halloween at school: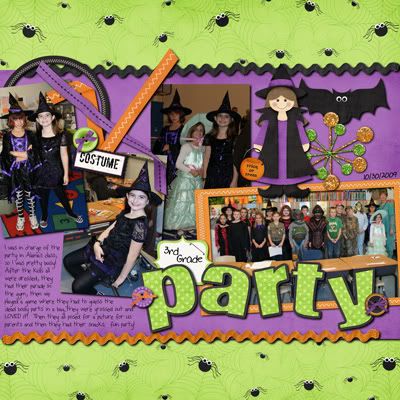 Trick or Treating: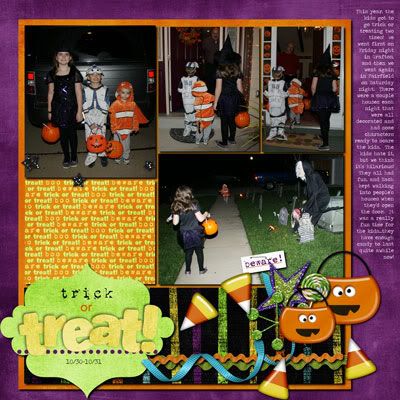 And I've finished a few pages already from mine/karl's trip to DC a couple weekends ago (we had the BEST time.....we'll have to get back there soon with the kids!):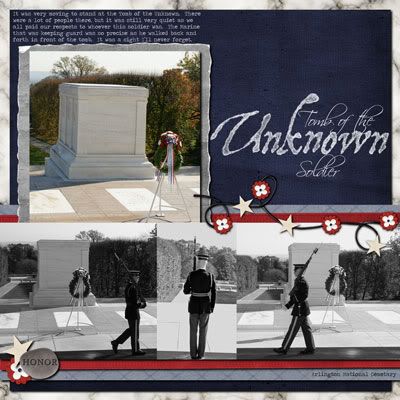 this one uses the 'Just call me Y' template pack by Stolen Moments: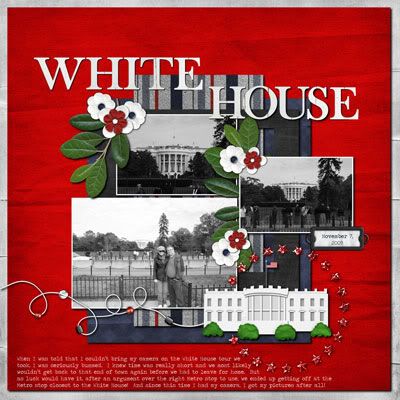 Coolest story about our White house tour.....we get to the white house at 7:30 and there's already a line around the block, and we kinda freak out......I went up to the park ranger and ask if that's the line for the 8AM tour and he says 'no, you're on a congressional tour, you go over there'....and points to a group of 4 other people...yay! Then Karl's phone rings....we're assuming it's our congressman's staffie that'd been talking to us during the week to arrange the tour.....the ID said "withheld", and as Karl's answering the phone, we saw our congressman get out of a big black SUV and put a phone to his ear......"Is this Karl Herman?"......"Is this congressman Shimkus?" :D so Congressman Shimkus escorted us through security....past that long line of other people (hahahahahahaha!) and into the White house for our tour....he showed us where he "got wupped" playing President Obama in basketball.....he was a really nice, down-to-earth guy. We were so shocked he showed up HIMSELF to do that.....i'd never have expected that in a million years. And that thing that really stinks is that I didn't have my camera with me to take a picture of us and him (cameras weren't allowed on the tour), so no pictures of that way-cool moment.....oh well!
another one with the "just call me Y" templates......this was a HUGE moment in our house....alaina's very first perfect test score. School is NOT easy for Alaina....she has to study really hard to even pass some subjects.....the week she was out sick with the flu, she missed a social studies test.....so she ended up getting a few extra days to study for it...and i'm sure that helped tremendously....but still....we were VERY proud of this A+ from our little girl: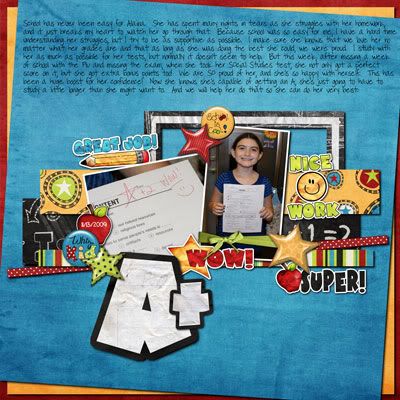 i JUST finished this one....it's with this cute little kit of Amber's (Stolen Moments) called "A little spacey"......of the kids (and Karl) on the space ranger spin ride at Disney World: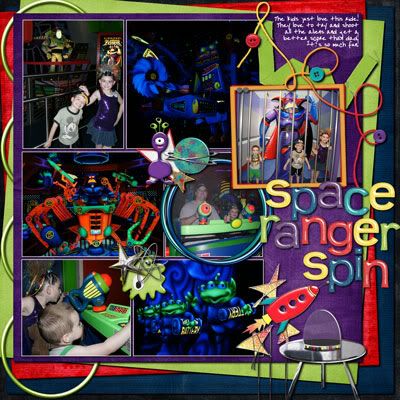 These next two layouts are with Sya's new template pack, 'Completely Clustered 2':
I took all these pictures of Zach during Alaina's soccer game the other day....he said he was making a "cross face":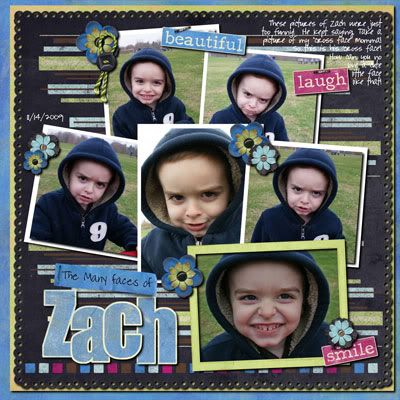 and this is from our Disney trip in March (which i'm SO not going to finish scrapping before our next trip!)
Here's the layout of my dad's new and improved rocking horse (i posted about that earlier)..........the kit is 'Once upon a shabby Christmas' by Haynay Designs, and the template's from 'one for the money v2' also by Haynay: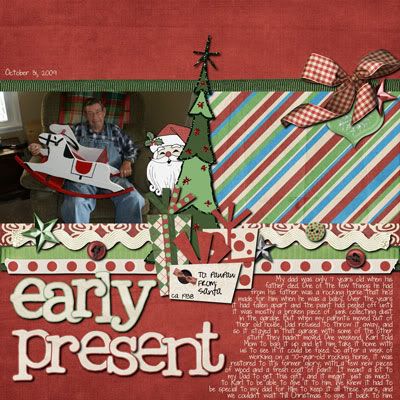 so that finally catches me up with the scrap-postings (I hope!)...Karl and I went on a double-date last night with some friends....dinner and New Moon....it was so fun to pretend we were 16 and squeal over the cute guys in the movie (and we were NOT the only non-teenagers drooling either, i might add!)....so a nice night out for us last night...and now i'm off to catch up on some TV!! Have a great week everybody and a very happy thanksgiving! I hope you all feel as blessed as I know I am!