And here I am, blogging yet again! :D Seems like it was just a week ago I was sitting here typing....oh wait, it WAS just a week ago! :P uhm, yeah, I had a glass of wine at dinner, so anything is funny to me right now......now if I drink that 2nd glass that hubby poured for me....everything will be REALLY hilarious then! :D
So anyways....our week. crazy hectic as always! I don't even remember why, but we skipped tumbling again this week.....I think it was because there were nasty storms going on and the thought of being in what's nothing more than a pole-barn structure......wasn't too appealing to me! :P Wednesday the kids were supposed to have ball practice, but it was too muddy for that, so as far as all of our activities are concerned...it was a pretty slow week for us....WIERD!
So what DID i do all week? well, there's that whole 'day-job-thing' I've got going on with those little helicopter doo-dads....and Karl's winding down the year at school. Last week was finals for the college classes he was teaching, so he's been busy getting finals graded and final grades posted. Ya know, I NEVER had a professor in college grade finals as fast as he does...I hope those students and Lewis and Clark CC and SIU-E appreciate that! Now he's just got to finish up the year at the day job (and he'll be gone most of this week, I'll explain in a sec), so he's got the whole spring-fever thing going BIG TIME! Sometimes i wish I had the summer off too...and then I remember how much teachers get paid! :P
Oh, there was a nice funny moment that happened this week.....funny because it wasn't ME that did it....had it BEEN me.....I'd still be hearing about it, kwim? Karl decided to install a window AC in our room....so he was attempting to take the screen out of our bedroom window, and just as I figured, he lost his grip on it, and half the window fell 2 stories to the concrete patio below. I'm still laughing! Oops! Again......glad it wasn't ME that did that. It got pretty bent out of shape...so we'll be getting a new window for our bedroom sometime before snow flies.......hahahahahaha! MEN! :D
The kids are enjoying all kinds of end-of-school things......this week Matthew's Kindergarten class had a "Teddy Bear Picnic"....they all brought in their favorite teddy bears and they had a picnic at the school...having peanut butter and honey (since bears like honey, DUH!) sandwiches. I sent a camera with a note to the teacher to please take picturs of Matthew, and she did....so I've already got that scrapped....
I think Alaina's counting the HOURS left of school...not just the days! She's TOTALLY ready for summer. And Zach's time with his current babysitter, Miss Cindy, is coming to a close as well.....since this fall he'll be going to the same sitter as the older kids....I know he's going to miss her, but it'll be a lot easier for us only making 1 stop in the mornings for dropoff vs. 2! So lots of changes are coming our way!!
The big 'excitement' of the work week was probably getting "that call" from the school on Tuesday around lunchtime to come pick up Matthew, as he'd been puking. yay fun! but shockingly enough (insert sarcastic eye roll here!) he was PERFECTLY FINE once we got home from school....STINKER! He's learned that's an instant get-out-of-school-free card, and he has no problems playing it!!! UGH!
And in other fun news......I've worked my way up to running (more like jogging VERY SLOWLY!) a mile. yay me! I know that's not very impressive, but considering I've never run/jogged a mile in MY ENTIRE LIFE (I walked it in high school even!) this is HUGE for me! So I'm darned proud of myself.......my goal is to be able to run at least half of that 13.1 mile half-marathon in March of '10.......I know there's no way I can run the whole thing....but I'd be content with being able to run HALF of it....so that's my goal....and I'm slowly working up to it....starting with this first mile! It's all downhill from here, right? probably not, but I'd like to remain blissfully unware for as long as possible!!! :D
Friday night, we left as soon as the kids got out of school (I ducked out of work early...SHHHHHH!) and headed north to Chicago. Karl was "sick" (I put that in quotes, because we all know there's SICK...and then there's "man-sick".....he was man-sick!) so I ended up driving most of the way to Chicagoland...and I wasn't too happy about that since I'm VERY night-blind and therefore not too comfy driving around in unknown territories in the dark. Plus, we drove through all kinds of nasty storms on the way...never saw any funnel clouds, but I had the camera ready in case we did! :D
We got up to Schaumburg around 9 and crashed......early Saturday, (and the reason we were in town) was Becca's birthday party downtown at the American Girl Place store.....
So Saturday, Alaina and I were up and dressed, and out the door around 9....and even though that seems ungodly late giving our usual rising schedule of 5AM.....i like sleeping in on the weekends, so that WAS early for me! :D
Becca invited 4 of her best friends to the lunch, plus her little sister Sarah and Alaina made a party of 6 little girls. And there was her mom, nicole ("auntie cole" to my kids) and one of her friends' mom teresa plus myself to be the 3 chaperones for the day..........so off we went to the train station to take the train into the city. The girls loved the train ride in, but I think they got tired of it after awhile (it took about an hour to get downtown). Once we were at Union Station, we walked a little ways down the street to get a couple cabs, and then we headed to American Girl Place.
OMG....the cuteness of this place is just UNREAL. if you don't like pink, you are SOOOO out of luck in this place! :D It was so adorable....all the displays of the different dolls (everything for sale of course!), clothes, etc, etc, etc.........we could've spent the day there and still not seen it all, it was that huge!
After a quick trip to to the potty (with 6 girls, of course that's a given!) we shopped for awhile....I told Alaina she could have ONE outfit for her doll, so she'd better look around and be careful what she picked......my wallet couldn't handle much more than that. I can get MYSELF an outfit for what these things cost, kwim?? :D so I think she had it narrowed down to a couple different outfits by the time it was our turn for lunch.
OMG, cuteness overload again with the American Girl Cafe!! What a perfect little place for a girl's birthday party, seriously! All the girls' dolls had their own chairs to sit in plus their own cup and plate (for their IMAGINARY food....not the REAL food MY daughter put on there!) and us bigger people had all kinds of goodies....sweet breads, cheese,and fruit appetizers...and then we all ordered our lunch.....i ordered what probably ended up being a reall UN-healthy salad...but it still eased my conscience enough for cake and ice cream later! :D most of the girls had the American Girl Picnic lunch...which was a mini-hamburger, a mini hotdog and a little side of mac and cheese. too cute! and then they brought out a cake and we sang happy birthday to Becca....then we had cake and some peppermint ice cream (served in a teapot with a flower in it.....I told ya: cuteness overload!). then it was time to leave lunch adn head back out to the store........to spend oodles of money on more cuteness!
I slightly underestimated my daughter here.......I gave her the stipulation of a "one outfit" rule.....so she picked out the outfit she wanted her doll to have.....and then she shows up with this pet carrier-bag thing for her doll's dog. since it was NOT an "outfit".....she could still have it, right? UHM......DRAT! Must remember to be WAY MORE SPECIFIC next time I set ground rules for shopping! So she, of course (because I'll admit I'm a total sucker for this American Girl cuteness!) ended up with the outfit for her doll....AND the pet carrier for the doll's dog. Us grown-ups handed over our wallets to the cashiers and we headed back to Union Station for the afternoon train back to Schaumburg.
The train ride back was a little more fun, as the girls had all their new purchases to admire. Once we got back to Becca's house, the other girls' moms came to pick them up....Becca opened their gifts, and that was the end of the excitement of the day. Once all the guests had gone and since Karl's brothers Keith and Ken were there (along with Ken's son Jacob), we ordered some pizza for dinner and just hung out for awhile. Once Ken/Keith left, Karl decided to take the boys back for bedtime, which left me and Alaina to hang out. Nicole and I did some digiscrapping while the girls played with their American Girl dolls, and littlest pet shops, and etc, etc, etc......I think I finally left with Alaina around 10. Then we crashed after our long party-filled-fun day!
Today, we got up early AGAIN (BAH on this not-sleeping-in-on-the-weekend-thing....BAH!) to get the van packed up for the trip home. Met up with Karl's brother Keith at an IHOP for breakfast.....and we were on the road heading south around 9...which is ridiculously early for us! So we got back to our house around 2....with a couple potty breaks and a quick McNugget lunch along the way. And that's basically been our weekend......since we got home, we've been trying to tidy up the house a little bit (laundry/dishes/blah/blah/blah). The kids are now all bathed....dinner's done....and I'm in my usual spot on the couch waiting to start a movie once Karl's ready.
So.......I'll post the layouts I managed to get done this week......I've passed the 20 layout mark for that Queen of Scrap contest, so I'm happy with myself....I should be getting a free kit soon, so yay me! I feel a sense of accomplishment about that! :D
First up, yesterday at American Girl Place.....lots of pink and flowers in this layout....OBVIOUSLY! :D but I love how it turned out.....it oozes cuteness, just like the store itself:
Here was my entry to last week's disboard challenge.....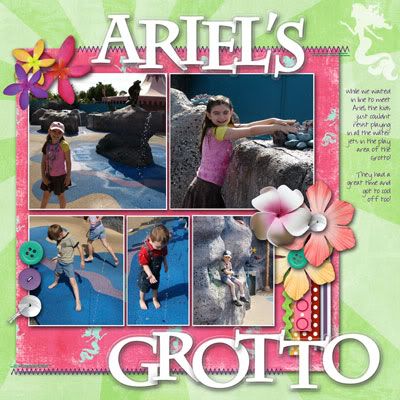 And my entry for this week's challenge....which I'm hosting. Everybody keeps giving me grief (yes, Nicole, I'm talking about you!) about having so many rules in my challenges....well, if there weren't any RULES, where would the challenge be, hmmmm??? :D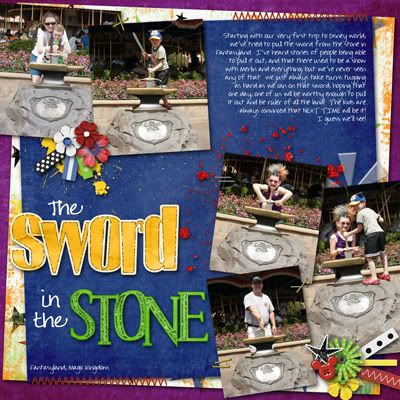 Matthew's Teddy Bear Picnic at school:
A layout from the cruise of the kids dancing with the bears they made at Camp Carnival: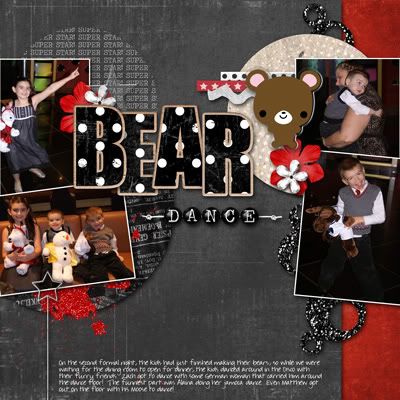 The Dance Party with Funship Freddy on our cruise: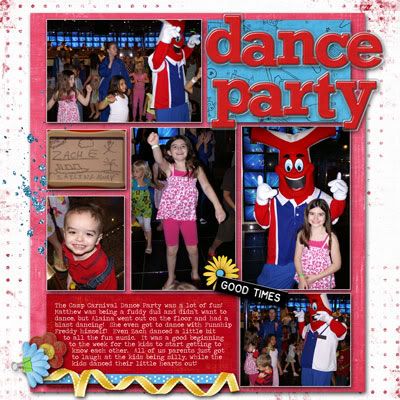 Matthew and his reindeer ears he made in his class at Camp Carnival...he did NOT want his picture taken with the ears and red nose.....so Karl had to hold him still for me: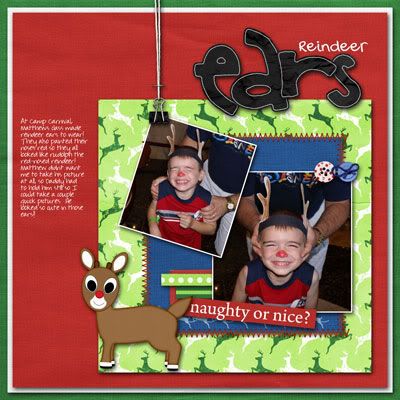 Pictures of Miami as we were sailing away on our cruise....*sigh*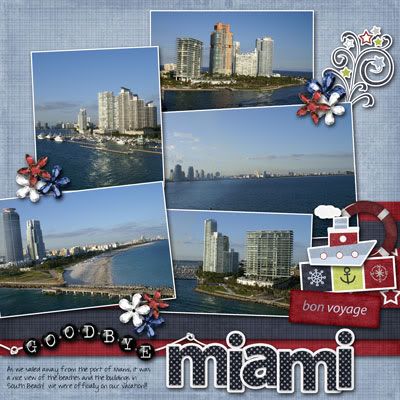 And as we were driving home from our cruise, we stopped in Savannah, Georgia and had dinner at Spanky's........they have the BEST chicken fingers....YUM YUM indeed!!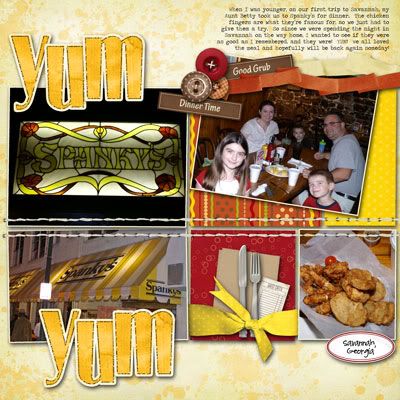 And for my CT plugs....Vicki's got a new kit in her store today called 'Over the Moon', and this is what I scrapped with it....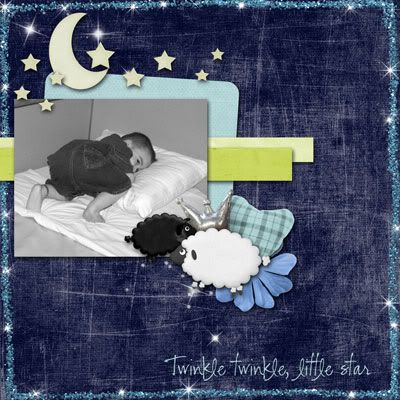 So this coming week.....Karl's leaving on Wednesday for LA....yeah, I know....bummer for him! It's a teacher's conference, and he hasn't been to one in YEARS, so he kinda had to go. I wish I could go too...that'd be pretty fun. But for Wednesday/Thursday and most of Friday, I'll be on my own with the kiddies. He'll be back late Friday night......and Saturday morning we're heading to Fairfield to visit the parentals for the holiday weekend.....we'll be cleaning up the store and hopefully selling off some stuff as they close down their business. Sad that we're closing our business.....but that's the reality of the current economy. My mom is now unemployed...and Karl and I are officially "failed-business" owners....woohoo!!! *sigh*.....oh well...it is what it is....and it's over. We tried!!
And lastly, my blessing for the week....isn't done yet! :D Gimme a break, I was busy! :P Tomorrow's the last Kindergarten night for Matthew.....and Alaina's got ball practice.....but maybe I can get it done and posted for tomorrow.....I've got an idea....I just spent way too much time on that American Girl layout-of-cuteness (I'm quite proud of that one!).
So perhaps I'll be back tomorrow with a blessing....or I'll post 2 next week....who knows! But that's it for me for now....I'm off to vacuum and then hopefully watch a movie. Have a great week everybody!!