And here I am, back again.....fighting a nasty sinus headache while attempting to finish up umpteen projects before the end of this week.....joy, fun!
So anyways.....a hectic week as usual.....tball/baseball practice on Monday and Wednesday nights. Karl took Matthew to the last Kindergarten night at the school on Monday where they had a campsite set up for their 'camp out'.....I sent Karl with a camera and didn't get much (he has been lectured thoroughly on taking better pictures next time!)....but I got enough pictures for this at least:
that's using a new template pack of Sya's, called 'Movie-spiration', and Haynay's kit, 'Kamping Rocks'....the adorable little girl next to him is Samantha......who is NOT HIS GIRLFRIEND!!! they are just ALWAYS together....too cute. You even SAY the word "girlfriend" around him, he goes ballistic. too too funny. I think they make a very cute little couple though.....
Tuesday was the cub scout information meeting at the school....and guess who's volunteered to be the leader? Den daddy Karl! :D He'd already talked to some parents the night before at the campout, so with his "self-promoting", we've got about 7 or 8 little boys ready to sign up for tiger cubs! For a school the size of ours, that's HUGE! :D
Wednesday was a very LONG practice.....2 hours out at the ball fields.....between the water fountain at the diamond where Alaina's practice was....and the dust at the diamond where Matthew's practice was.....Zach was QUITE the mess by the time we got home! :D
Wednesday also was the day we dropped off Karl for his trip out to LA......so Thursday and Friday I did the single-mom thing....which wasn't much fun I might add! :D
Friday night we went and picked Daddy up from the airport and then Saturday we left for Fairfield for the weekend to visit my parents. we had a good visit with them.....I got to chow down on my favorite local favorite cuisine (namely Dimaggio's pizza). We went to the cemetaries and put flowers on the graves of my grandparents, which we always do on Memorial Day weekend. Karl and I took Matthew to see the new Terminator movie (I wasn't impressed....other than featuring Christian Bale, I could've slept through it...total GUY MOVIE!), and then we went and rented a movie for us all to watch later last night. so that was the weekend basically. We left Fairfield to come home around lunchtime today and here we sit....doing laundry, catching up on the season finales we missed last week......etc. etc. etc.
so anyhoo......I'll post the layouts I managed to get done. I've been trying to put together this scrapbook for Matthew's teacher, Mrs. Siemer. It's become a real pain in the rear. I should've just gotten a scrapbook and put the layouts in the pages like normal....but NOOOOOO, i wanted it to be like a "book", so I got one of those chipboard albums and glued the pages on, covered it all in that mod podge stuff to seal the pictures......then sanded the edges.....and like i said....PAIN IN THE REAR PROJECT!!! and i'm only half done because I'm waiting on el-slowpoke company to ship my layouts I ordered...they're still not here and I'm REALLY running out of time since the last day of school is this Thursday! :D
Here's last week's blessing that I never posted......I really don't like this layout at all...so I'm going to end up changing it before I actually print it, but for now, here it is: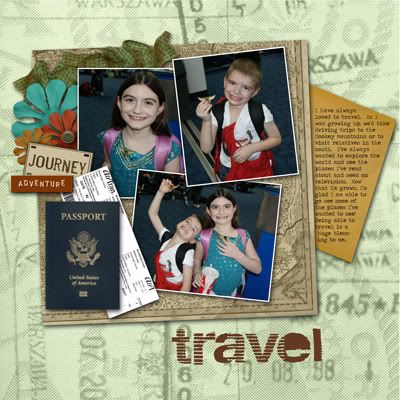 That happens sometimes.....i'll do a layout and just not like it. so there's an example.....i think it's the kit....i just don't like it. hopefully i can fix it soon, 'cuz it's really bugging me! :P And I'm too lazy to retype the journaling and I didn't save the .psd version to copy/paste it....so if you can't read it, oh well.....it just basically says that I've always loved to travel and am glad I get to go places now and take the kids with me......the pictures are of the kids and the wings they got from the gate agent at the airport. :D
Next up, Sya's new kit is a collab with Britt-ish Designs....called Sisters 4 Life....it's kinda sorority-themed, but totally GIRLY, so I just had to scrap this picture of Alaina and her cousin, Becca...they're both divas-in-training.....serious drama queens, these two!!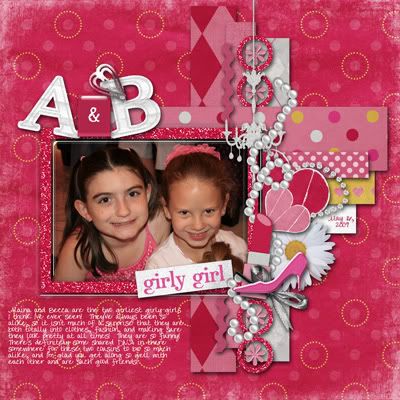 My entry for this week's disboard challenge.......I guess this is kind of an inside joke, so perhaps nobody else will see the humor in this except me......but when you go to Disney World, they have these official Photopass Photographers all over the place that will take your pictures, etc........so there are some photography buffs out there that have made it a point to try and get a picture of THEM instead. :D so that's what I did on this last trip....I asked 2 different photographers if I could take their picture, and they both agreed, but since the challenge only let me scrap an 'odd number' of pictures, the version I submitted for the challenge only has one of the pictures I scrapped here: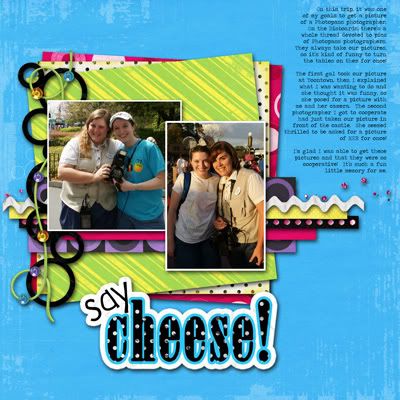 I still think it's funny. :D taking pictures of the photographers......hehehehehehehehe!
Here's my layout with Vicki's new kit, called "Colour Me Happy" (I had a hard time typing that english-version of COLOR!):
I really didn't scrap much this week......thanks to being a single mom, being at the ball field, and being occupied with the pain in the rear project most nights this week!
but i DID manage to get my blessing done for this week......I like how this one turned out, so no re-scrapping will be involved most likely....look at those lashes on that sweet little boy!! (not that I'm biased or anything!):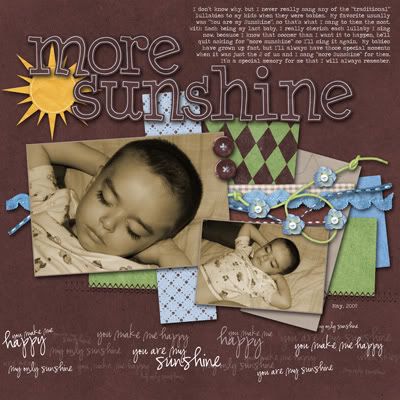 journaling: I don't know why, but I never sang the "traditional" lullabies to my kids when they were babies. My favorite usually was 'You are my Sunshine', so that's what I sang to them the most. With Zach being my last baby, I really cherish each lullaby I sing now, because I know that sooner than I want it to happen, he'll quit asking for "more sunshine" so I'll sing it again. My babies have grown up fast, but I'll always have those special moments when it was just the two of us and I sang 'more sunshine' for them. It's a special memory for me that I'll always remember.
That's using a kit called 'Angel Baby Boy' from Haynay Designs and 'Dynamic Duo2' template from Sya's Blueprints. There, I think I got all the plugs in for this post! :D
So that's it for now.....back to the spring cleaning!! Got a Star Wars birthday party on Saturday we need to prepare for!!! So until next weekend, later!!