I hope everyone is having a "Happe Muther's Dae" as well. I don't quite understand where the lack of spelling skills come from in my children, as I was always an excellent speller, but I gotta admit, it's quite entertaining sometimes deciphering what they write! :D
So anyways, I've had a pretty good day so far. I got some homemade cards and a little poem, lots of hugs and kisses, and a corsage to wear to church! I don't ask for much more than that, so I'm happy!!!
And in honor of the day, here's my blessing.....SHOCKER......it's MOM:
journaling: Now that I'm a mom myself, I've come to understand my own mother a little better. I know she did the best she could as a Mom, and for that I'm grateful. She was always there for me when I needed her, and still is. My mom will always be one of the most important people in my life. She may drive me crazy sometimes, but she's my mom, and I'm blessed to have her in my life.
So, back to our week.....Tuesday was Matthew's class field trip to the Zoo, so Daddy went with him and they had a BLAST! His class wore the t-shirts that they tie-dyed on their last field trip to the High School......Karl was "not comfortable" taking my SLR for pictures, so he got sent the little point-and-shoot instead........and here's what he came back with......whereas I would've taken 100 pictures.....he took 30. Either that's a gender difference or I just take WAAAAAY too many pictures everywhere I go! horrible thing, isn't it?? :D......this is with one of Haynay's kits, called "Jungle out there".....cute!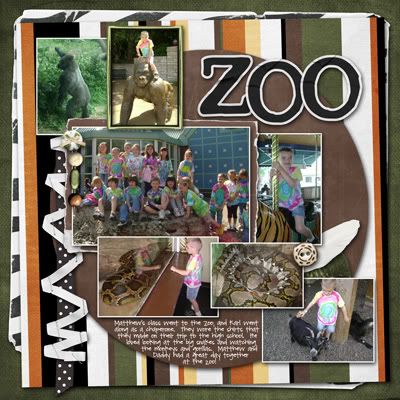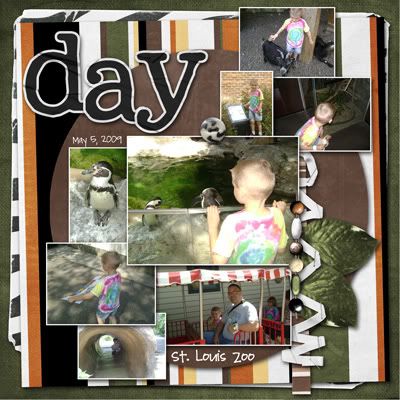 Tuesday, we skipped the usual tumbling lessons to go sign Matthew up for Cub Scouts for next year......we waited....and waited....and WAITED.....and the guy from the council never showed up! While we were waiting though, we got a tour of the local fire station, and the boys all got to play on the trucks and hold the firehose....so it wasn't a TOTAL loss: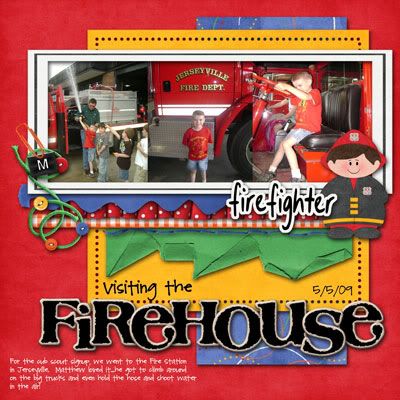 That layout is using one of Sya's templates, called 'Long n Skinny', and a new alpha from Haynay called 'Chip off the old block'......so at least I got a layout out of the evening! :D
Wednesday was our first T-ball practice of the season. Oh joy! Thankfully, Matthew was really into it.....no waterworks or fits or anything this time, which was NICE! I was thrilled. He did really well, so yay Matthew! (and amazingly enough, I didn't have my camera with me....I KNOW, I can't believe it either!). Alaina's first practice is tomorrow. She's never played ball, so that will be uhm......INTERESTING I'm thinking!! :D She's more concerned with what color their shirts will be than anything else....because THAT is what's important!
Thursday was church study group, and since it takes us a few days to get the house 'presentable' (notice I say PRESENTABLE vs. CLEAN....because our house NEVER really gets to a point that it could be called CLEAN)......I didn't scrap as much this week as I normally would have. *sigh*.....it was a sacrifice indeed! :D But we had a good time at study group as we always do......
Friday, we had a "sorta date" night......I say "sorta"....because we had 1 kid with us! :D We had some friends watch Zach for us, and when Alaina heard that Zach was going to be at her friend Elsie's house....she decided she'd rather play over there than go to the movies with us! So me, Karl and Matthew went out to dinner in Grafton and then over across the river to go see the new Star Trek movie. GREAT movie btw....I really enjoyed it.....especially the guy playing Kirk....*sigh*...... And i am NOT a trekkie, so take that as proof that you don't have to know the startdate of every episode to enjoy the movie.....it was really good. And Matthew had so much fun.....he had the people around us laughing out loud because well....he's 5....and 5-year-olds say exactly what they're thinking.....so when Capt. Kirk kissed a woman, everybody heard a (very loud I might add) "EWWW! GROSS! HE KISSED A GIRL!!!"....from Matthew. It was hilarious. :D And then when Spock held up his hand for that famous 'live long and prosper' greeting........I heard a "HEY! WHAT'S WRONG WITH HIS FINGERS?"........priceless!! So we had a great time at the movies Friday night!
Saturday we skipped swimming lessons because we were going to be on the go so much.....we got up and got stuff packed for the afternoon/evening. We left here a little after noon to have a Mother's Day lunch at my brother Dean's house with my parents and some of Dean's inlaws. Then we hung out after lunch for awhile just talking........and then we headed on out to Fairfield to spend the night and go to church with mom for Mother's Day. We watched the Cardinals lose and just sat up talking (me scrapping!) with the family 'till bedtime.
Then today was Mother's Day!!! We had a nice service at the congregation in Fairfield....Alaina sang a solo (the same song she sang at her baptism), and they had lots of nice readings/poems/songs about mothers......it took 3 different tries to get my corsage to stay on though....I think next year I'm going to ask for a wrist one! :D But it was a nice day.....I love being a mom and all those hugs and kisses are what make it so rewarding!!
Only one more layout to share........Vicki's new kit is called "toybox"....and I didn't really have any pictures to use for the 'toy' elements of it.....but I did scrap this with it: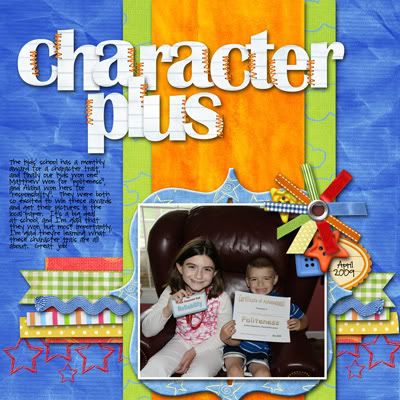 This is of the kids and their Character Plus awards they won. Each month they learn about a different character trait....last month was Politeness, and Matthew won the award for that (each class has 2 winners). Alaina won a few months ago for Reliability...and I just never took her picture for it....so here they are with their Character Plus awards!
So that's it for me for now.......tomorrow we've got more ball practice (2 nights/week....blah!) and I'm sure the rest of the week will fly by as it usually does when we're really busy!!! And I think my ticker up on top of the blog is off.......because our countdown to Disney should be at like 3 weeks or so......it's getting close. The family road trip to California will be here soon!! woohooo!!
Take care, have a great week, and Happy Mother's Day to all!!