Well....here I am, posting on a Friday after all, who'd have thunk that? :D
Today's (inter)National Scrapbook Day, and in honor of that, I get to post all the layouts that I couldn't post before, woohoo!!
So, first up.......Grab bags! :D Grab bags are cool......ya just never know what you're gonna get, but both Haynay and Sya put together some really AWESOME bags that are worth WAY more than the little price tags. You MUST go get them, 'nuff said!
So here's something I scrapped with a template pack out of Sya's grab bag.....the template's called 'Stacked n Layered Strips', and I decided to scrap the Alaina's spring school pictures with it (btw, spring pictures are just a total money-making concept......'cuz they know parents like myself will cave and buy the pictures because our kids are just too cute! well, MINE are anyways!) anyhoo...... here it is: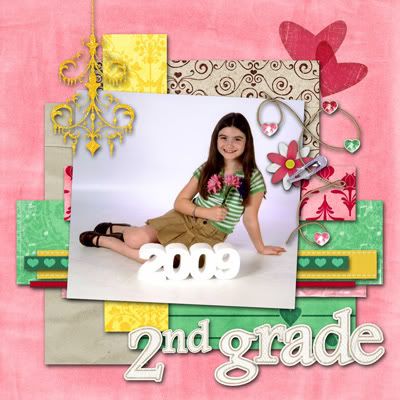 And for Matthew's, I used a different template set, called 'Gimme Some Space 3'......white space really bugs me on a layout....I just feel this utter compulsion to fill it with SOMETHING....so if you go and look at the actual template....you see it has WAY MORE white space in it than my resulting layout does.....but that's the beauty of templates....you don't have to use them EXACTLY as they are! :D
And for the 3rd template set in Sya's grab bag (there's 4 sets of templates, but I haven't gotten around to using the 4th set yet.....I tried, it just didn't happen in time for today.....darned WORK really gets in the way of my scrapping time, drat!). This set is called 'Coined'.....and I think you can guess why: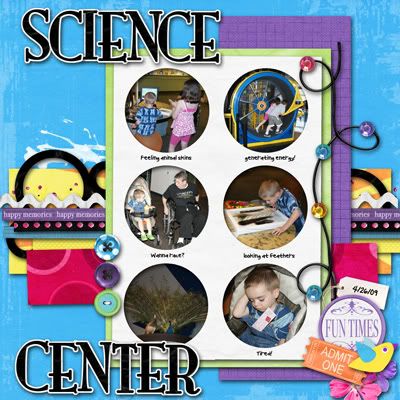 And now, for my new CT, Haynay's Hunnies.......(I'm so proud to be a Hunny, btw, it just sounds cool!)........in addition to the Grab Bag she made, she also released a new kit today, called "Just the Right Medicine".......... and I've done 2 layouts with it:
This one I did first, since I didn't have any kind of 'booboo/injury' pics to scrap, I had to improvise.....this is also using one of Haynay's templates, called '3s Company':
I know every parent feels my pain (and laughed along with me), looking at those pics....right? I'm so mean, laughing at my kids like that. :D
And the other layout I did with that new kit was my blessing for this past Sunday......in honor of my gallbladder surgery last week (of which i'm pretty much recovered....just lacking energy.....hopefully that's just me recovering from surgery vs. some pig-germed infestation of some sort, kwim? LOL!)....my blessing was Modern Medicine: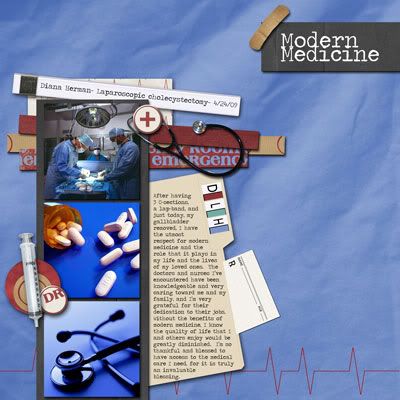 journaling: After having 3 c-sections, a lap-band, and just today, my gallbladder removed, I have the utmost respect for modern medicine and the role that it plays in my life and the lives of my loved ones. The doctors and nurses I've encountered have been knowledgeable and very caring toward me and my family, and I'm very grateful for their dedication to their jobs. Without the benefits of modern medicine, I know that the quality of life that I and others enjoy would be greatly diminished. I'm so thankful and blessed to have access to the medical care I need, for it is truly an invaluable blessing.
And for Haynay's grab bag........this is just AWESOME!!! sometimes in a grab bag you just get 'bits and pieces'......but Haynay's grab bag is a FULL KIT.......and it's HUGE!! plus other goodies too.......yay! :D
This is Matthew's field trip to the high school last week....mom went with him and took all the pictures.......they had so much fun! :D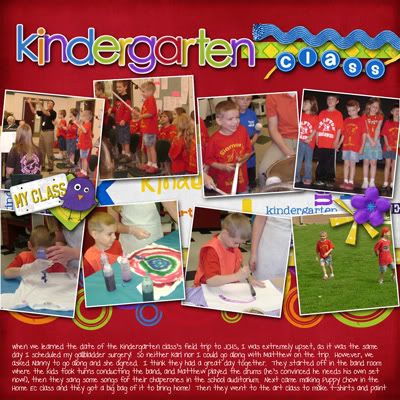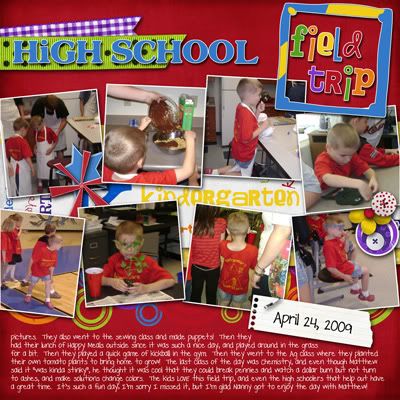 I've got other layouts to post, but since I want to have stuff to post on Sunday, I'l l post them then! :D
So go......celebrate interNational Scrapbooking Day.......enjoy! :D