Oh, beloved Brush Creek…..how do I love thee? Let me count the ways: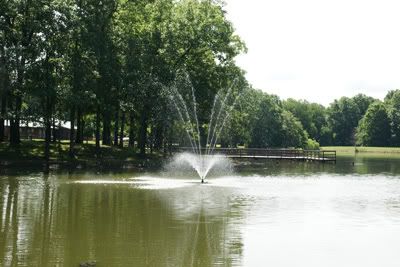 Brush Creek is a quiet little campground, literally in the middle of nowhere (technically about a half-hour drive from civilization), where I spent the majority of every summer every year for as long as I can remember. I remember staying in a cabin with my family.....with nothing but one stupid little, barely-working oscillating fan to cool us in the middle of July.......I remember going to my first camp here without my parents at the age of 7 (you weren't supposed to go 'till you were 8, but I went a year early when my mom worked as a cook), and then going to my age-group camps for a week every year afterwards.....I remember volunteering as a CIT (counselor-in-training) and then later as a counselor for the younger kids' camps. All in all, during my junior-high and high-school years, I'd spend 5 or 6 weeks of the summer at Brush Creek. So it will always hold a special place in my heart. I have SO MANY fond, crazy memories of this place.....it's truly priceless to me.
We haven't been able to stay for a full week of church camp reunion since Matthew was a baby, and this year, we decided that we'd put aside any grand travel plans and do just that. And I'm SO GLAD we did. We had an amazing time at Brush Creek. It was wonderful and so much fun to get to spend time with my childhood friends: Kerri, Sarah, and Sue……plus all their kids, who ran around wild with ours!
We put on our best 'summer casual' outfits for church services on Sunday: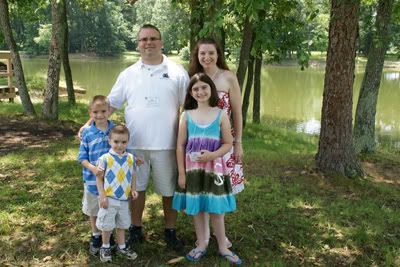 The kids behaved themselves as well as they ever did during church, sitting with their friends instead of us….and God Bless overpriced electronic gadgets for keeping them quiet and occupied: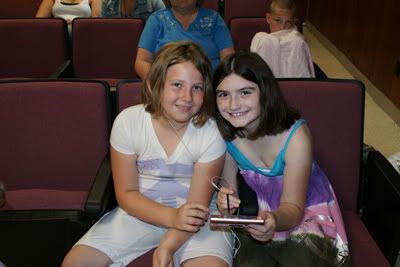 The kids went to classes every morning with kids their ages: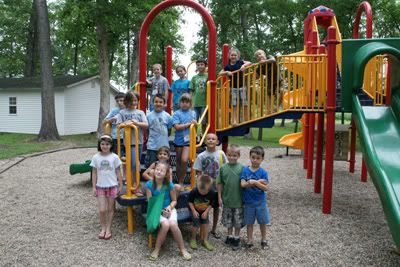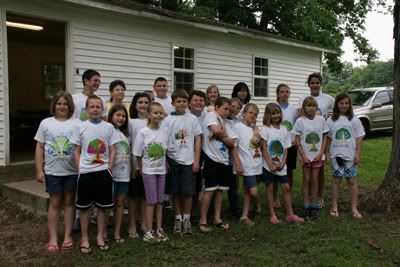 Then just about every afternoon we'd hit the pool: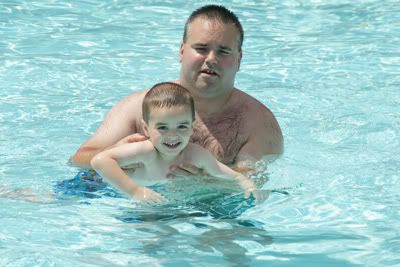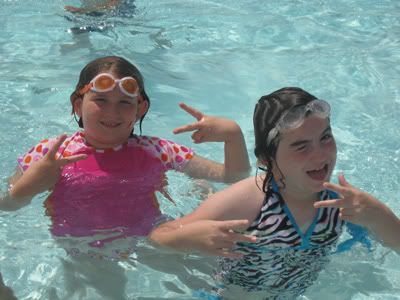 And why yes, that IS a picture of me in a bathing suit…..and here I swore I would never allow such a thing to exist! But since it's a cute picture of me, Kerri, and Sue….I'll allow it to survive….this once. :D
This was a special reunion….the sesquicentennial (that's 150th for those not familiar with such big words), so a little more stuff was planned for the week. The church historian was there for the week, and he organized a photo of those of us who are descendants of the original church members that started the Brush Creek congregation……and since my great-great-grandfather was one of those people, we were included in the group: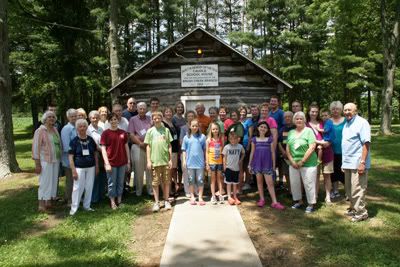 And since it IS my lineage, here's a picture of our kids in front of the Caudle school house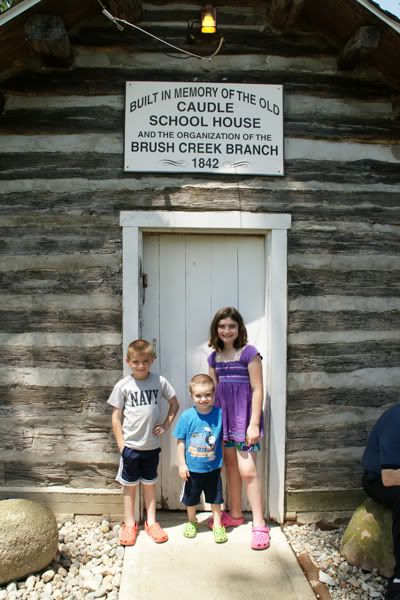 Alaina spent the week running around with Kerri's girls, Tatum and Tessa…..Matthew found some other little guys who had as much videogame knowledge as he did: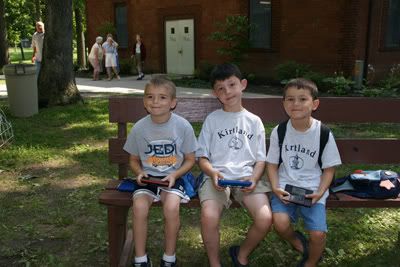 And Zach stuck pretty close to me…..although he did win the little kids' tricycle race that they had: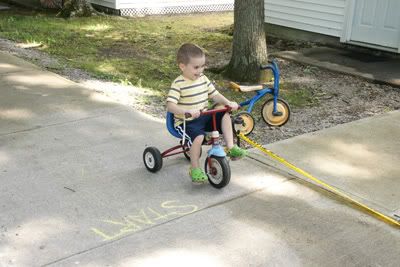 Our 12th anniversary was Sunday, so our romantic anniversary dinner consisted of greasy cheeseburgers from the concession stand! (they WERE yummy though!)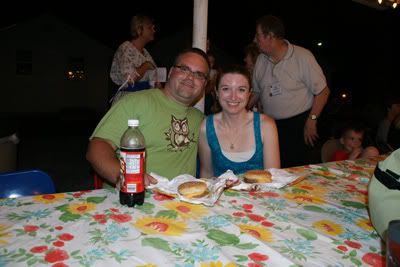 During the week, Sister Emma Smith was worshiping with us……She never failed to remind the men (as they sat and drank their coffee each morning….Karl among them!) of the evils of strong drink……LOL……she was too funny: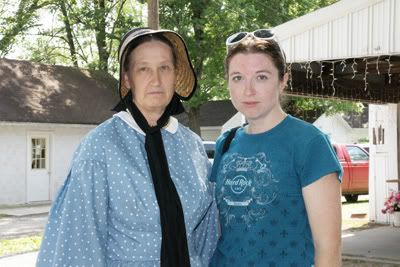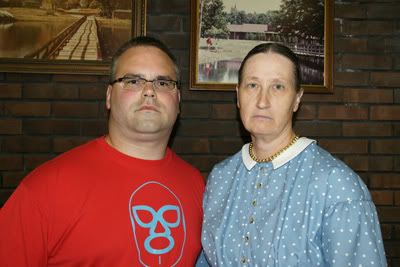 And in her honor, we didn't smile when we took pictures with her…..she said smiling was vanity, or something like that…..and I had SUCH a hard time with that…..I was cracking up!
She also didn't approve of all the "devil gadgets" that everybody carried around with them: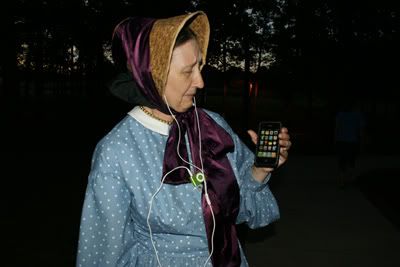 I got to see some friends I hadn't seen in awhile like Josh, Jon, and Nathan: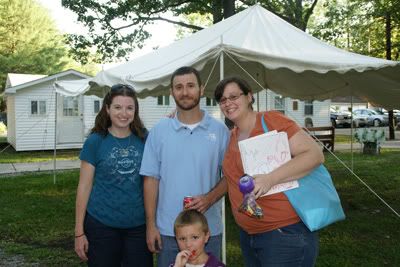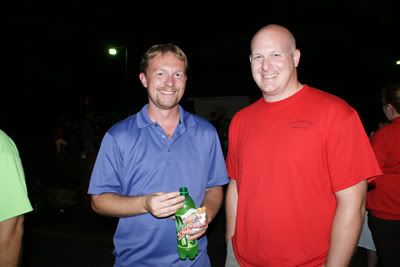 (Jon and Nathan being the cheaters at Spades that Kerri and I demand a rematch from!)
Karl and I went to the young adult class, taught by Seventy Larry McGuire:
It was just nice hanging out together throughout the week: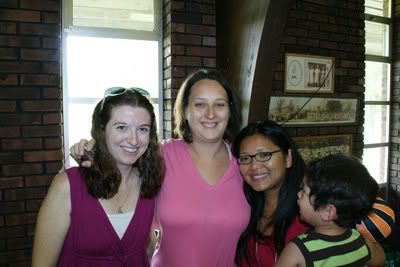 We'd do a lot of socializing standing in line for meals: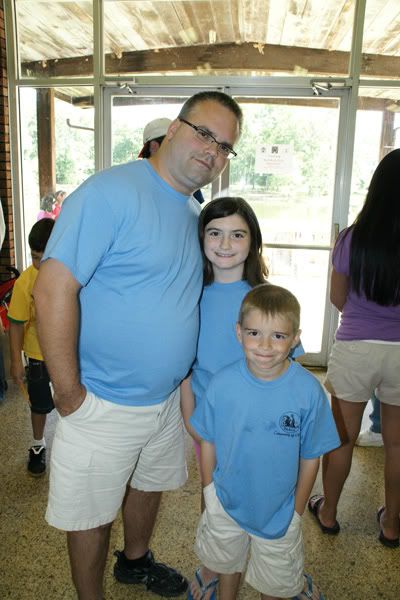 Or in the back of the church where it wasn't very quiet: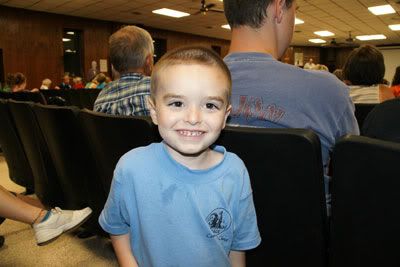 Alaina and Tessa sang in the talent show: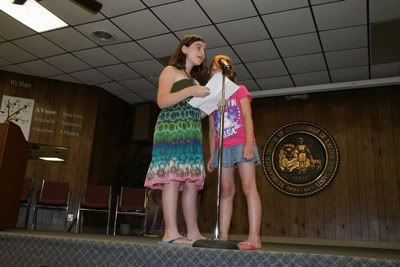 And Karl "moved a mountain", aka Larry McGuire with 3 teenagers using only 2 fingers each.....and no, I won't tell you how the trick works, so quit asking me!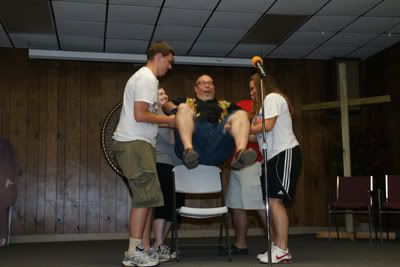 So it was an amazing week.....I'm glad we were able to go....I'm glad the kids had fun.....and it really warms my heart to see mine, Kerri, Sarah, and Sue's kids.....this 'next generation' of friends hang out together: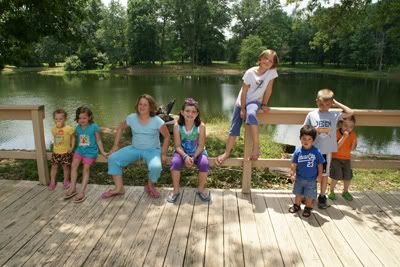 (even if they won't all hold still for a picture!)
and most importantly, I'm glad I got to reconnect with my dear friends: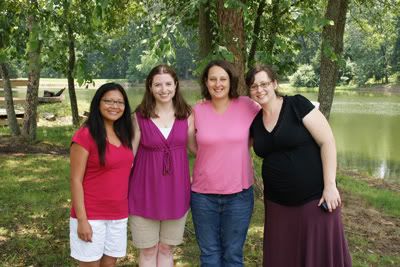 Hopefully next year we can be there again for the week of fun, food (I ate WAY too much ice cream!) and fellowship with my dear church camp friends!!!