Before I do my camp report of our AMAZING and WONDERFUL week at Brush Creek that we just finished, I want to post a few pictures from the Race for the Cure, held last Saturday (June 12th) in St. Louis.
I was so excited to be a part of this event! I've been training for MONTHS to make sure I didn't embarrass myself too badly in public. And I'm quite proud of how well I did with the race itself. I ended up raising $675 for the Susan G. Komen organization, and I'm so thankful to everyone who donated to my run!
It was SUPER HOT and SUPER MUGGY that morning....figures! Ever tried to run when it's 88 degrees and extremely humid? yeah, I don't recommend it! :P
First up, when we got there was the survivors' procession, which will move anybody to tears...seeing all those pink shirts, knowing what that represents.....it makes me cry just thinking about it! I wish there were more pink shirts out there!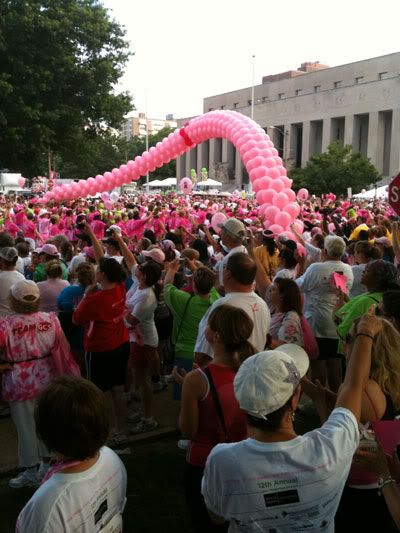 Next I had to get my race numbers....then find the spot for the team photo we were having taken. I am quite thankful that even though I'm not a huge fan of lime green.....it beats the old drab blue shirts they used to give us....so Go Team Boeing!
The best thing about this picture is that Boeing donated $100 for every employee that walked/ran in the race!
As soon as the picture was done, I ditched my green tshirt and headed over toward the start line to find my place....
Here I am, all ready to run!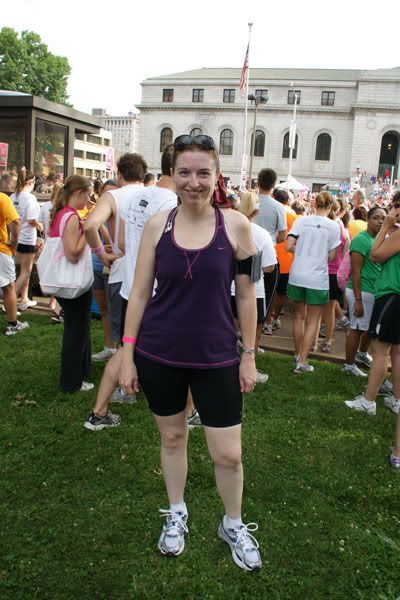 Oh, and just for reference, this was the LARGEST EVER Komen race......over 71,000 people were downtown that day....and if I'm not mistaken, they were all ahead of me in line for the porta-potties! lol! ;)
You can barely tell it in this picture, but that street is wall-to-wall people...as far as you can see....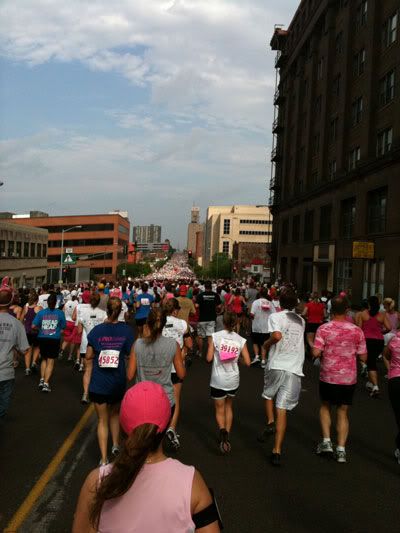 Anyhoo.....the race itself went quite well for me. I was one of only a handful of people that actual ran the entire thing. And I don't blame people for not being able to handle it...the heat/humidity combo was killer!
Thankfully, the St. Louis Fire Dept. was on hand to cool us off in a couple different places along the route.....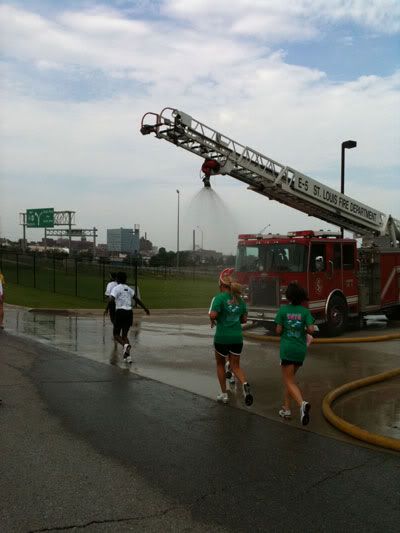 (I ran through the first one of these but then decided it probably wasn't the best idea since I had an ipod strapped to my arm and was carrying a phone too)
I never saw who was blowing all the bubbles at mile marker 2, but thanks....it was a nice surprise and kind of uplifting to run through this:
Once we turned the corner after mile marker 2, I could see the arch way off in the distance....and the crowd had thinned out considerably:
This is my "omg, am I there YET?" self-portrait: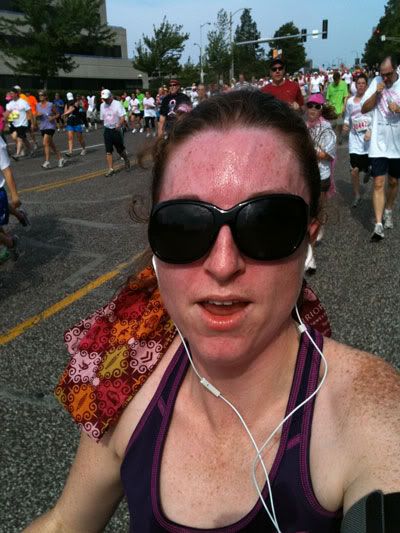 And the finish line....a blessed thing to see:
And here's that semi-official picture of me at the finish line......I say 'semi' official because I had to call Karl and we had to find each other before he could actually TAKE this picture! :P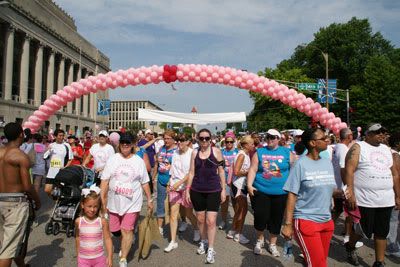 So that, in a nutshell, was my first-ever experience running a 5K race. I'm thrilled I was able to finish it (in a personal best time too, go figure!) without collapsing......and I'm happy to have raised as much as I possibly could have to help find a cure for breast cancer....so that next year there will be more pink shirts out there and less "I'm running in memory of" tags. I will gladly do this race again. It was an amazing event to be part of and I'm so glad I did it...for the cause it supports and for my own personal achievement of running a 5K.
See you next summer in muggy downtown St. Louis!!!