Just a quick post to catch up on my scrappin'!!
First up, stuff for Haynay:
Pictures I took of the kids' snow day last week. They didn't last long out in the snow playing....they're wimps and got cold! :P
Using
"Chronicling Life Photo Clusters"
,
"Chronicling Life: January Mini"
and
"Snow Games"
And with another kit of Haynay's:
"Simplicity"
, and
"One for the Money v2" template
, I scrapped this layout of Julia Child's kitchen at the Smithsonian in Washington DC: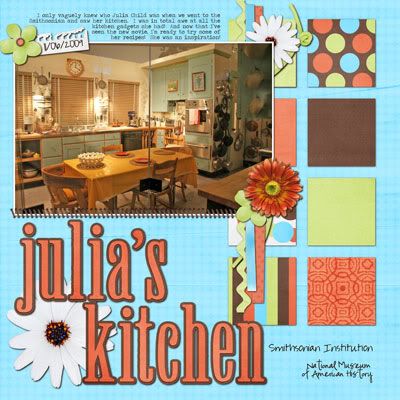 Another layout from the Smithsonian, using Sya's new template pack,
"Movie-spiration: Take Two"
....of some electricity exhibit...I don't remember what half this stuff was, so Karl's going to have to help me with the journaling! I just took pictures of stuff he pointed out. :P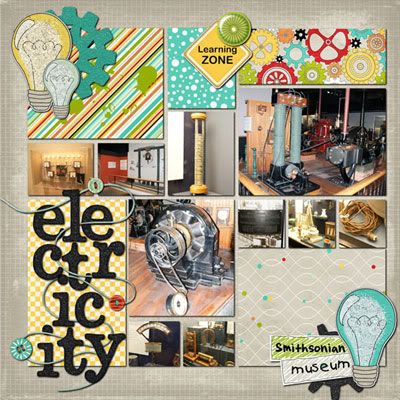 This was of the Presidents' exhibit at the Smithsonian: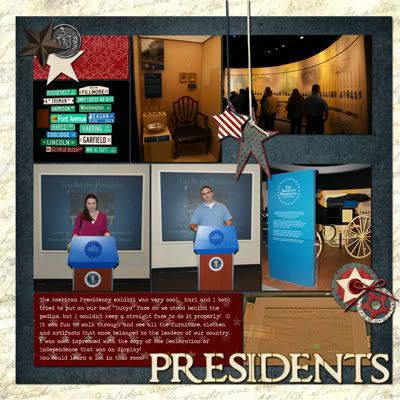 Karl bailed on this exhibit....he wasn't too interested in the dishes and dresses of the First Ladies.....but I thought it was cool! :D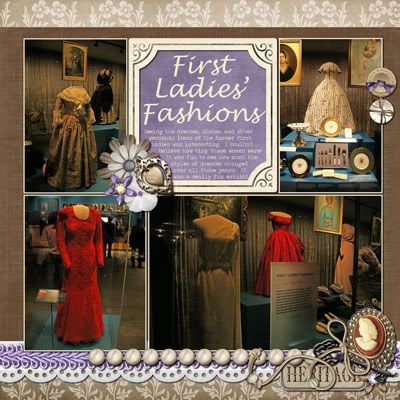 some misc. pictures from our tour of the Capitol building: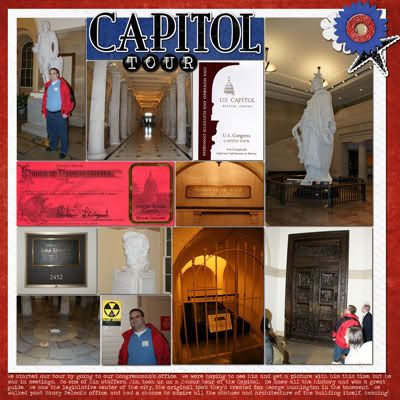 Statuary Hall in the Capitol....ALMOST done with my DC book, woohoo!!!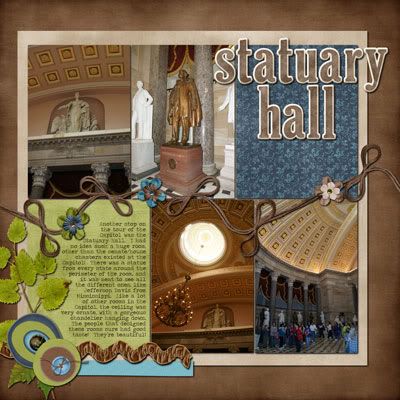 so that catches me up on the scrappin' I've done lately......as for our LIFE.....eh, not too much to report really.
Last weekend, Alaina went to her first softball practice at the batting cages in town. We were SO impressed with her.....she hit 60 mph fastballs! I'm not sure I could even do that, and she's 8! :P So woohoo for her....maybe she'll do okay in softball this summer after all! Her season starts in April, so we'll find out soon enough!
Zach is walking around singing the ABC song like crazy....it's so cute, I never get tired of it! He talks so much now....I love it! it's always so fun when you can have entire conversations with him. Last night, on his way home from class, Karl called and Zach wanted to talk to him on the phone.....he told his daddy all about his trains.....how he couldn't find a 'tunnel' to complete the train tracks....it was quite the crisis for a little boy! Thankfully mommy found the lost tunnel and all is well.
And that's about it for around here....perhaps I'll have something more exciting to relate next time!! my brother, dean, who thinks he's a meteorologist, is predicting the kids will get another snow day on Monday, so we'll see about that! :P
later gators!