Ah.....finished at last with the blessings project....it's like it would never end! :P And SIL Nicole and I have agreed to not take on another project like that until we're "a little more" caught up with our regular scrappin.....and of course all those vacations we take that have to have 100+ page albums in them!!! :)
So anyways....my last 4 blessings.....in no particular order:
blessing#49: Being Together.....this is with a new template pack of Sya's called 'scrapper's blocks' and the kit is called 'Where the Heart Blooms' by Erica Zane: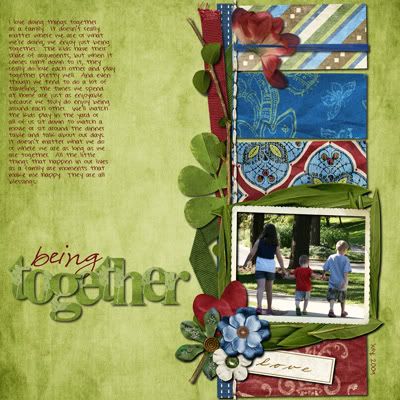 not in the mood to retype the journaling, but it basically says that it doesn't matter where we are or what we're doing, it's a blessing just being together. Plus, I just love that pic of the kids and had to scrap it for something! :P
blessing#50: Daddy Daycare......using a template from a template challenge at Scrap Matters and the 'Incredi-boy' kit by Britt-ish Designs.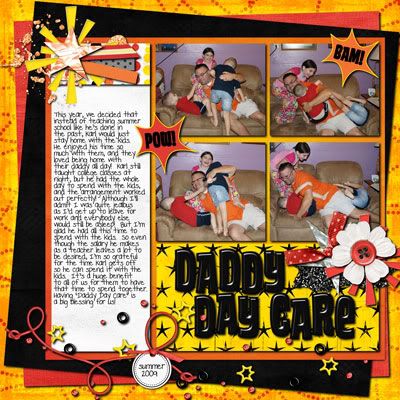 again, paraphrasing the journaling: It's such a blessing to have Karl home in the summer with the kids....it means a lot to him to have that time with them and they love being home with daddy too!
blessing#51: Date nights! Every couple should still have date nights! This is the LO I did for a speed scrap (where you get 1 hour to do your layout and they give you instructions to follow) using Britt's new kit, "i'm yours"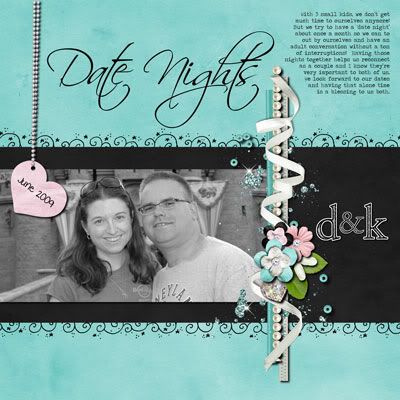 Date nights are such a big deal to us....they let us reconnect as a couple and keep our relationship strong. Love our date nights!
and the final blessing...#52.....How Far I've Come. I'm darned proud of this.....not the LO per se, as it's kinda boring......but the story itself....the LO was meant to be about the journaling, which I WILL recopy here since that's the main point of the layout....oh, and the kit is "eggplant envy" by Erica Zane: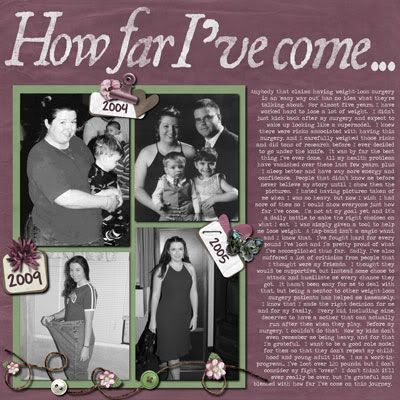 Journaling: "Anybody that claims having weight-loss surgery is an 'easy way out' has no idea what they're talking about. For almost five years, I have worked hard to lose a lot of weight. I didn't just kick back after my surgery and expect to
wake up looking like a supermodel. I knew there were risks associated with having this surgery, and I carefully weighed those risks and did tons of research before I ever decided to go under the knife. It was by far the best thing I've ever done. All my health problems have vanished over these last few years, plus I sleep better and have way more energy and confidence. People that didn't know me before never believe my story until I show them the pictures. I hated having pictures taken of
me when I was so heavy, but now I wish I had more of them so I could show everyone just how far I've come. I'm not at my goal yet, and it's a daily battle to make the right choices on what I eat. I was simply given a tool to help me lose weight. A Lap-band isn't a magic wand, and I know that. I've fought hard for every pound I've lost and I'm pretty proud of what I've accomplished thus far. Sadly, I've also
suffered a lot of criticism from people that I thought were my friends. I thought they would be supportive, but instead some chose to attack and humiliate me every chance they got. It hasn't been easy for me to deal with that, but being a mentor to other weight-loss surgery patients has helped me immensely. I know that I made the right decision for me and for my family. Every kid, including mine, deserves to have a mother that can actually run after them when they play. Before my surgery, I couldn't do that. Now my kids don't even remember me being heavy, and for that
I'm grateful. I want to be a good role model for them so that they don't repeat my childhood and young adult life. I am a work-in-progress... I've lost over 120 pounds, but I don't consider my fight "over." I don't think it'll ever really be over, but I'm grateful and blessed with how far I've come on this journey. "
And I'll be back tomorrow to post the rest of the layouts I've done this week....having free access to a whole scrap store is pretty good incentive to get stuff scrapped!!! :P