Okay, so I'm back! :D Did ya miss me? :D This past week has been a typically-busy one!
Something offhand that I noticed this week…..Alaina's getting really strong….I just kinda noticed that at her gymnastics class….the girl can do a handstand all by herself! I could never have done that at her age. Heck, I can't do it now either! So I'm impressed with her strength….pretty soon she'll be able to beat the tar out of me….not that that would take much, because I'm a big wuss! :D She's also still really enjoying playing the flute, and learned how to play a B-flat this week and was SO EXCITED to play it for me…….500 times! :D She's so funny though. And she's just getting SO BIG….it's blowing my mind. She said she needed new shoes because hers were too tight….so we went and got her new gym shoes in a WOMENS SIZE 5! Holy crud! She's got her momma's big feet I'm afraid, poor child. I hope she at least is fairly tall to make up for those big ol' feet!!!
And the boys: Matthew and Zach are starting to bicker like typical brothers…..it's pretty funny to watch, but I guess I'm not supposed to really be laughing, am I? I'm hoping that since Zach will bring me diapers, wipes, and powder, that that means he's almost ready for potty training. I can HOPE…..but I dare not hold my breath! It's still so strange to hear Zach talking in full sentences….actually ARGUING with his brother/sister……he didn't talk for so long we were starting to worry…..and now the child won't shut up! :D figures!
The BIG excitement (for me anyways) this week was my new camera. Ahhhh……I love this thing. It was a total indulgence on my part because there was absolutely nothing wrong with my old camera….and it was a very good camera too. We got our tax return and decided to stimulate the economy with something that we knew I'd get a lot of use out of! So I've upgraded from my old Minolta Maxxum 5D to the new Sony Alpha 700. Oh is it nice! Lightning fast and super-sharp pics……wahoo! I'd post some cool shots, but I'm still getting through the manual on the thing! I didn't get it 'till Thursday night, and so I haven't had much time to play with it yet really. It is COMPLEX, but I'm loving it so far…..I also got a big ol' external flash for it to blind the family with at night…..and I upgraded the lens too……..like I said….TOTAL indulgence. But I'll say it's for the whole family since I take pictures of us all and document our lives…….it's an INVESTMENT! Right? RIGHT!!! INVESTMENT. Exactly.
Saturday, I froze in the pool with Zach screaming in my ear (he's not a big fan of the water, so his swimming lessons aren't much fun!) and then spent Alaina/Matthew's classes playing with the camera. Other people probably thought I was nuts, taking so many pictures…….of OTHER people's kids even….but I was just trying to figure out white balance settings and stuff like that. I was having a blast! Then some women behind me were talking about their upcoming trip to Disney World, so I had to but into that conversation and give a lot of unsolicited advice on Disney vacays! TOO FUN! One of the women actually took notes! :D
And speaking of that……we leave in 12 short days!!! I am SO not ready (packing wise……of course I'm ready for the trip itself…DUH!) I've still got to get the kids' autograph albums together that I've been working on (slowly, in spurts!)….dig around to hopefully find summery clothes that fit everyone, etc. etc. etc……and where ARE those Mickey ears? :D Exciting!!!
But before I can really concentrate on the trip, I've got to survive Alaina's birthday party, which is coming up this Saturday! I'm so not ready! :D Last year, I had the brilliant idea to invite EVERY girl in her class for a sleepover….so there were 11 7-year-olds in our basement. Oh the drama. I swore NEVER AGAIN! :D So this year, she can invite 4. 4 I can handle , kwim? Or at least I THINK I can handle them! But anyways, her party is this Saturday. It's a 'pirate princess' theme, so if the weather cooperates, we're going to have a scavenger hunt for buried treasure in the backyard……if the weather doesn't cooperate…..there's always High School Musical on the big screen in the basement! :D And me, in my infinite enthusiasm, have decided to make a treasure chest cake……so cross your fingers that it actually in some way resembles one…….and I'll definitely post pictures! :D
Today after church we went to the mall for a little retail therapy….ended up hitting some nice shoe sales…..plus, anytime we go to this particular mall, we always end up running into a current or former student of Karl's….this time it was at the Nike store, so we ended up getting a nice discount on Alaina's new gym shoes (for her Amazon feet…at this rate, she'll be wearing MY shoes by next year!). Then I somehow got sucked inside the Nine West store…..and ended up getting a pair of little ballet flats I didn't need at all, but they were cute and on sale, so eh…….isn't that what retail therapy is all about? And also got Bigfoot a pair of shoes for Easter too. Then we found a new shoe store….a Crocs outlet! OMG, I was in HEAVEN! I LOVE CROCS! Yes, they are the gaudiest, tacky, ugly things ever invented, but darnit if they aren't the most comfortable things either! They had a sale going on for $5/$10 for kids' crocs. Uhm, DUH! So the kids each got a new pair for the upcoming trip to Disney. …..Zach won't take his off…it's the funniest thing ever….…so it was a nice shoe day at the mall! :D
Not much else really happened this week……since there was a big sale going on at the website where I get my layouts printed, I was trying my hardest to get as many layouts done as possible! So those are ordered and on their way……when I get a shipment of those, it's just like Christmas for me……I get to put them into their albums and admire them all over again! Yay! I love that part about scrapbooking……you get to go back and admire your work all over again anytime you get an album out….it's so cool!
So speaking of the scrappin'……here's what I managed to get done this week….I already posted the layout with the new collab at Scrap That Idea…….and here's another one for Vicki's CT…..with her new freebie kit, called 'Spring Romance'……..one of the first pictures I took with the new camera…..of the kids: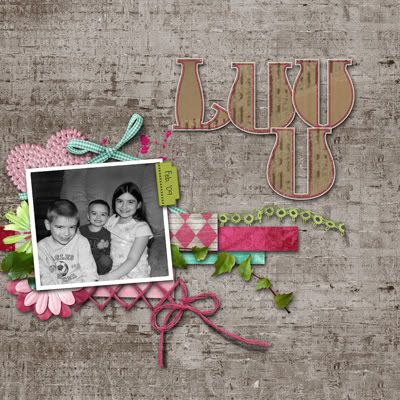 I'm furiously trying to get my UK album done before our next vacation……but I'm down to the wire and am starting to doubt if that's gonna happen…..I'm definitely gonna keep trying though! Here's a couple 2-pagers……..the first of St. Stephen's Green……it was this lovely park in Dublin….we hung out there for a couple hours for some downtime to let the kids run around and burn off some energy………this is using Sya's new kit, called "Happiness Is…"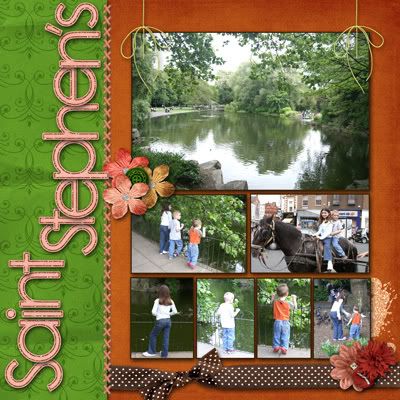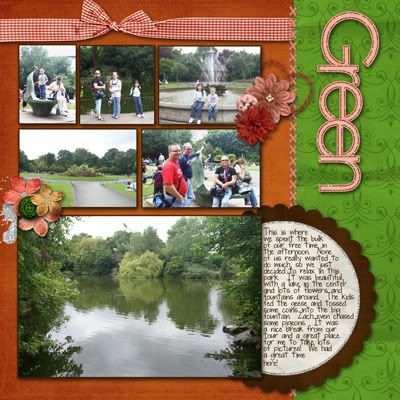 This next set is of Cashel Rock…..we didn't get to go in this castle…..and I've got a feeling there wasn't really anything to see inside anyways……I enjoyed just climbing around on the outside…..Karl wasn't nearly as enthused, him being as afraid of heights as he is and all!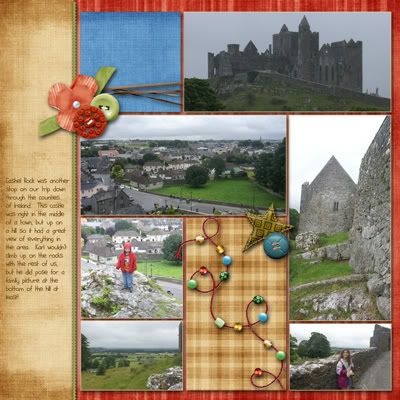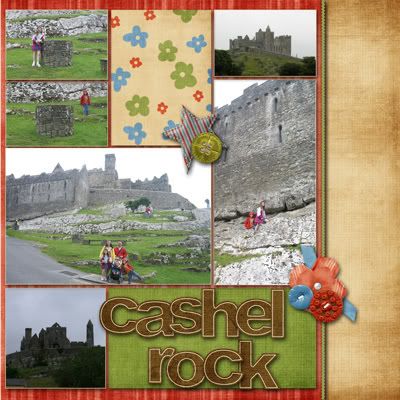 And the last of the UK layouts this week is from Blarney…..I already scrapped me and Alaina actually kissing the Blarney stone……so this is just of the castle itself and our trip to the top of it…..where Karl chickened out and wouldn't kiss the stone! I can't believe he went all the way up there just to bail at the last second (obviously I'm still teasing him about this!)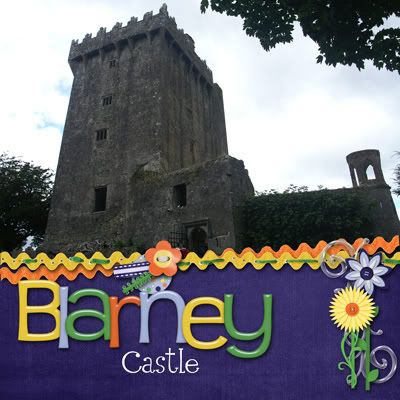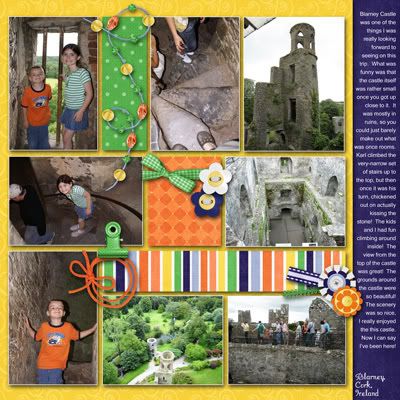 And for my blessing this week………..uhm…..this is what happens when I drink and scrap! :D I had a nice (okay, it was HUGE) cocktail last night while I was contemplating my blessing for the week and then proceeded to use a kit to scrap my blessing that won't be released for another week. BRILLIANT! So, long story short……my blessing layout is done…..but I can't post it yet! So I'll post it next week when I'm allowed to do so and just share it then. I guess I COULD tell you what it is…..but if I can't post the layout, telling you what it's about would ruin all the fun, don't ya think? So that's it for now….have a great week!