I spent basically the whole week getting ready for the big party in one way or another....getting stuff bought and the house cleaned. But we survived it! :D
Aside from the party-prep, nothing much was going on this week really.......work, etc....blah blah blah. Friday night, I put together Alaina's birthday cake.....since she wanted a 'pirate' party, I decided to make her cake a treasure chest....and I guess it kinda looks like a treasure chest.....or at least it looks like some sort of piece of luggage! :D She thought it was cool, so that's all that matters:
Saturday morning, we skipped swimming lessons and I cleaned the house, made goody bags and got ready for the party. fun, fun, fun! Since it was so nice, we let all the kids play outside for awhile:
Then we had a scavenger hunt around the yard to find the "treasure", which was the pinata. I took a lot of time coming up with clues that I knew the kids would be able to 1. read at their level, and 2. understand and figure out on their own....and it worked, woohoo!! They loved it and were running around the yard yelling and laughing the entire time!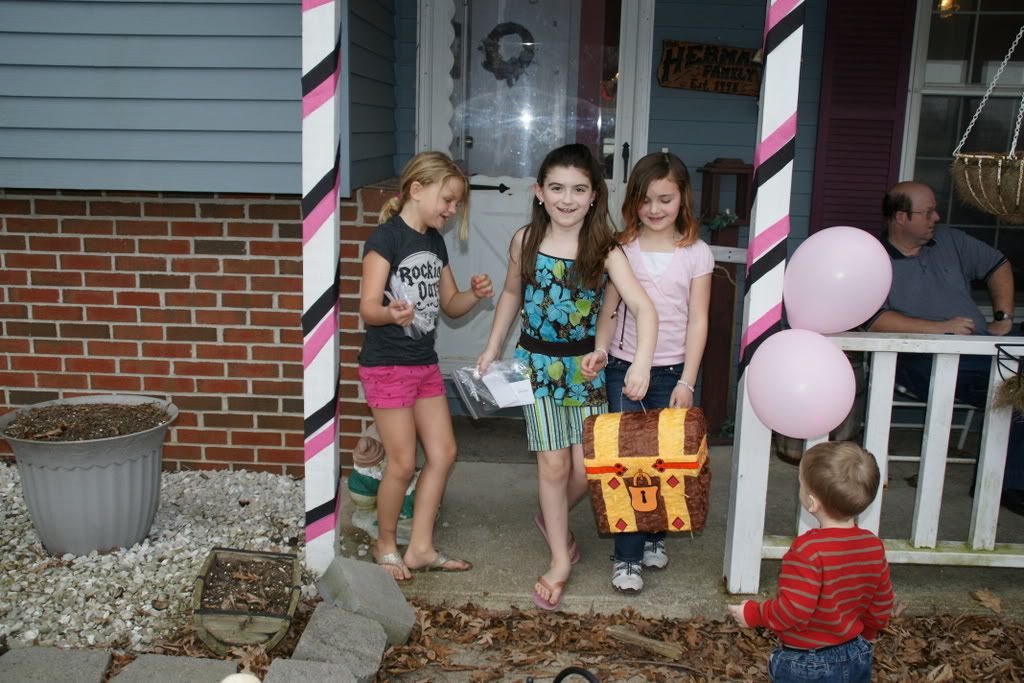 The kids took turns taking a swing at the pinata......Alaina wasn't very successfull at all!! It was funny to watch though: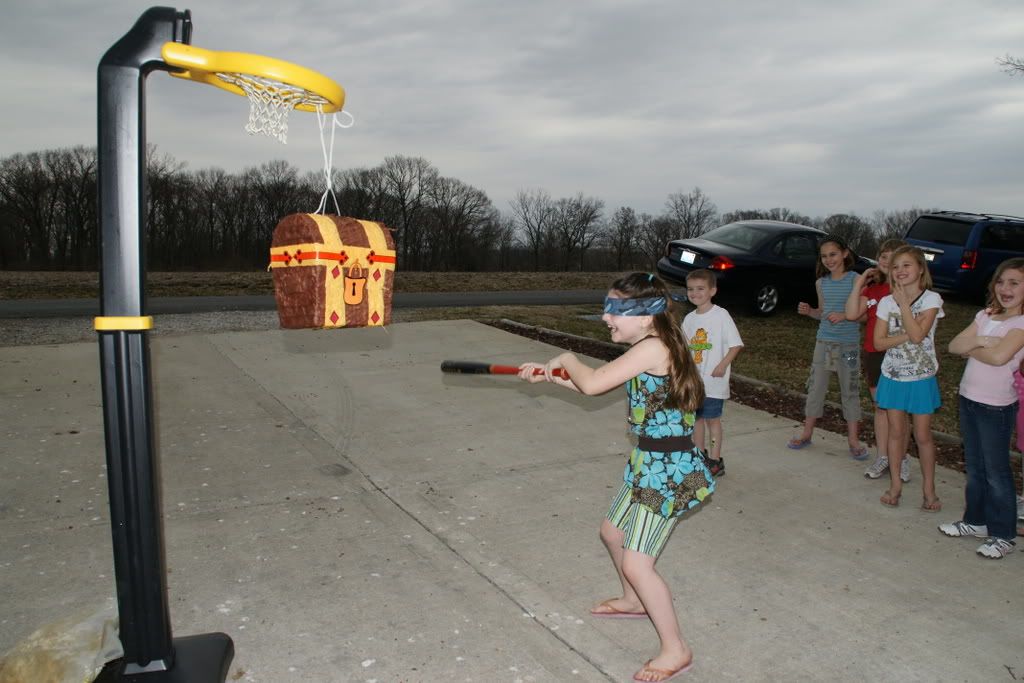 One of the other girls ended up breaking it open.......and of course it was a free-for-all for the candy!!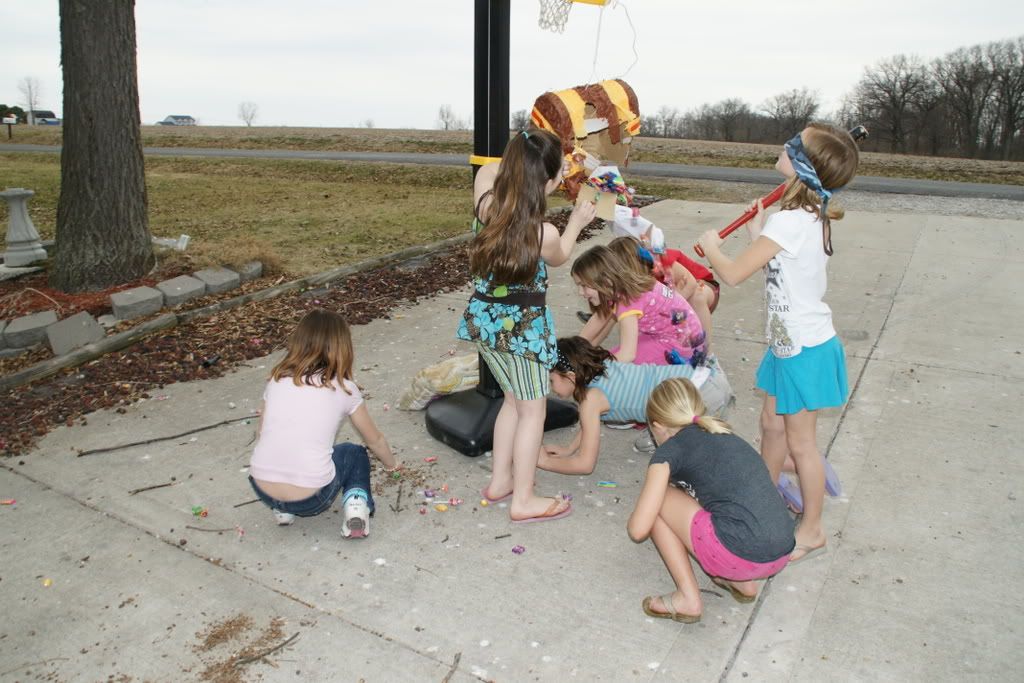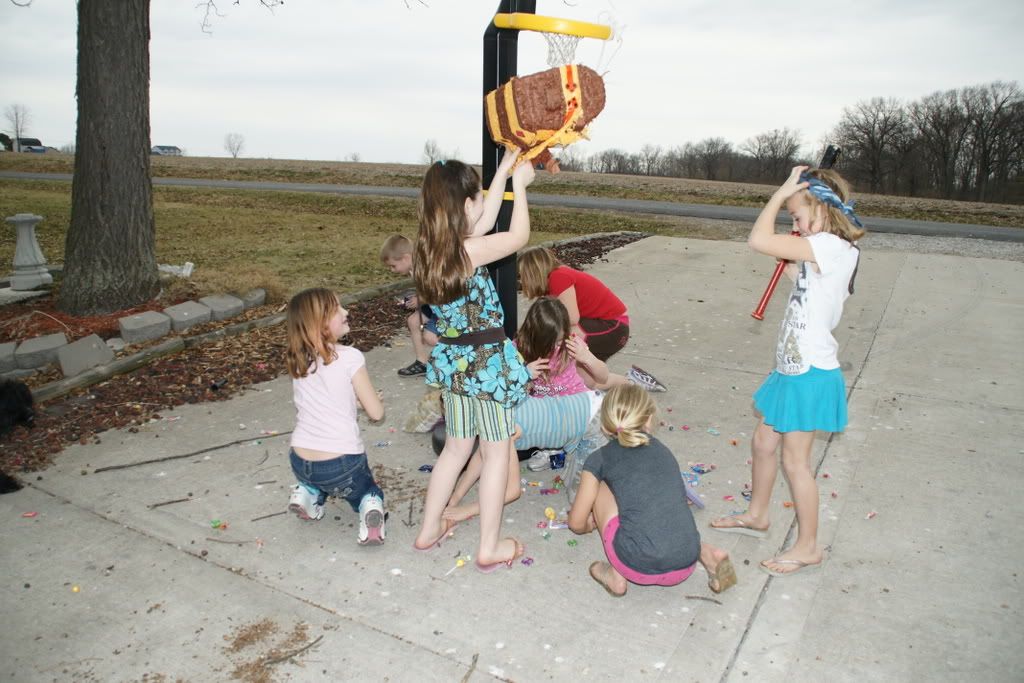 Then we had cake and ice cream inside...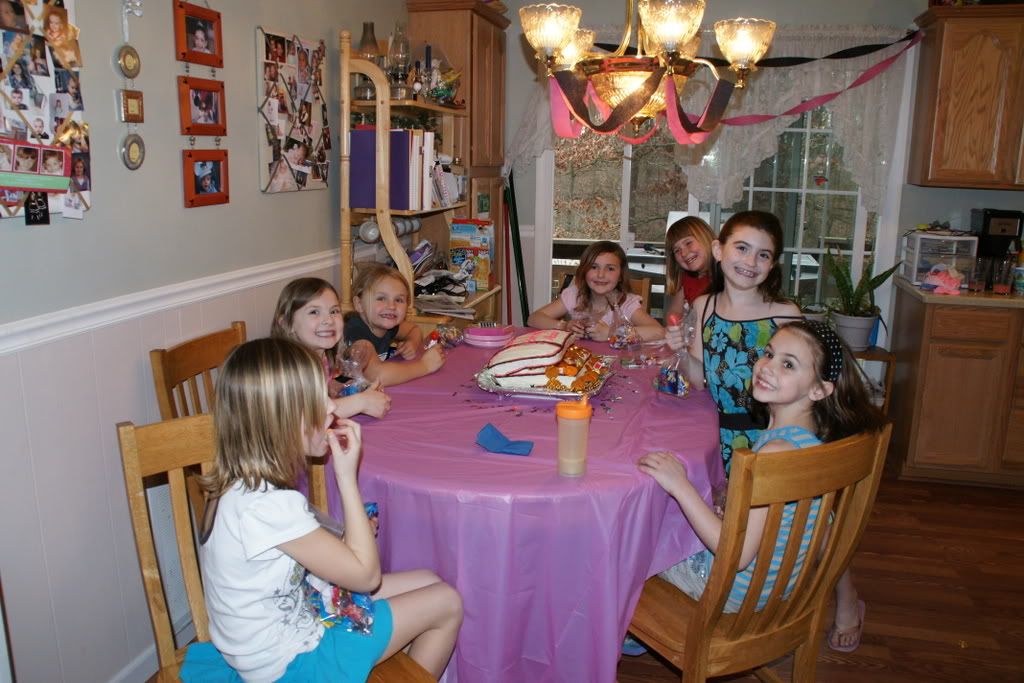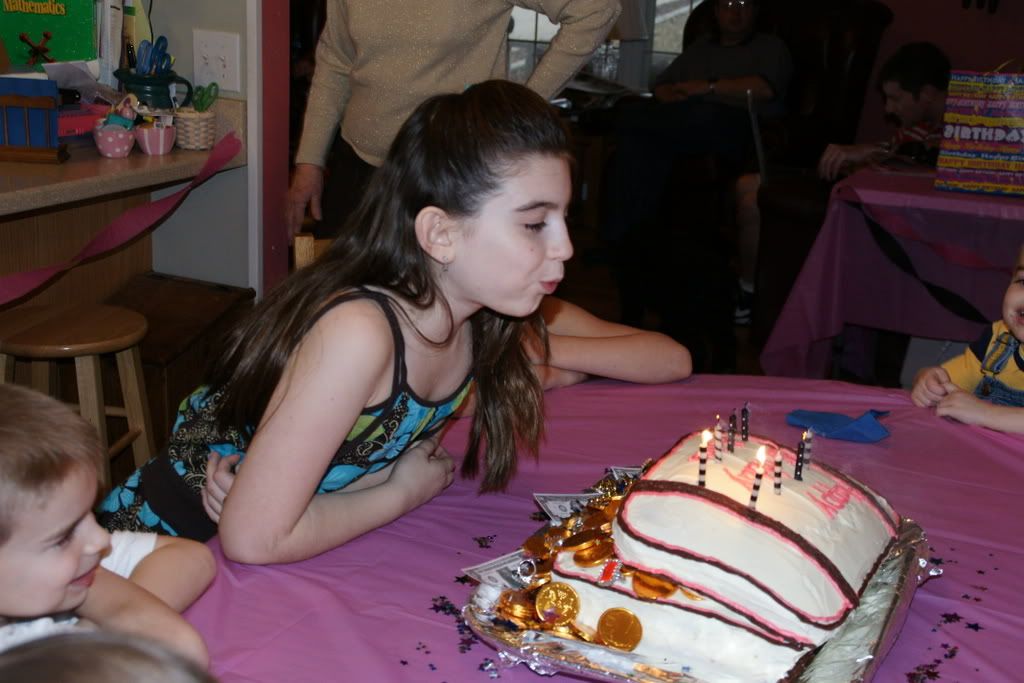 Alaina opened her presents from her friends...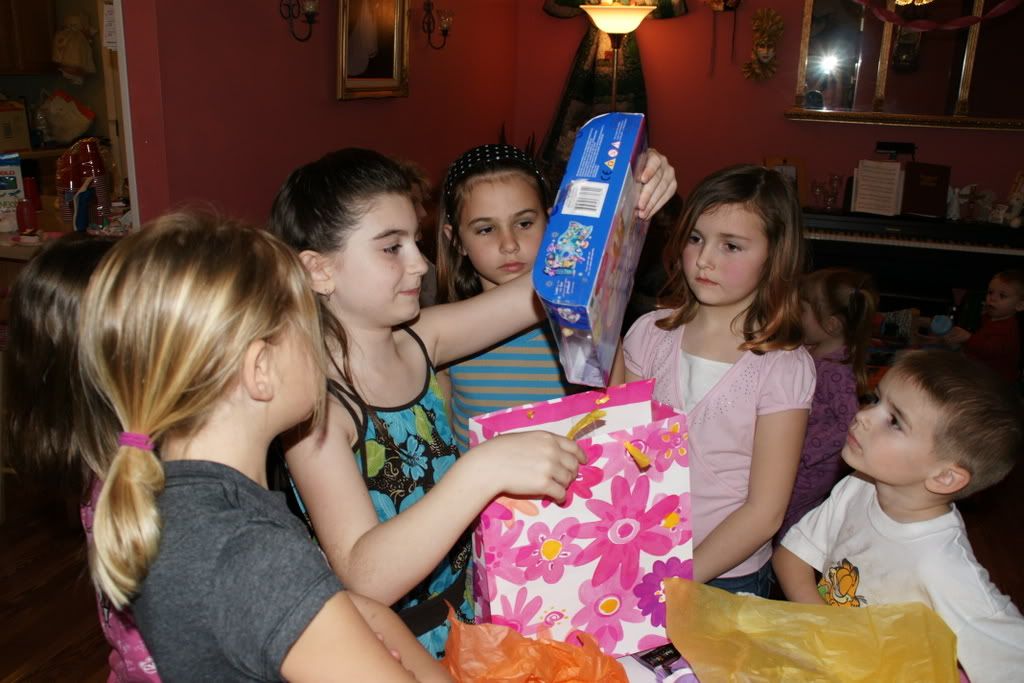 and from Mommy and Daddy, a new bike: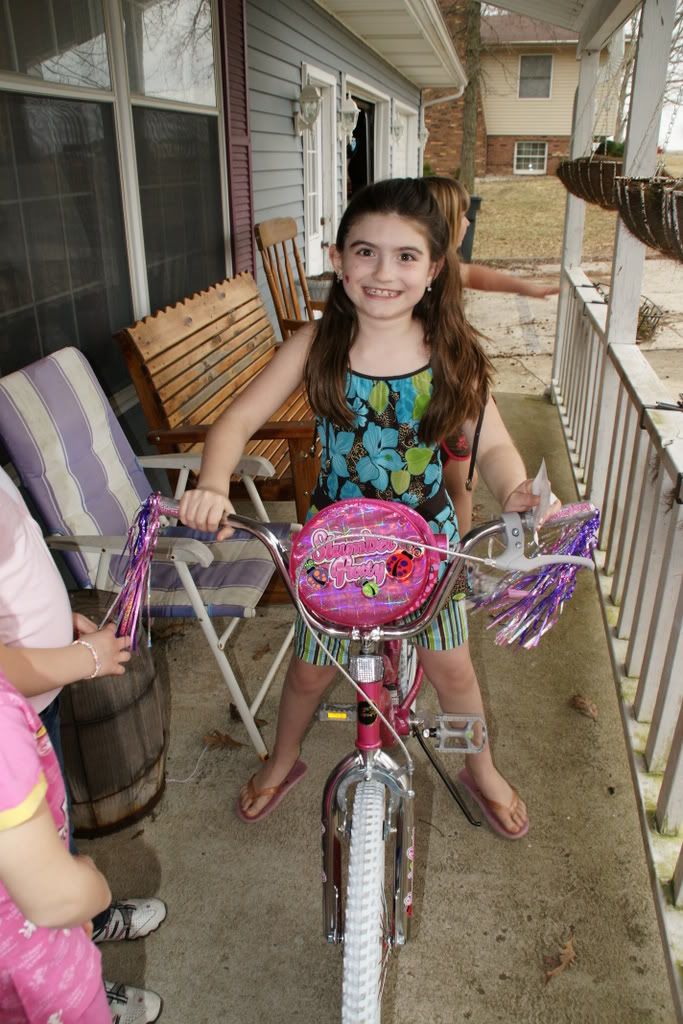 Which she promply fell off of in front of all her friends.....classic! :D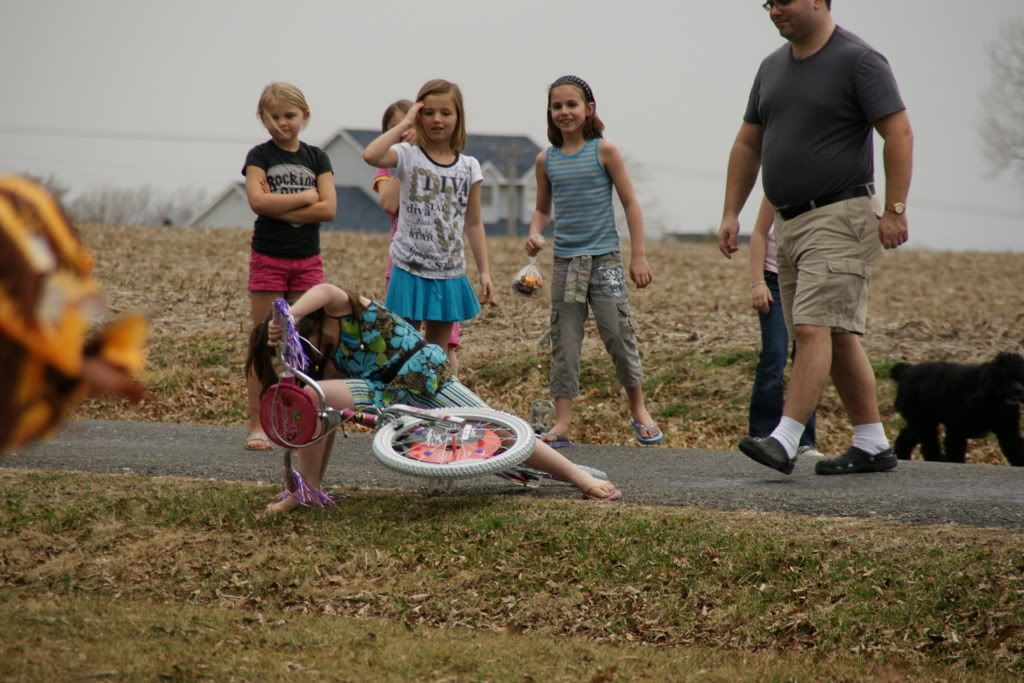 Then it was back to the swingset/trampoline to play until some parents came to pick up the guests.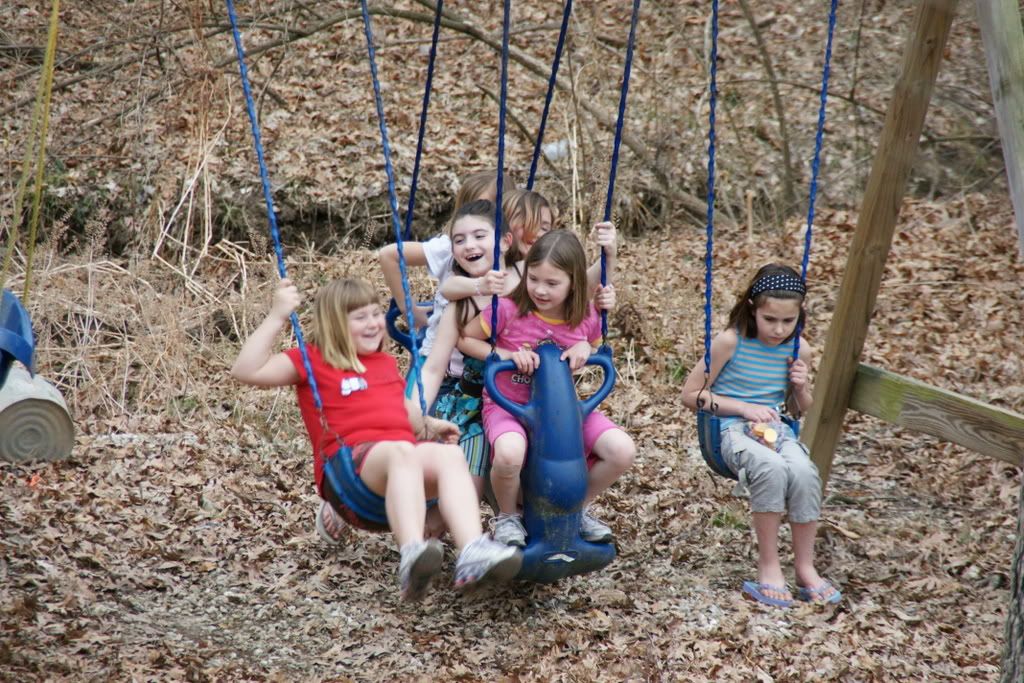 The littler kids (Zach, Ashton and Ayshia) played in the front yard: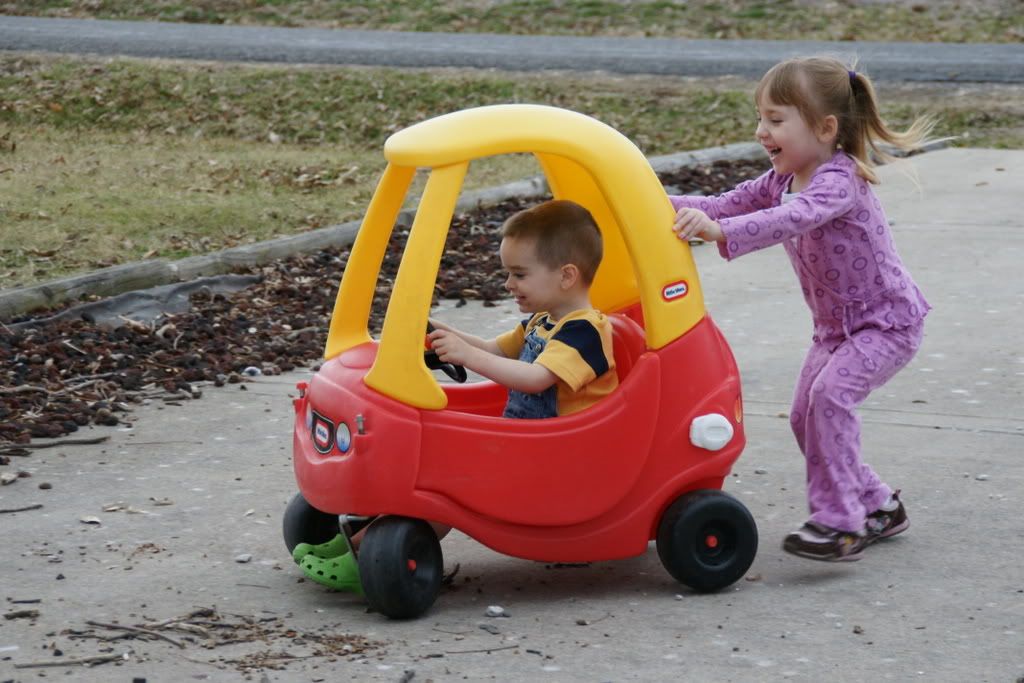 Zach has this really "evil laugh" when he runs into stuff in his cozy coupe.....we couldn't stop laughing...he'd run it straight into ashton's car and just cackle like some sort of villian....too funny!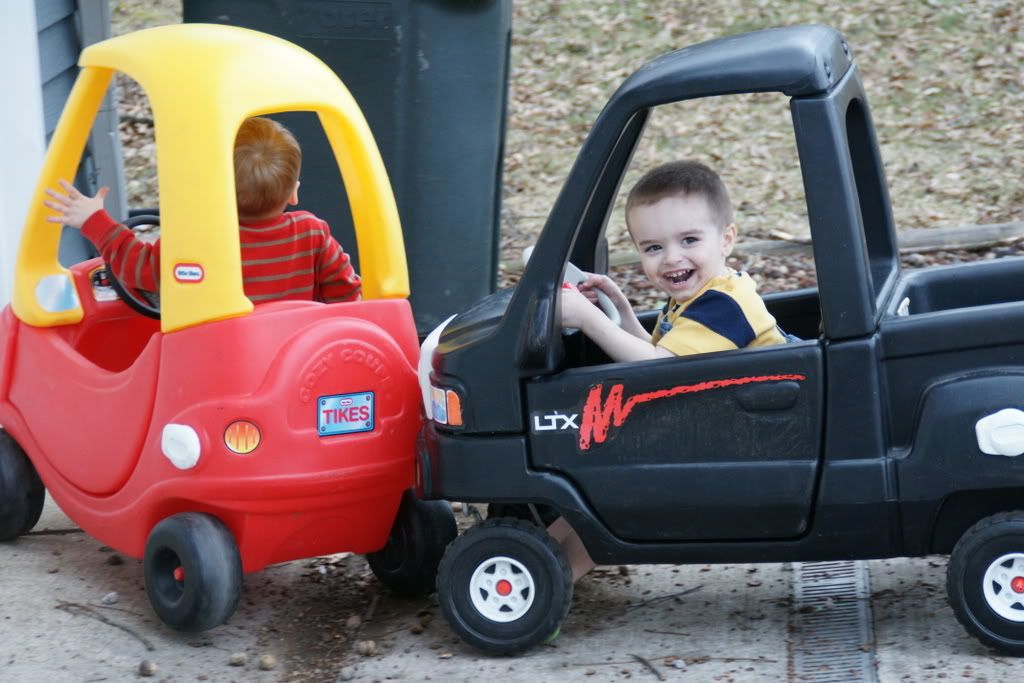 Some of the girls stayed for the night, so for dinner, we grilled some hamburgers/hotdogs and they just played in the basement and in Alaina's room until bedtime. Alaina even lost a tooth somewhere along the course of the night (my first experience pulling teeth.....ewww...now I remember why I've always avoided it!) There was, of course, the traditional pillow-fight:
and playing dress-up:
With the time change, not only did I lose that extra hour of sleep, but I was up late listening to a bunch of giggly girls in the basement! :D But they were pretty good though, for a slumber party!
So because of the party-prep, I didn't scrap much this week (PLUS, we're leaving for vacay in just FIVE SHORT DAYS! and I don't have a darned thing packed!)......here's what I did manage to do:
The boat tour of Ross Lake in Ireland......beautiful scenery, as always in Ireland: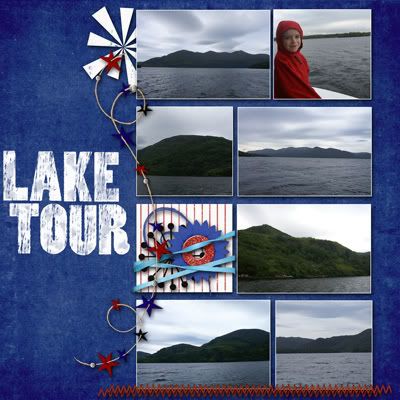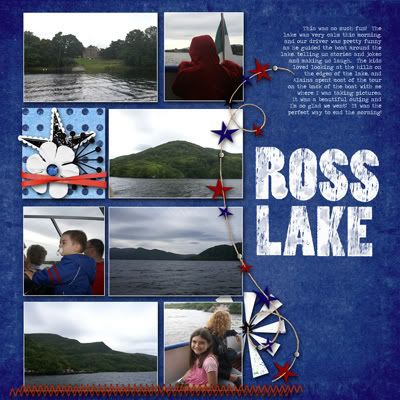 And the Cliffs of Moher.....funny story (NOW it's funny....at the time I was just SO upset!)....when we got there, you couldn't even SEE the cliffs the fog was so thick...and it was pouring down rain...*sigh*......probably THE most picturesque place on our trip and all I could see was fog....I was NOT happy! :D But as you can see from the pics on the layout, the fog DID lift somewhat, so at least I got something......to prove I really was there, if nothing else: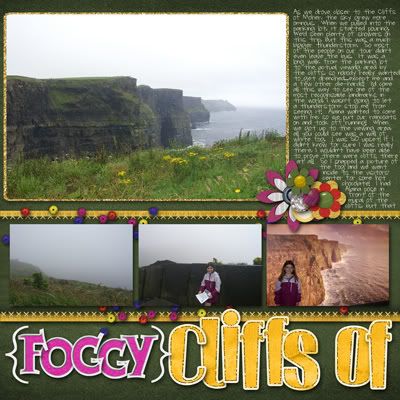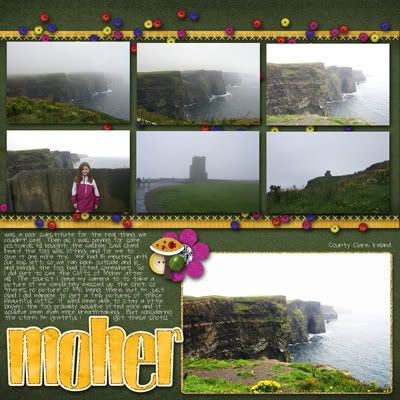 And that brings us to my blessings......first up, last week's blessing that I couldn't post because it was made with Vicki's new kit, 'Let it Rock"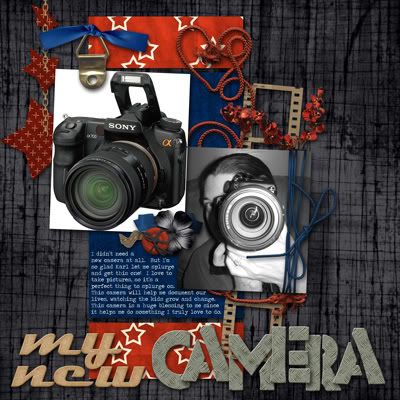 Journaling: I didn't need a new camera at all. But I'm so glad Karl let me splurge and get this one! I love to take pictures, so it's a perfect thing to splurge on. This camera will help me document our lives, watching the kids grow and change. This camera is a huge blessing to me, as it helps me do something I truly love to do.
And this week's blessing....Reading. This was actually Dr. Seuss' week at Alaina/Matthew's school, so all week they read Dr. Seuss's books in class....Matthew's Kindergarten class even had green eggs and ham for lunch! They really get into it, and since I LOVE Dr. Seuss too, I wanted to capture the love of reading that the kids and I share: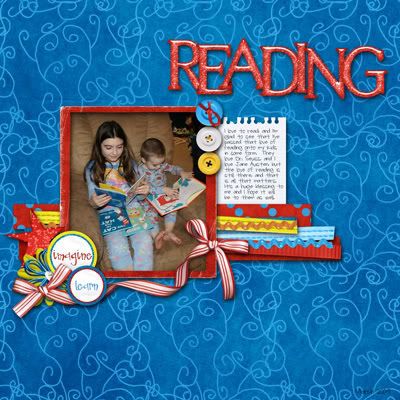 Journaling: I love to read and I'm glad to see that I've passed that love of reading on to my kids in some form. They love Dr. Seuss and I love Jane Austen, but the love of reading is still there, and that is all that matters. It's a huge blessing to me and I hope it will be to them as well.
So that's it for now.....I might not update next weekend, as we leave at 5:22PM this Friday for 8 nights at Disneyworld in SUNNY (gosh I hope it's SUNNY!) Florida! I'm so excited....I'm WAY worse than the kids! Alaina's birthday is next Sunday, and we've got lunch at Cinderella's castle planned....and she's getting her hair done at the Bibbiddi Bobbiddi Boutique by the Fairy Godmothers........yes, she's spoiled.....'cuz she's the only little princess I have! :D