This is going to be a quick post since I'm beyond exhausted. Last week was full of sickies and my stupid gall bladder acting up. I'm waiting on a call-back from my doctor about scheduling surgery to just get the darned thing removed. Plenty of people live without them, I don't know why I'm being so stubborn about hanging onto mine.....oh yeah, I'm not big on SURGERY. That's why! :D
So anyhoo......I was sick on Tuesday and stayed home with Zach, who was also sickly. Wedesday and Thursday I think my coworkers would've rather me stayed home again, but I gotta ration out my sick days if I'm going to be having surgery soon, kwim?
The weekend went by way too fast of course......the kids went swimming on Saturday and since I was feeling better we went out to dinner at Applebees, where we haven't been in ages. Sunday was church and Alaina's pre-baptismal class, and then that evening, Karl and I met up with some friends for dinner at the winery in Grafton, but evidently we're too slow, as the kitchen closed on us before we could order dinner! :D So we headed down the street and had dinner there instead and it was super yummy.......but near the end, we had a slight catastrophe happen.
Our friend, Melissa, is SEVERELY asthmatic. I've never seen anyone have an asthma attack before. She went into the ladies' room and the air freshner in there (one of those bottles of liquid with the sticks.....I'm sure they have a name, but I'm not hip enough to know it!) triggered the attack. The only thing I knew she was allergic to was eucalyptus, so I made sure to check for that.....but I didn't even really smell that particular air freshner! So we had to call 911, and when you live out in the sticks.....the response time for an ambulance is like half an hour. Yes, we are in the backwoods. Times like that are the ONLY time I wish we lived in town. They gave her oxygen and took her to the ER......and we raced back to their house to pick up their kids for an impromptu sleepover at our house since they had no idea how long they'd be gone. So we got ZERO sleep in this house last night between 2 giggling girls in Alaina's room, and 2 onery boys downstairs in the basement......and somehow I ended up sleeping with Zach. Anybody know how hard a 2-year old can kick while he's asleep? HARD!! ouch! So I'm wiped out and ready to crash! Thankfully, Melissa's doing just fine now....they had the drugs she needed waiting for her when the ambulance got there, and all is well. I will just definitely make sure from now on to ASK her what might trigger an attack. I HATE feeling helpless like that, 'cuz there was absolutely nothing any of us could do. *sigh*
So now.........what all did I scrap this week? Being kinda sick and just kinda laying around while the kids destroy the house around me has the one perk of getting some scrappin' done! :D
Sya's new template pack is called
"Gimme Some Space 2".....
and I'll admit, these kinds of layouts are HARD for me.....I don't handle white space very well......so you'll be able to see that I added a lot of stuff to the original templates, just 'cuz I can't stand the white space! I'm wierd like that. This was such a cute moment though........Zach made this little sandwich all by himself....and it was too funny to not take a picture of, ya know?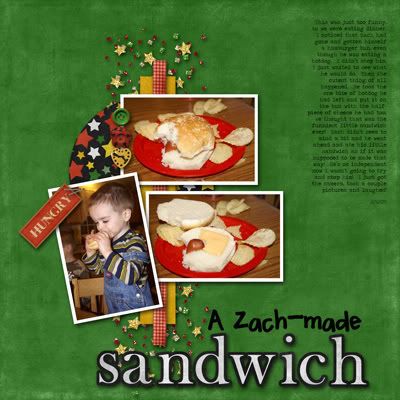 And this is one from our cruise, of the kids dressed up in their western outfits.....I just love Matthew's face in this.....he was really into character! (also with sya's new templates)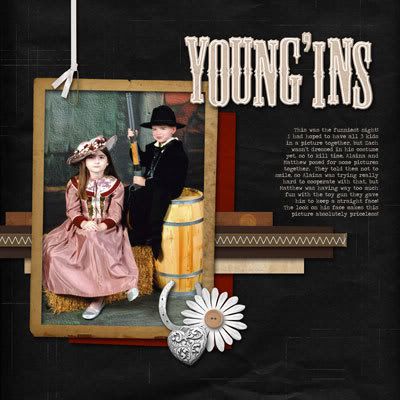 And the last one I did with the new template pack.......of this little stream (we call 'em creeks here!) in the middle of nowhere in Ireland: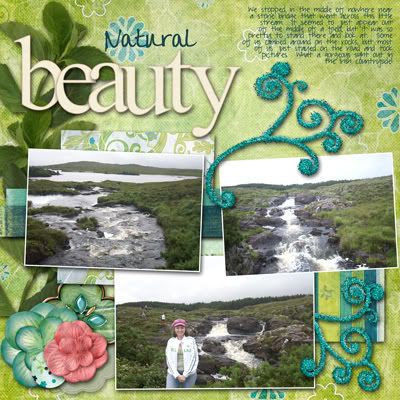 This was one of the more humorous stops on the tour.....the Bog Villiage....Karl still says it looks like big piles of.....uhm.....well......what do YOU think it looks like? And they burn the stuff for heat so just imagine how those huts smelled.....YUM! :D
And since I"m a "shutterbug", I took lots of random pictures of flowers and stuff that I came across in the UK, so I did a layout of those: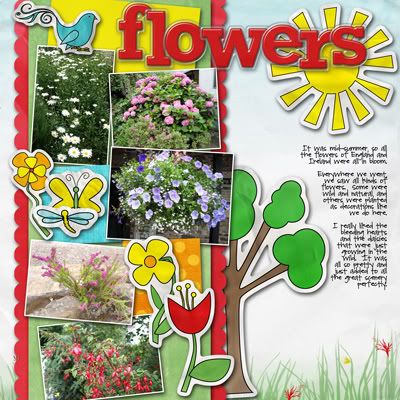 With as much time as we spent on the bus, there was no escaping a layout of that!
Ross Castle was cool because it was built right on a lake.....we took a boat tour on the lake (which I haven't scrapped yet....it's on the list!), then walked around the castle grounds......so pretty!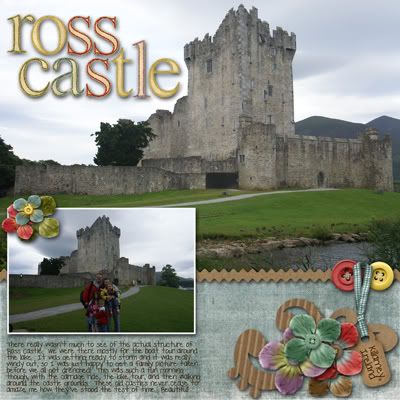 We stopped at this sheepherding demo at some point, and I just had to laugh.....these silly sheep, running into each other all the time! It was cool to see how well-trained the dogs were though!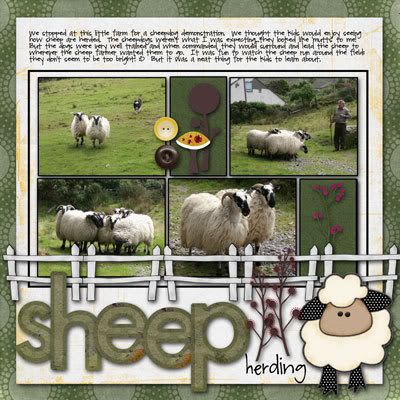 Here's St. Patrick's Cathedral in Dublin.......I'd been saving these pictures just 'cuz I wasn't sure how to scrap them....and I'm still not sure I'm thrilled with it.....I thought I'd do something a little different with all the black/white......but I'm just not sure I'm loving it yet.......feel free to cast your votes! :D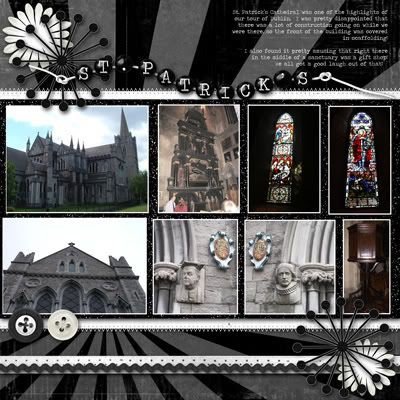 And this was our uber-romantic Valentines' day this year......taking the kids to dinner at our favorite local diner!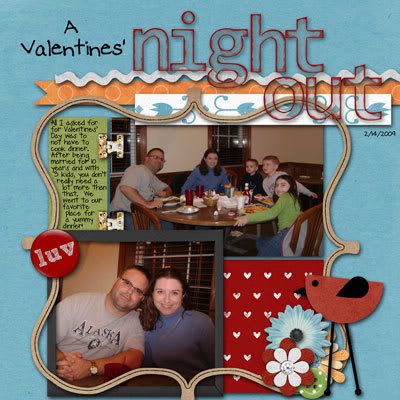 And I really am feeling guilty, but I haven't gotten around to doing a layout with Vicki's
new kit
, (called "Mon Amie") yet.....shame on me! I'll get it done soon though, I promise.....but this is it:
Finally......my blessing for the week. Our World Church. I'm blessed to not only have a local congregation to call my own, but a World Church that I belong to......journaling reads:
"It is so important to me that our church is a world church. I'm so proud of the fact that there are people all across the world that have the same beliefs and uphold the same theology as I do. When we go to World Conference, it always amazes me to see all the other delegations that are present. I like to think that our church is making a difference in the world by having congregations present all over the place. I love being a member of the Community of Christ. My life has been greatly blessed by my involvement in the church."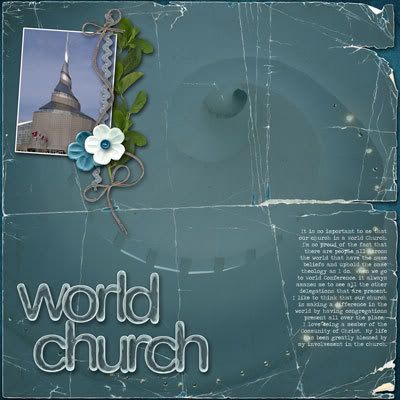 And now, I'm off to bed....have a great week! :P