Here I am, blogging twice in the same month! That's like a new record for me! Actually, I'm kinda bored (sitting in the living room of my parents' house back in my hometown, with no control over the TV and a dead battery in my eReader, *gasp*), so you'll get to reap the benefits of my boredom, which will equate to some weird random ramblings and some layouts I've managed to get done since the last post. Yeah, I know you're psyched. Try to contain yourselves. :P
So anyhoo.....since the last blog post....what have I done? Uhm....uh.....hmmm.... yeah. My life is REAL exciting lately. So instead, I'll back up and share some stuff I HAVE done lately, I just failed to blog about because in all honesty.....I'm lazy. Yes. I am a lazy blogger. My apologies for this bit of truth. The reason is that most of the stuff I write about just isn't 'complete' without pictures. And now we get back to the lazy part......I hate resizing pictures to post on the blog. It's true. But since I'm bored, you get to reap the benefits! Again, contain yourselves.
So I'm going to do a belated trip report....Mine and Karl's trip to Washington DC almost a month ago. I love DC. Great city. We both had a great time. So sit back and check out all these pictures!
First thing we did when we got to DC was get some lunch! We just set off walking from our hotel toward the Capitol (since we had a tour that started at 1PM), and just happened to walk right past the Hard Rock Cafe: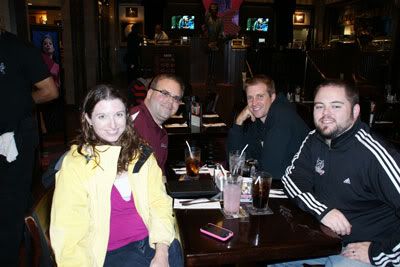 We'd contacted our Congressman, Rep Shimkus, to arrange a tour of the US Capitol building. He wasn't there, of course, but his intern, Stephanie, gave us a great tour of the Capitol complex, complete with stops in the House Gallery and Senate Gallery (where no cameras are allowed...boo!)
So here we are:
Me in Rep. Shimkus' office......i just HAD to sit in his chair....mwahahaha!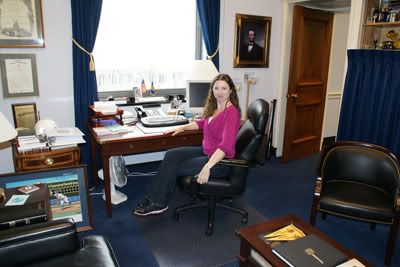 Karl and I at the Capitol: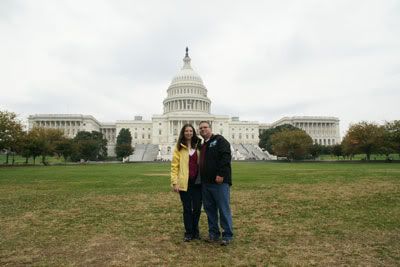 I like this little spot....in the Crypt of the Capitol (directly underneath the Rotunda) is this star in the floor, which is the intersection of the 4 quadrants of the city.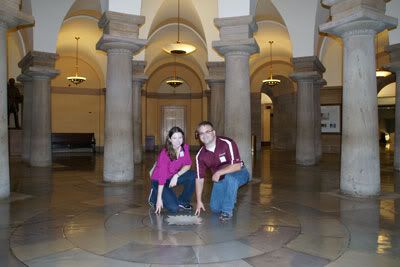 Did you know there's a subway underneath the Capitol building? Yeah, I didn't either! Stephanie said it was the shortest subway in the world. I'm not sure if she was kidding or not, but it definitely didn't go far....maybe a few hundred yards? I just found it kinda funny....goofy-looking little thing:
And here we are back at Rep Shimkus' office....Thanks for the tour, Stephanie!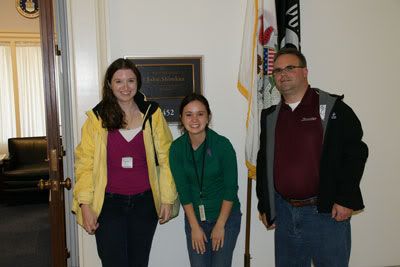 After we finished with the capitol tour, we had to walk down the Mall to get back to our hotel, so we decided to check out one of the Smithsonians, so we ducked into the Air and Space Museum.
Me and the lunar lander: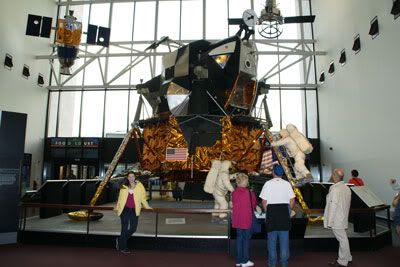 And I found this hilarious.....I work for a certain aircraft manufacturer, and I was happy to see that they sponsored this kids' area in the Museum: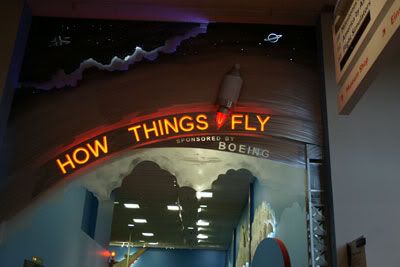 I just wish I'd taken a picture of the Omnimax theater, which was sponsored by our competitor! lol......
Anyhoo, I was thrilled to see this little piece of my past preserved for all posterity......ah, the good ol' days: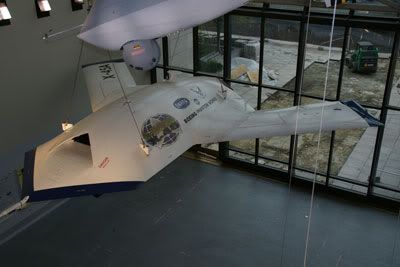 We stayed at the museum until it closed, then went to go get checked in at our hotel.
I was most perterbed to learn that our room had been given out to someone else! uhm, WTH? I was NOT happy.....but as we were heading upstairs to our "replacement room", Karl assured me it wasn't that big of a deal, that we'd gotten fair compensation for the whole 5 minutes of inconvenience it caused us. :P
Yeah, I'm okay with this. a SUITE! HELLO! nice 'replacement'!!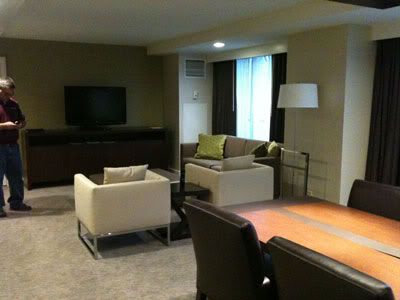 After we called the other teachers Karl was attending the conference with and had them stop by "Chateau Herman" so we could brag......we all went and grabbed some dinner at this great place in Chinatown. wahoo! Then we ended up in the bar of our hotel for some wine and dessert.....ahhh, nice! End of day 1 in DC.
Day 2 in DC......Karl left for his conference sessions.....I slept as late as I could without being a total sloth. :D And to counter-balance the sloth thing, I went for a jog. I wanted to jog around the Tidal Basin.....
Beautiful morning for a jog....great scenery.....I can see why so many people jog in this city.....amazing! I had a great time....didn't jog as far as I wanted to, but I definitely enjoyed it.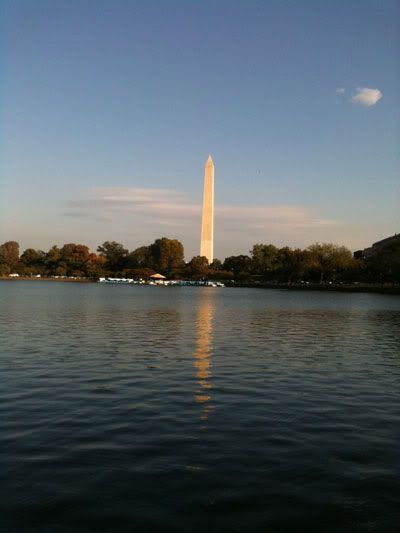 After the jog, I got showered/dressed and went downstairs to meet Jan. Jan's an 'online friend' of mine in the digital scrapbooking world. Yes, we have our own "world".....we're like a cult. :D lol.....anyhoo, we're friends on Facebook, and the last time Karl and I were in DC (last year), she said, 'hey, next time you're in town, let me know and we'll get together!'.....so I held her to that!
We had some tea at Starbucks (neither of us are even coffee drinkers, go figure!), then went to lunch at this pub across the street from my hotel. Then we went to the Art Museum....uhm, the National Portrait Gallery (the one with all the portraits of the presidents), and then there was the Norman Rockwell exhibit, where we both got busted for taking pictures. :D oops!
This was one of my favorite exhibits we saw though...the Preamble in license plates......darned cool.
Jan and I had a great afternoon getting to know each other, chatting about just about anything.......thanks for playing tour guide, Jan!
So here we are, ngneer98 and QuiltyMom: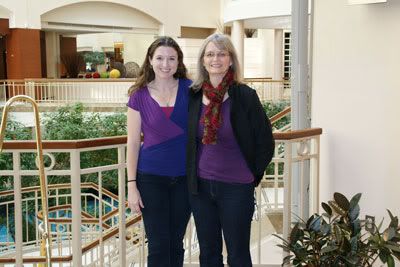 After Jan had to take off, I still had some time to kill before Karl was done with his conference for the day, so I went to Madame Tussaud's wax museum. lol....boy did I have way too much fun in here:
hangin' out with the Prez and First Lady:
the Clintons: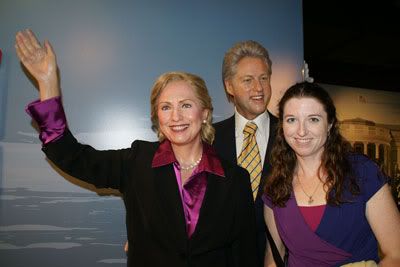 and all I can say about this one is....YUM. hubba hubba....*sigh**swoon*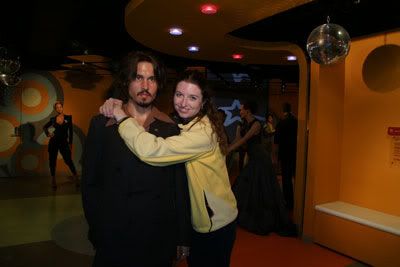 The next day, I slept so pathetically late, I didn't have time to do any exploring until Karl was done with his sessions and we met up for lunch. Then we had to scoot to our White House tour.
No cameras allowed on White House tours either, but thankfully, everybody had their phones with them: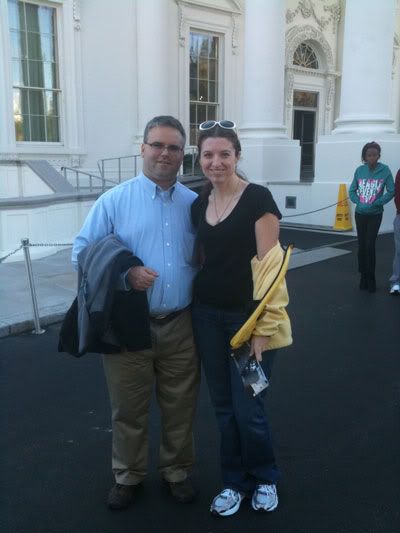 After the tour (which I highly recommend....just send your congressman an email....they're quite happy to hook you up, especially in an election year, lol!)
we went to the Natural History Museum, while Karl's fellow teachers went to the American History Museum (which we went to the last time we were in DC)
The similarity is kinda creepy, don't ya think?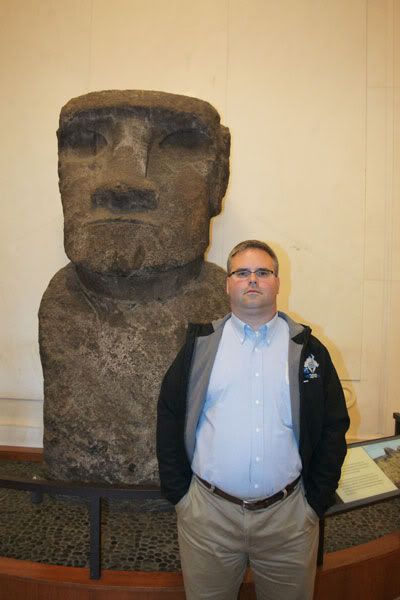 I'm putting this on my list for Santa.....Hope Diamond? yes, please!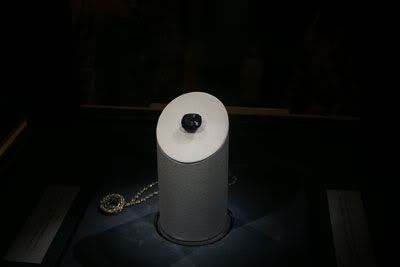 And this has GOT to be the funniest thing ever.....they had this photo booth thing where you got your picture taken and they morphed it into a caveman. Neanderthal specifically. Karl's was just TOO perfect. Scary!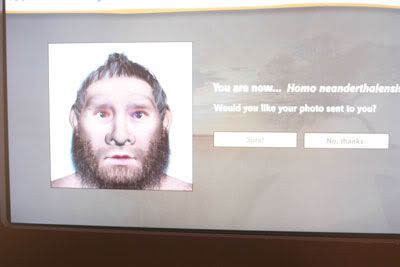 Mine just turned out stupid, so I refuse to post it. My blue eyes just didn't jive with that whole Neanderthal look. :P But Karl.....looked hilarious.
Once we were done with the museum, it was time to go get ready for our big fancy dinner. We like to have one super-nice meal when we go anywhere without the kiddies. We'd made rezzies at Ruth's Chris steakhouse. YUM.
I like an excuse to get dressed up: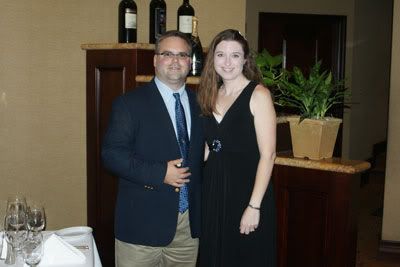 Dinner.....YUM......and that martini was mighty tasty too....so was the 2nd one! :D
After dinner, we changed into more reasonable clothes for sightseeing and then went for a walk to the monuments. I'd never seen them at night, so I wanted to attempt some night pictures...and considering I had no tripod, I thought I did pretty well:
White House: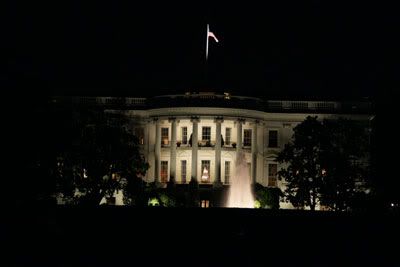 Washington Monument:
WWII Monument: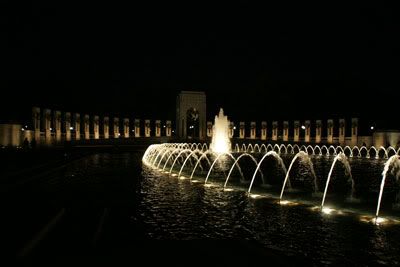 I liked this shot....Capitol in the far background.....pretty!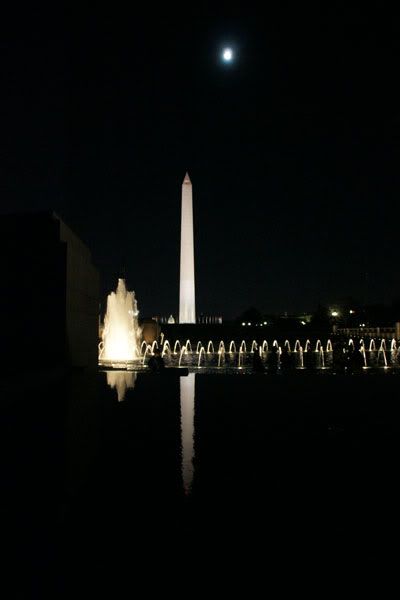 Lincoln Memorial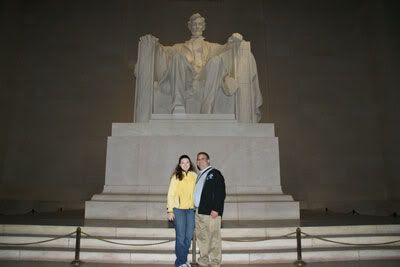 And this is my favorite shot of ol' Abe:
So that was it for that day.
On our last day in DC, I insisted on going to the Vietnam and Korean memorials again....we'd gone to them the night before, but they weren't lit up well enough for decent pictures, so I wanted a re-do!
Korean War Memorial: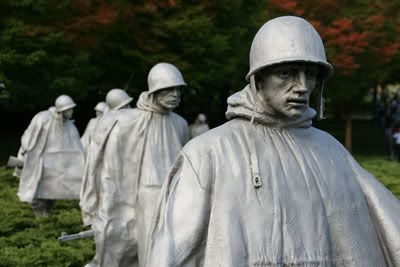 And the Vietnam Memorial. This place was PACKED. And of all the monuments/memorials we went to in DC, this was the one where I really felt as if I were invading people's privacy by being there and taking random pictures.
Like this guy....I never even saw his face, but I could hear him weeping. I have no idea if he was mourning the loss of a friend, father, brother, or what......does it really matter? I was bawling watching this guy. I actually deleted the first couple of shots I took that had him in it because i felt like I was intruding on his private moment. But this one I kept, because I finally decided that THIS is what this memorial is about: honoring those we lost: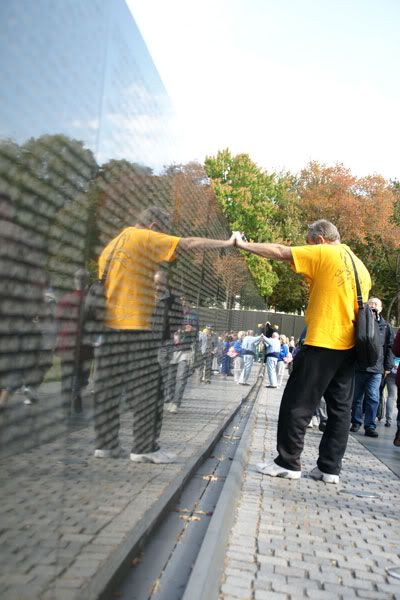 So whoever you are, I hope this visit brought you some comfort.
And then there was this older gentleman, who was wanting a rubbing of a name he couldn't reach on the wall. I heard the park ranger offer to get a ladder and do the rubbing FOR him, but this guy was adamant about doing it himself. I started crying. AGAIN.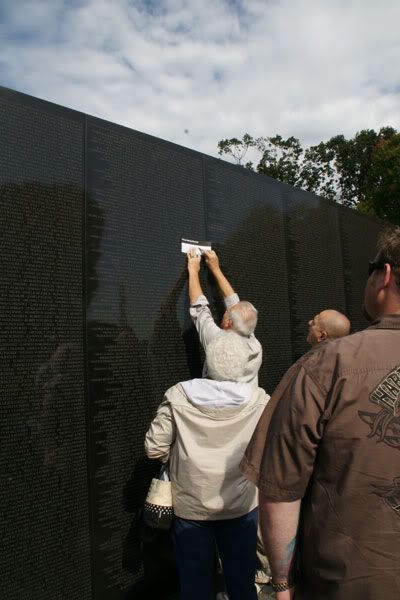 And the last picture I took at the Wall....again, had some random stranger in it, but I love how it turned out, with the Washington Monument in the background:
Once we were done at the Vietnam Memorial, it was time to head back to the hotel, grab our stuff, and get to the airport to get home! So that was our trip to DC. I can't wait until we can take the kids. They need to see all of this!
So, now that I'm sniffling again, I'll get back to scrappin!
Alaina and Matthew's first day of school (yes, i'm THIS FAR BEHIND!)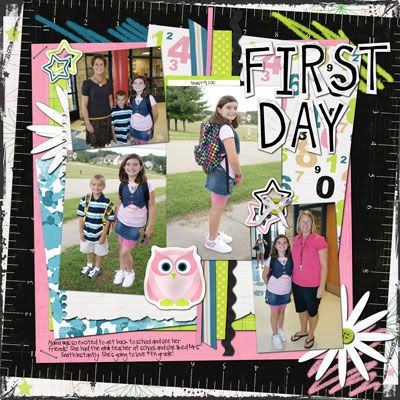 Zach's 4th Birthday party: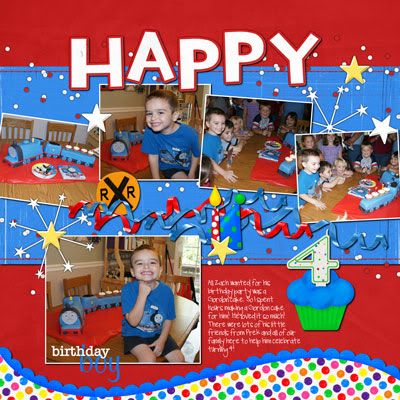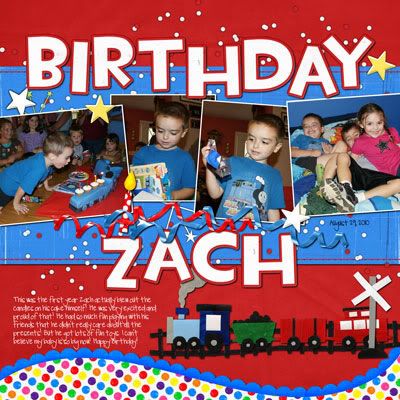 And now for some plugs..... Chelle's 'hangin' alpha' and 'on the trail'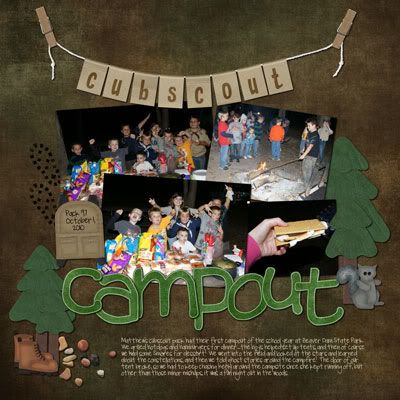 Chelle's new kit, 'Rub a Dub'......this is an OLD picture of Alaina as a baby...*sniff*, where do the years go??
And Haynay's 'Pile of Leaves' and 'Dates: Strips'.....of just how big my little girl has gotten....again, *SNIFF**SNIFF*
So that's it...this post is long enough, don't ya think? :P