yes, I know. EVERYBODY else is busy too! but it seems that with the whole Facebook thing going on, the ol' blog tends to get neglected nowadays! :D ah well....here I am, a week-ish late.......didya miss me? If you're my FB friend, you basically know what's going on with me anyways. and if you're NOT my FB friend....why would you be reading my blog? are there people out there NOT on Facebook? **GASP** :P rambling aside......
The last couple of weeks have just been non-stop action around the Herman household.....softball games, practices, field trips....it's been pure insanity, as always. what would I do without the hectic schedule to keep me on my toes? I really don't know. I'm guessing I'd get more sleep, the house would be cleaner, and Subway would make a lot less money.....but where would the fun in that be? :P
We had an interesting storm last week......just got rain at our house, but apparently, just a couple miles north of us, there was inch-diameter hail! And then there was this: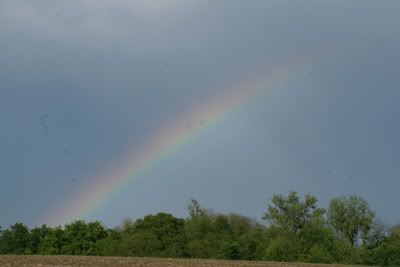 And this was all on our way to a softball game......and in town it had barely rained either. Wierd storm! The Strykers totally wiped the field with their opponents once again....check out that most-serious batting stance: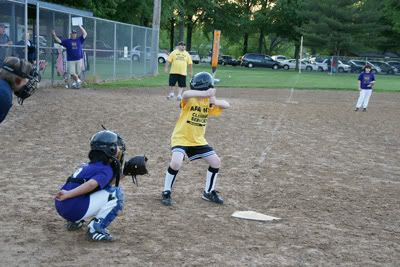 So, lemme think what else we've done......There was Alaina's class field trip to the Magic House in St. Louis. i LOVE the magic house. it's one of the best children's museums I think I've ever been to. It's a blast. and they've just added a huge new wing, so it's twice the size it was the last time we were there.
There was this beanstalk that all the kids got to climb up 3 stories.....us parents were pretty tired by the time we followed them up the stairs! :D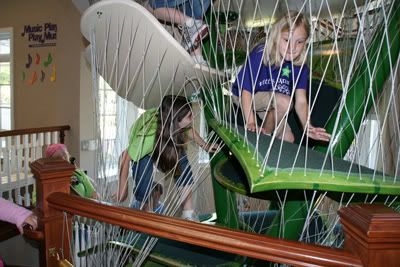 Her hair was too long for this to work very well this time, but it's still funny: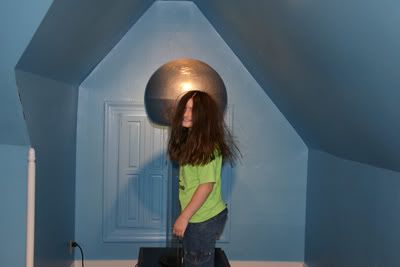 she would've staying in this room blowing bubbles all day if I'd let her: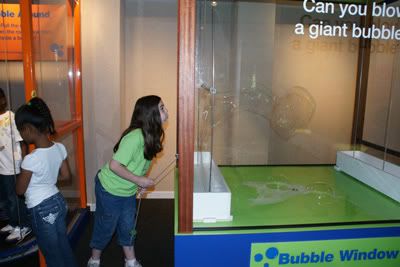 and another favorite.....the mock-TV station where she got to read the newscast for the day....cool!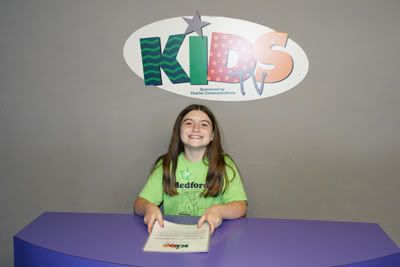 The Magic House is awesome.......if you ever make it to the St. Louis area, I highly recommend spending the day there! :D
Then there're all the PreK events going on.....it's hard to keep up with all those field trips! Last week there was the PreK bike ride:
Zach and his Thomas bike: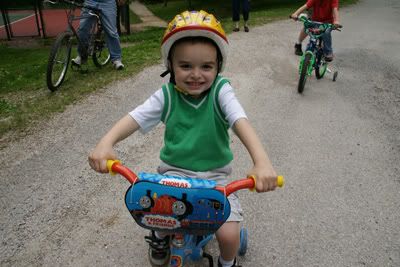 getting ready to start the 'race'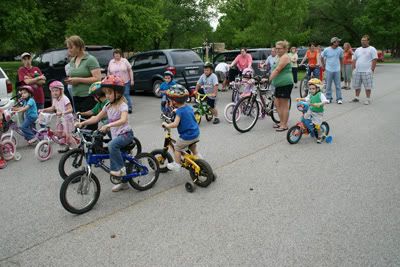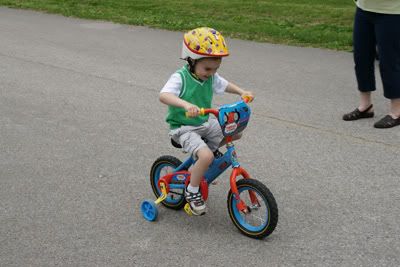 And this week was the PreK fishing trip.....not too hard to pick which pictures to post from that, as karl only took TWO OF THEM. grrrrrrrr......sheesh.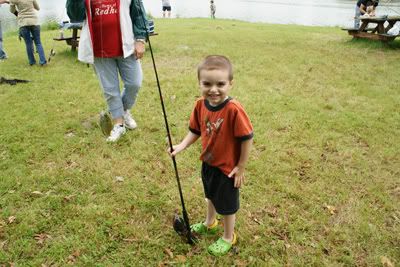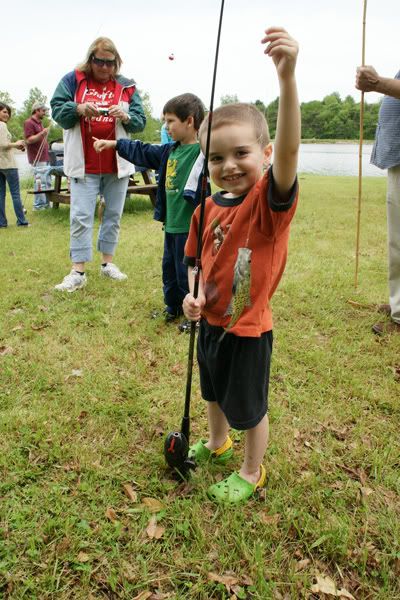 And of course this past weekend was Mother's Day......I got a semi-cooperative picture of myself with the kids: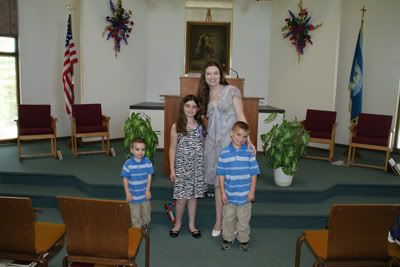 I'm a little bummed at present, because this morning I was supposed to be running in the PTA 5K at Karl's school......I've got my tshirt....i had my number ready to pin on....we wake up this morning and it's pouring down rain. boo! now, granted....they still had the run.....but uhm.....I'm not THAT hardcore that I'll go run 3 miles in 40-degree rain. my apologies to all the hard-core running enthusiasts that're probably mortified and disappointed at me pulling out of the race, but knowing MY luck.....i'd end up with pneumonia! plus, i didn't exactly want my kids standing out there in it to cheer me on....and they insisted on cheering mom on because they know how important this was to me. So oh well....no race today. Hopefully we'll have better weather next month for the Komen race.....and here's yet ANOTHER plug.....
PLEASE DONATE TO MY RUN
And now, I'm off to go get dressed for the Mother/Daughter brunch our Girl Scout council is having. Alaina and I are having a "girls-only day" today....as Karl, Matthew, Zach, and our little friend Max have taken off on for some Native American Pow-Wow with Karl's brother Ken......so they'll be gone all day.
SOOOOO.......still haven't really been in the mood to scrap much, I'm ashamed to say. not sure what the problem is.....i've just been doing more reading lately than scrapping. What am I reading? Wuthering Heights. I'm ashamed to admit I'd never read it before. HOW i managed to get through all the schooling I did without being required to read that book is a mystery. And I just finished it. That thing is darned LONG! But anyways....now I can check that off the list. Heathcliff is nothing to my beloved Mr. Darcy though, that's for sure. still, an interesting book, and i can see why it's a literary classic. now, I get to move on to the umpteen other classic novels I never read and have now downloaded for free. woohoo!
tonight.....grand plans for our girls-only evening.....alaina wants steak n shake for dinner and then a movie. i'm guessing i'll be dragged to that 'how to train your dragon' thing that i have no desire to see. bah. oh well.....she'll love it!
Layouts......first up......a plug for Haynay.....her kit
Mr. and Mrs.
is obviously wedding-themed, and since I've been married awhile and didn't have anything wedding-ish to scrap, I did what I always do now......channeled the power of Facebook! And the result, courtesy of my friend Heather, and her fiance Scott: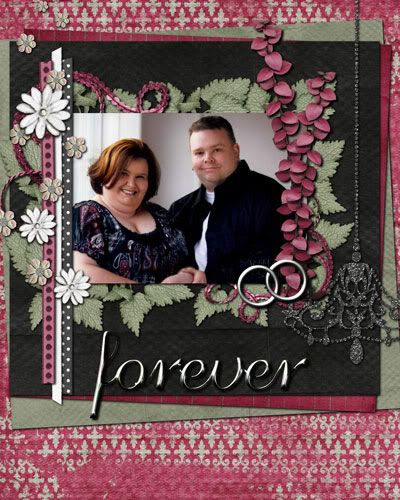 Hope she likes it! I'm gonna frame it and give it to her as a wedding gift. :P
And speaking of gifts......Here's what I'm giving the kids' teachers for their end-of-year gifts this year....same concept:
First up, (using
School's Out for Summer
and it's
add-on
), For Mrs. Pohlman and Mrs. Young, Zach's teachers: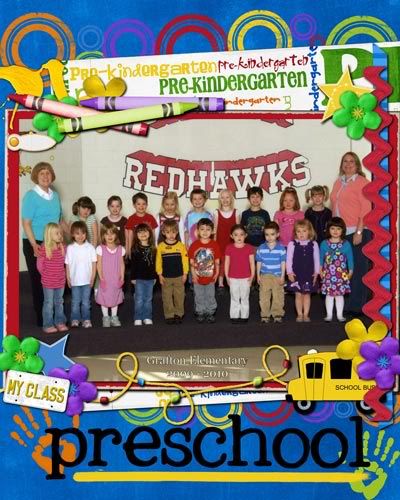 For Miss Beauchamp, Matthew's teacher, whose class nickname is the Busy Bees: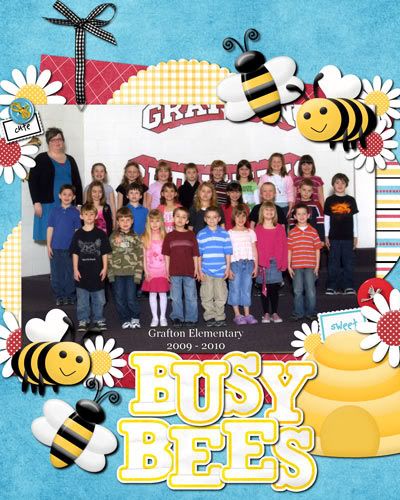 And for Mrs. Medford, Alaina's teacher.....the Mega Minds: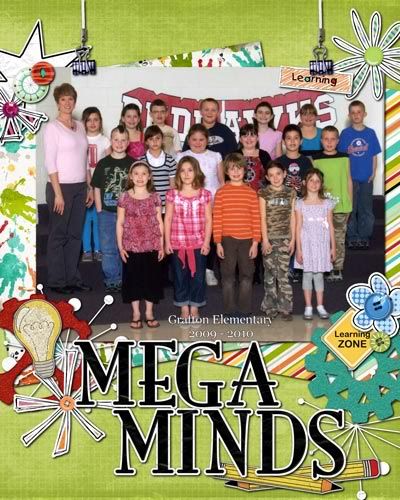 the final layouts from our trip to World Conference:
my friend Kerri's daughter Tatum's birthday party at the pool: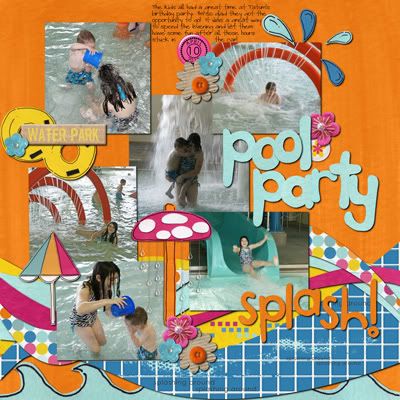 and the other misc. pictures I took over that weekend....of the services, and me and Karl with our church President:
i made this layout with another kit of Haynay's,
"Chronicling Life: May"
....it's to immortalize Zach's obsession with the Owl City song "Fireflies"....he LOVES this song....the instant we get in the car, he asks me to play it. "Play MY SONG!" he'll say......he's so cute....love it. and since i love the song too, i don't mind: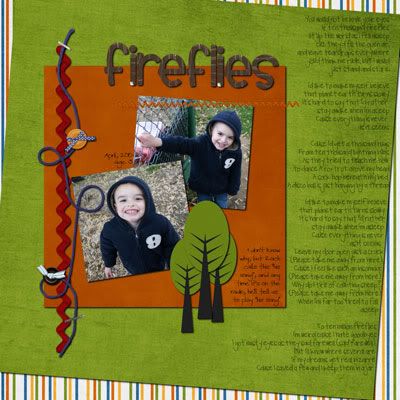 last layout to post....of Zach's preK field trip to the town library a few weeks ago...it was only the library, but those kids had a GREAT time!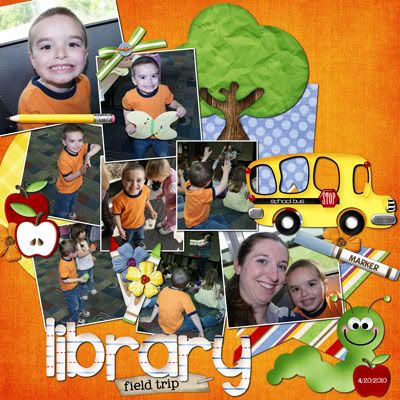 and so I guess that's it for now.....