*sigh*....yes, it's been awhile since I sat down to write on the ol' blog. We've been BUSY....just not with stuff I'd consider "blogging-worthy" (if that makes any sense?)
This past Monday was Alaina's birthday! Our little girl is definitely not so little anymore! She's 9 now.....where do the years go?? Seriously!!!
So for her actual birthday, since Daddy was home all week on his spring break (lucky duck!), he took cookies and juice boxes to her class at school:
And that night, we told her we'd take her out to dinner wherever she wanted to go......and of course, OUR kid won't pick a McDonald's playland or anything like that. oh no. She picks Red Lobster! And what does she get there? Lobster! sheesh! expensive child!!!!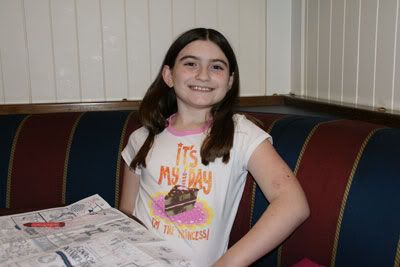 And while we decided to let her open her gift from us while we were there:
(I love catching that look of surprise in a picture....priceless!) We got her the new American Girl doll, Lanie......kinda close to her name.....or as close as we're ever going to find most likely!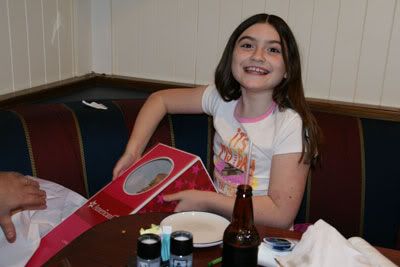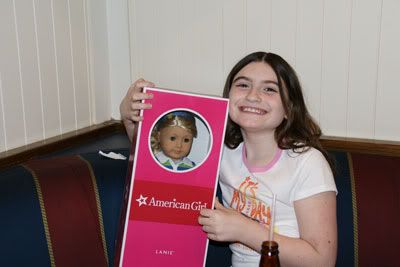 (and FYI, that's a root beer bottle in front of the 9-year old!)
Tuesday and Wednesday, we spent shoveling dirt....oh the fun we had. not. The kids enjoyed themselves, since they got to ride in the empty tractor cart that Karl was using to haul those 3 tons of dirt to the back yard.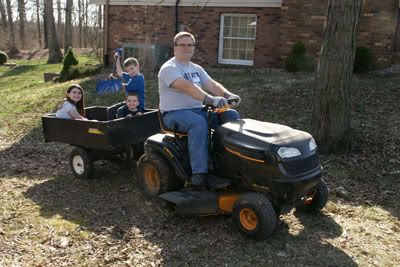 And the finished product.....we've never attempted a garden before, so wish us luck! Any good organic gardening tips, send them our way please!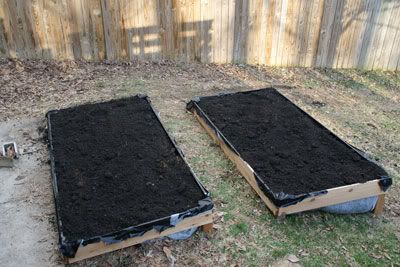 And here's the latest with miss Darcy....she's taken to being more efficient at mealtimes: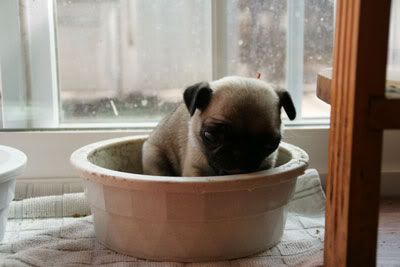 on Thursday, Karl went to Zach's PreK class for the afternoon. Since Zach's dad was visiting, Zach got to hold the flag for the pledge.....look how excited he is!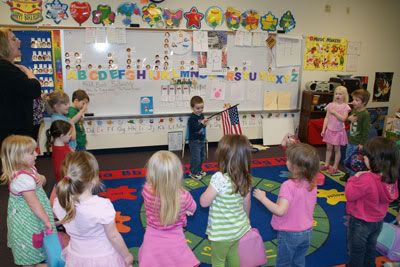 "Now don't crowd the puppy, kids!" uhm, yeah....you can't even SEE the puppy! :P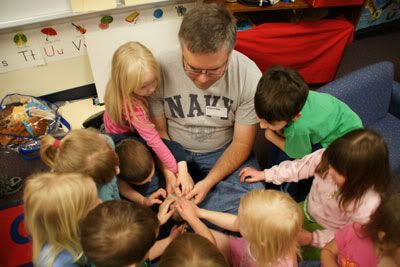 A kiss for his best friend Darcy:
and then they passed her around the circle....thankfully, Darcy's used to being manhandled and "loved to death" at home, so this was no biggie: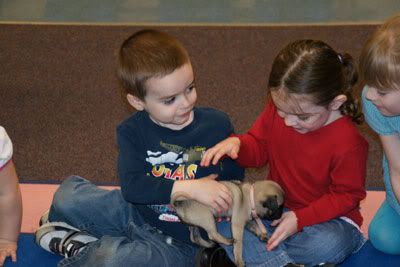 So, Friday night came around, and it was time to create "the cake".....and I'll vent my frustration toward my SIL since this cake was her idea! :P Actually, it didn't turn out THAT BAD.....there was a slight problem with said "pool" LEAKING at one point, where drastic measures had to be taken (ie practically starting over at 10PM with me nearly in tears and frustrated beyond belief with the thing!)
The final product.....not the way I pictured it, but given what I went through with it, this was as good as it was gonna get!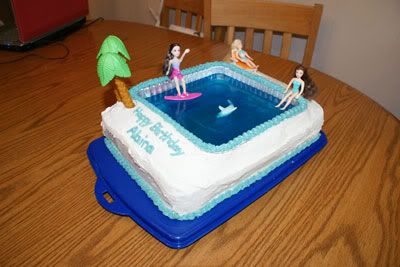 Saturday was the big party day......Alaina wanted a pool party....so we had a luau at the pool for her party.....the kids had SO much fun!
The birthday girl in her "hula girl" glory, with some of her friends: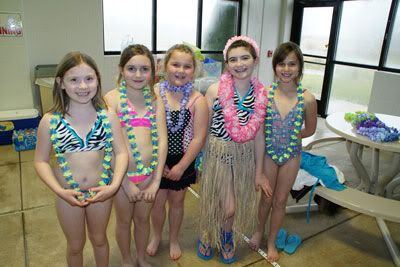 there's that kickin' cake again....darned thing nearly melted it was so hot in there!
Pool party time!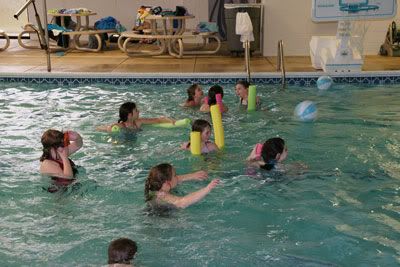 Zach didn't exactly wait for 'cake time'...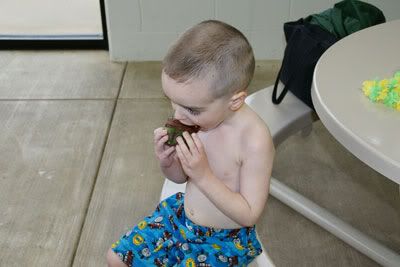 what a FUN BUNCH....sheesh.....look happy, Caudles!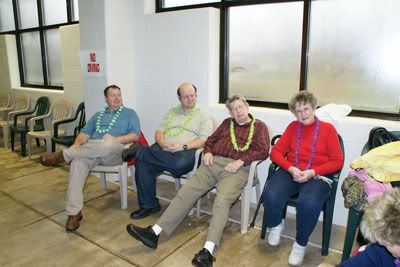 Hula Buddha! This is "little big John"....Dean and Stacy's foster kid: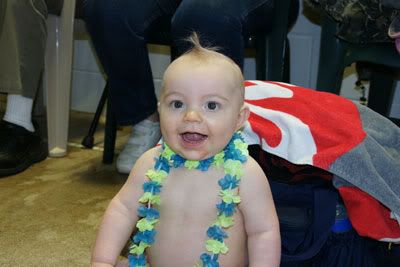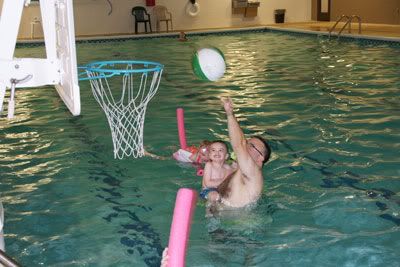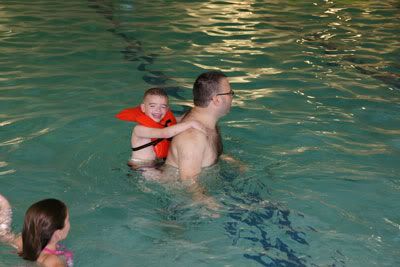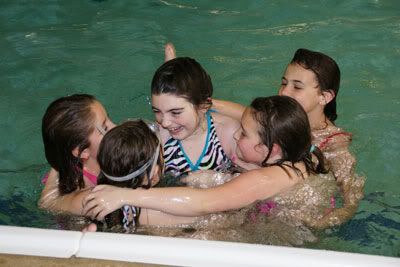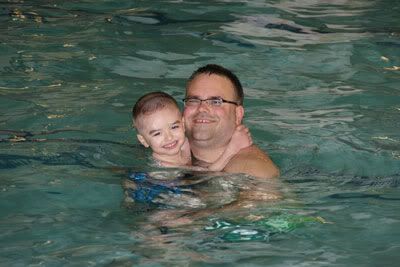 sing quick, before the cake melts! :P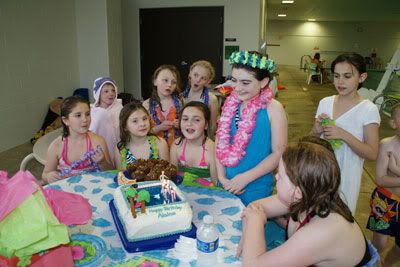 Presents:
a dress for her new doll: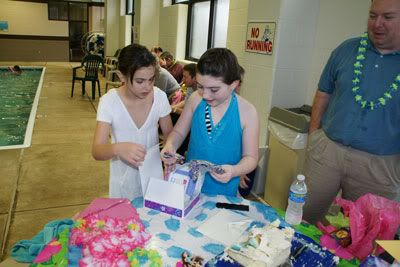 and a matching dress for her!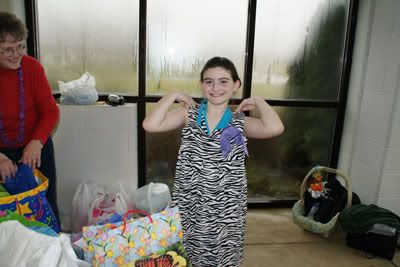 she was SOOOO excited for this...she's ALWAYS wanting to scrapbook with me!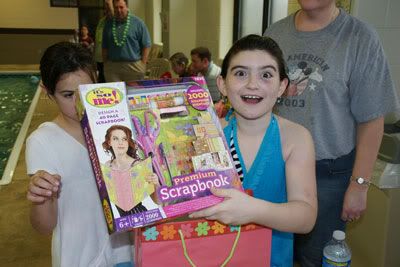 So the swimmin' luau pool party was a ton of fun.......and no, i didn't get in the water. no thanks! And I'm not sure if you can see it in the pictures or not, but Alaina's got her first black eye.....she wasn't quite fast enough with the glove at softball practice on Thursday night....she doesn't want to play catcher anymore, btw!
Then after a family cookout at the house for dinner, there was a sleepover here for some of her friends......we had 6 girls sleeping in the basement last night.....or rather....we had 6 girls NOT SLEEPING in the basement last night while mean-ol'-mom continuously shushed them.....'till about 1AM when they all finally passed out! sheesh! And then we had a little brother of one of the girls staying over too for Matthew's company.....
Needless to say, I'm tired today....didn't get a nap.....and now I'm getting ready to make some plans for the week and attempt to reclaim the house from birthday festivities!
so, scrappin......I'm so behind on my plugs....bad Diana! So....this layout uses a bunch of stuff from Haynay:
Chronicling Life Alpha
,
Playtime Petshop
,
Fancy Pants
, and
School's out for Summer
. It was that disastrous night of rollerskating. I just liked the title.....i thought that was most clever and it makes me laugh every time i see it. :D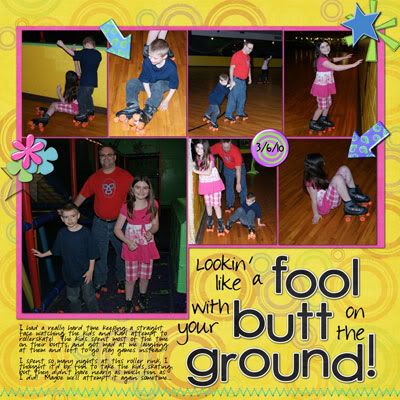 Another plug for Haynay.....her latest kit,
"Tumble Time"
.....easy enough to get pictures for this one!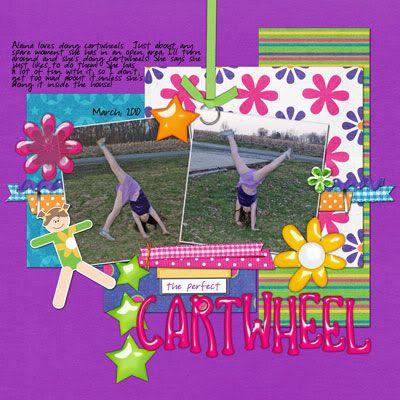 No plugs for this one, i just don't think i ever posted it.....the playground at our church camp, Brush Creek.....when we were home visiting the parentals a couple weeks ago, we took a drive out in the country (my parents love to do that), and to give the kids some time to burn off some energy, we stopped here and let them play: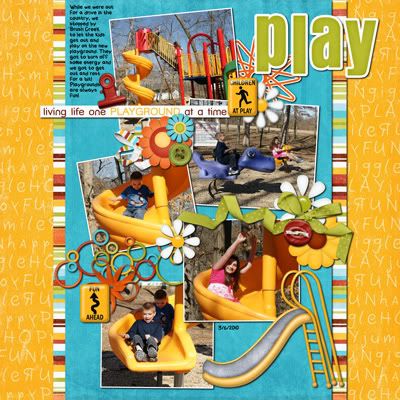 More layouts from our trip to Disney over a year ago now (*sigh*...doesn't seem that long ago!)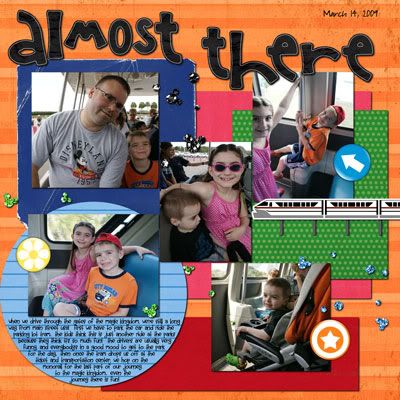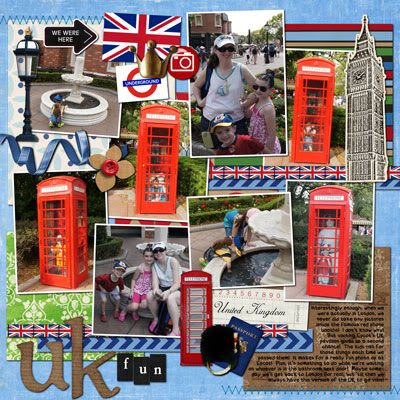 and I haven't gotten a layout done yet, but Sya released a new template pack this week, called
"1,2,3,4...Go set 2"
Hopefully this week, with no party stuff going on, i'll get more scrappin done than i did this last week:
I guess that's it for now.....take care and have a great week everybody!!!