so the last few weeks have been somewhat repetitive: soccer practice/games multiple nights/week and on Saturdays. It just seems I don't really ever get time to sit down at the ol' blog and type out a 'catch-up-with-my-life' thingy that often. I wonder if anybody's actually reading this anyways (besides myself and Karl, which is stupid because both of us already know this stuff! lol)
Anyhoo.....last weekend was the first cubscout campout of the school year. I could hardly contain my joy (insert sarcastic eyeroll here). I don't like camping. everybody that knows me knows this. I go to appease the hubby, who for some reason thinks it's the best thing ever. Me? I think the best thing ever starts with a reservation at a Hyatt, vs. a sleeping bag and a thin piece of nylon separating me from god-knows-what, but I digress...
Last friday night we had our campout. since it took until almost dark to get tents pitched and dinner made.....there wasn't much socializing going on until we were eating.......there was a lot of conversation amongst the parents of course.....and my favorite thing about camping: SMORES! yum. i'd be thrilled to get a little outdoor firepit, make smores on our deck...and forget teh whole camping thing completely. sounds like a plan!
so anyhoo....camping was going fine until as we were going to bed, I noticed that the door wouldn't zip shut on our tent. LOVELY. so the cubmaster and his family have no way to shut their blasted tent at the campout. WONDERFUL. so we improvised with a blanket. great fun. so between the blanket falling down, dogs barking in the night....and it being rather chilly.....i got a wonderful night's rest out in the middle of nature. not.
around 7AM, as everyone's waking up to greet the day, bright-eyed and bushy-tailed.....it starts to rain. of course it does. so the tents came down in record time. and being the hard-core scouts we were.....breakfast was at the park restaurant! :D so that was our camping experience.
HOWEVER.....props to Cabella's for giving us a new tent to replace the one with the broken door. Now, am I in ANY hurry to try out the new tent? ABSOLUTELY.....NOT.
Last Sunday we took the kids to Eckert's to pick our pumpkins for the season....and they also had ponies (which they've always had), and a new addition this year: a camel. WTH? a CAMEL? in Grafton? I found it hilarious and informed Karl the kids HAD to ride that thing, just for the photo op. so they rode it, and they were laughing hysterically the entire time.
After the camel, they rode the less exciting ponies. And that was fairly uneventful until the pony Alaina was riding stopped and decided to drop a load. And I'm SO GLAD Matthew had a perfect view of it, because to a 7-year-old boy, there is NOTHING IN THE WORLD more entertaining than poop. I don't attempt to understand it anymore....I don't even try to correct it. I just accept it and hope he doesn't embarrass me too much in public. :P That was probably the highlight of his day. Eventually, we got our pumpkins and headed home.
This weekend, we took off on a roadtrip to our alma-mater: Southern Illinois University at Carbondale. SIU gets a bad rap continuously, and it really bugs me. EVERY college has kids that party. Does SIU have more kids that party than other colleges? I seriously doubt it. They just got a reputation for it decades ago and it just won't die. I was an engineering major, taking anywhere from 15-18 hour courseloads.....I didn't have TIME to party even if I wanted to. Karl was a Chemistry Education major, plus he worked about 3 different jobs.....neither of us really saw much of the party lifestyle of SIU. But whatever. I think any college can be a 'party school' if that's your intention. I went there to get an education. I got that.....and a husband too!
I haven't been to Homecoming since my sophomore year in school. Karl said he never even went since he was always working. So this was a day we were really looking forward to. We left with the kids early Saturday morning and got to Carbondale in time to hit the tailgate.....got some free lunch and then went to the game. Thanks to Gordon, an old family friend, for the free tickets!
We only stayed 'till halftime, but we had a great time....we all cheered on the Salukis......clapped along with the band....it was a blast.
After we left the game, we wandered around campus for awhile......reliving the glory days of college. the Engineering buildings were unlocked, so I got to go visit the ol' lecture hall and lounge that I spent so much time in. Neither of them had changed a bit! We showed the kids our dorms, the library, the student center.....we walked through the woods.......then we left campus and did some souvenir shopping! a couple of new alumni tshirts later and we were off to dinner at one of our favorite restaurants: Hunan. LOL! but really....best Hunan I've ever been to. Once dinner was over, it was time to head home. What a great day we had reliving some memories and sharing it with the kids. Alaina said she wants to go to college there. And I'd be perfectly content with that. Go Salukis!
Those're the highlights of the last couple weeks......now for all the layout posts I'm ridiculously behind on!
First up, even though my guest CT gig is long over, I still haven't posted my last layout! Using the
'Bugaboo'
kit by Man in the Moon Designs, I made this layout of the Monster's Inc ride at California Adventure.....very cute ride, btw.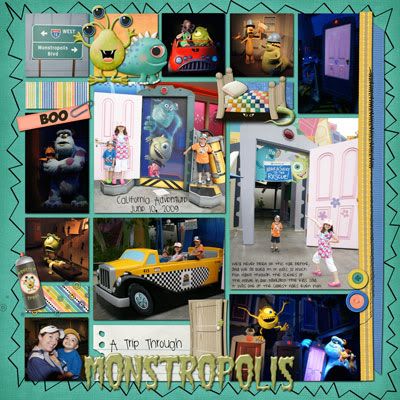 Karl and Matthew playing with their Erector set:
Matthew's baseball's team pool party:
And basically, I just had to memorialize this gawd-awful outfit: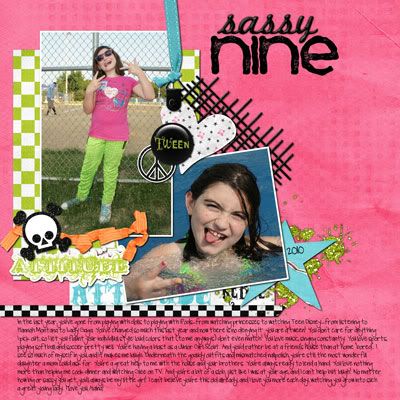 Zach's PreK apple orchard field trip: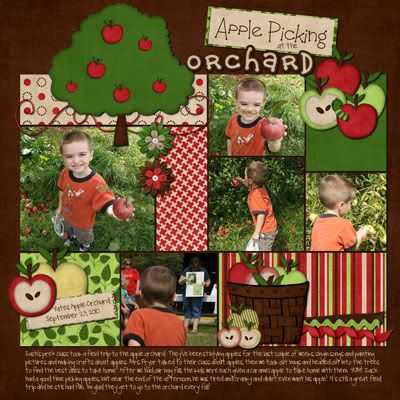 The Ponies from last weekend, using a kit of Haynay's called
"Way Out West"
and some new
clipping masks
: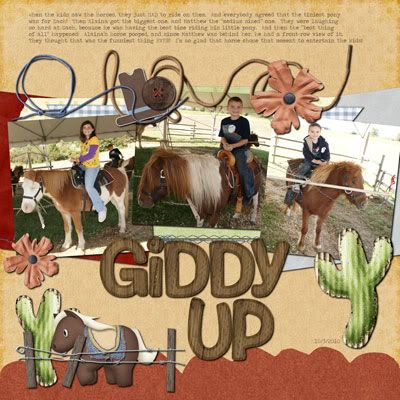 And the Camel:
That's it for now.....I'm off to get ready to say goodbye to a weekend that was WAAAAAYYYYY too short!