My baby boy is 3 years old today!!! Where do the years go, seriously? It really doesn't seem like 3 years since we brought little Zachary home from the hospital!
Zach is such a fun little boy...he loves Thomas the train and Little Einsteins....playing outside with his brother/sister, and is a total Momma's boy! The first thing he said when he woke up (after giving me a big hug around my knees) was "I love you Momma!". That's the best morning greeting ever! What a sweet little boy!
So Zach had a Little Einsteins Birthday party today.....and his Momma worked REALLY hard to make a REALLY COOL cake.....and I think I did pretty good: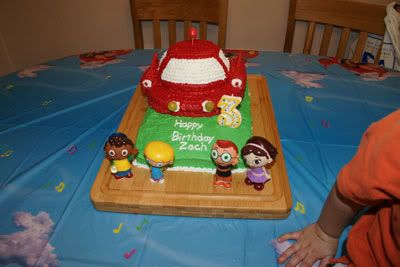 Zach absolutely LOVED the cake.....as I was working on it, he'd come running up to me in the kitchen and say, "that my rocket cake?"....."my rocket birthday cake?"...he was SOOOO excited! That made all the hard work worth it....plus, I'm like the envy of the other moms at the moment! :P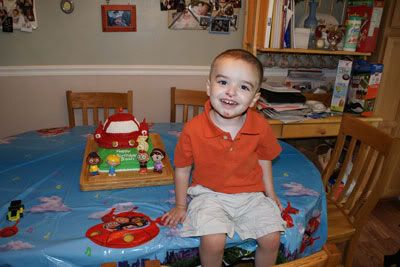 His favorite present was, of course.....a Rocket of his very own.....unfortunately, Mommy and Auntie Stacy never discussed what gifts we were getting for Zach.....so Mommy quickly hid the OTHER rocket......and it'll get returned later! :P oops!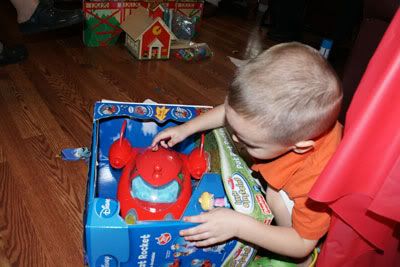 and there was also some cool Thomas stuff: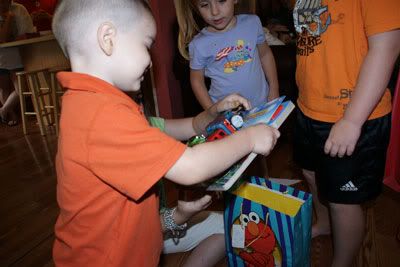 It took him awhile to actually get the candle blown out....he wasn't blowing very hard and didn't want to get too close to "that hot candle!"......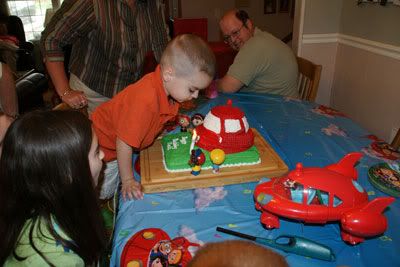 So I think Zach had a pretty good birthday party. My whole family was here, as well as our friends, the Loftus family. The weather was great and it was a lot of fun for everybody!!
Happy 3rd Birthday, Zach!!! :P