I finally get to share my big news! I'm now a member of Haynay's Hunnies CT! See the new blinkie? -> LOL!
Here's the list of all of us new Hunnies: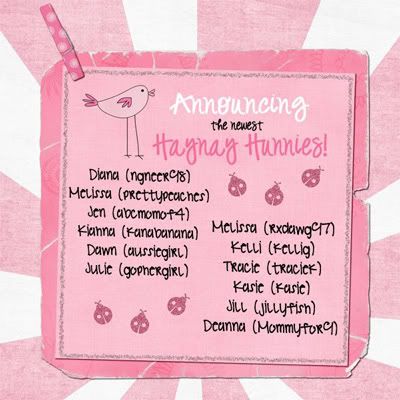 She does some amazing stuff, as you can see here at her Haynay Designs store:
http://scrapmatters.com/shop/manufacturers.php?manufacturerid=52
I'm so excited to be on her team…….she's got a new kit coming out tomorrow (Friday) and a grab bag for National Scrap Day (which I think is technically Tuesday, but I'm pretty sure the grab bag goes on sale tomorrow as well), so I'll show you soon what I've done with all that! The grab bag is WELL WORTH it, btw, you'll totally want to snag it up! :D So that was my big news…..I've been pretty busy this week getting to know the other gals on her team and admiring (ahem, scraplifting!) all of their work….and downloading all her stuff of course!
So that was my big news......back tomorrow with the layouts I've done and to celebrate (inter)National Scrap Day '09!! woohoo!! :D